I have spent my exchange period in Shenyang, China. Shenyang is medium sized city in China with about 8 million habitants. The city is located in the northeast of China about 250 kilometres of the North Korean border. The name of my university is Shenyang Jianzhu or SJZU. There are about 19 000 students of which approximately 200 are international students in the university.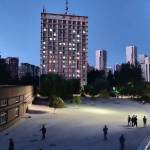 Teaching language is English. The way of teaching is similar to Finnish type of teaching where professor takes the lead and students (at least try to) pay attention. There are many project oriented courses too but I'm only studying languages and Chinese culture so I don't have to take any part in those projects. However, study timetable is different from what I have used to. Morning lessons starts at 8.30am and they last until 11.30am. Afternoon lessons starts at 1.30pm and they can last until 5 or 6pm.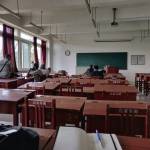 There are many international students in my university, but most of them come here to study whole university degree or master's degree. At the moment you can find only three students through exchange program, two from Germany and one Finn. Most of the majoring students comes from Russia, Kyrgyzstan, Pakistan and many African countries, for example Nigeria and Tansania.
Most of the other international students don't know Finland at all or have very stereotypical knowledge about it (Nokia, cold country, possibility to have a good life and Santa Claus). Somehow many students think that we speak English as our native language in Finland.. Well, sometimes I like to shock other students telling about stories how I enjoy eating reindeers or rolling in the snow while taking a good sauna session.
There are many different reasons why life in Shenyang is so different compared to life in Finland. Biggest impact comes with a language. Shenyang is not so international city and that makes communication sometimes very hard with locals. Most of the people can't understand English language at all and on the other hand my Chinese level is very basic and poor in spelling. In Chinese language same words have a different meaning depending how tones are said. There are four different tones and if you spell word with wrong tone you can say something very bad or locals have no idea what you are trying to say. Sometimes people try to communicate with me by writing some information with Chinese characters but I have no idea how to read them.
At the beginning I found it very hard to communicate with people but now I have learned tricks for it. Communication usually happens with simple phrases, hand signals, gestures and by using translator applications. Luckily I have managed to have few local English speaking friends who I can rely if things get too problematic. I can say that Chinese friends are the most helpful people I know on this Earth.
Other things that affects differently to my life here are huge amount of people, traffic and pollution. In this city is impossible to walk alone in the streets or sometimes even fit on the sidewalk. Don't even think that you can find a place to sit in subway or bus. Just run inside, jump on people and try to survive! Luckily I took a single room in my dormitory so I have place to hide if things get too hectic for me.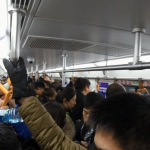 Using public transports is very cheap in Shenyang. Subway ticket costs about 3-5 (0,5€) yuan depending how far you go. Jumping in the bus costs 1-2 (20 cents) yuan and you can drive as far as you want with that price! Driving with taxi about 10 kilometers can cost you about 40 to 50 yuan (about 4 or 5 euros). Usually drivers are honest and put the taximeter on but sometimes they can drive around a same block few times to gain more money from people who don't know the city so well.
Traffic in Shenyang is very chaotic and makes no logic for me. Many of the taxi drivers are driving very high speeds and they use every path available (sidewalks, alleys, etc). On top of that there is no seat belts available in most of taxis. On the other hand I have to admire the way they race through city without crashing their cars.
Air pollution is a big problem in China and you can feel it also in Shenyang. Air pollution index (US AQI) can vary something about 50-150 (good day) to 200-400 (don't go outside). Some days you can really see the pollution in the air. You can smell the diesel, coal and exhaust fumes in the air. If you are wild enough you can put your mask on and go for a jog or walk. For comparison, in Finland air pollution index is usually between 5 and 40.
Usually I spend my spare time with local or international friends. Going to city with local friends is always very interesting. They can show and tell you many different things about Chinese culture and different cuisines. I have tasted hundreds of differents foods in China. Some of them are very delicious, some are not. My personal favorite is hot pot for a lunch or dinner.
I have plans to travel and see different places in China. For now I have had time to see Dandong, Shanghai and countryside in Benxi. Getting to Dandong takes about 2 hours with train. It's very interesting city to me because from there you can see to real North Korea. Shanghai is far more developed and international city than Shenyang. It's a shame I had only four days to spend there. In the countryside I saw beautiful mountains and nature, cornfields everywhere and very primitive little villages.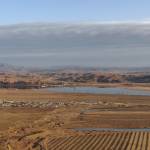 As a construction site management student I have found China very interesting. Especially the ways how the things get build in here. Chinese people don't really waste time when they want to build something. Building a new restaurant in my campus area took only about 3 weeks. The size of the buildings is humongous if compared with buildings in Finland! A block of flats with more than 40 layers is standard in China. They have a lot of knowledge how to build big and monumental structures in this country.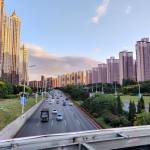 There is one familiar looking building in my campus area that got my attention when I roamed around in the first two weeks. It reminded me of a Finnish wooden house that looked a bit odd somehow. Maybe it was because of the windows? A closer look told me that the house was built in co-operation with TAMK in 2010.
There is a lot of other things I could tell about my staying here in China, but I fear that this blog post is getting too long already. I don't regret coming here. Somehow I have spent maybe the best time of my life here in spite of the hardness of life sometimes. I'm quite sure I will return to China someday.
Best Regards
Kasperi