Sawatdii khrap!
It's now almost four months since I arrived here in Thailand. In that four months have happened a lot! My attitude and way to see world have changed many ways and also my interests about different cultures and travelling is just growing up every day.
I organized my courses so, that I have only two long days school in week. That way there's long weekends time to travel and explore Thailand. Most of the time I've been just inside the borders. There is so much to see in Thailand, that even five month is not enought to see all the places I liked to. Thailand has also nice neighbour countries, which everyone has something totally different to see. I've had only one week trip in Laos this far and unfortunally it might be my only one during that exchange.
That beach is  from beautifull island Koh Samet, where we spent amazing weekend with other exchange students.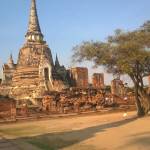 My first trip outside of Bangkok headed to old capital Ayutthaya. Ayutthaya was full of different kind of monuments, Buddha statues and tempels.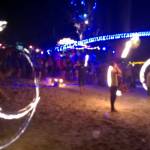 Most of the Islands have amazing fireshows that you can watch in the evening time. Same time you can lie on triangle pillows and enjoy your great time with friends. That picture is from Koh Tao-island where I was four days to graduate my scupa-diving license.
Assumption University's Suvarnaphumi campus, where are most of the classes nowadays, is huge place. For me that campus was something totally new and something that you usually can see only in movies.
There is a huge contrast between teachers in ABAC. Some teachers speak really good fluent english and really want to teach and help students. Unfortunally there is also few ones who are not interested about students at all and their english is really difficult to understand.
In traditional Thai school culture it's not accepted to ask questions in class or doubt with teacher, so specially dealing with some older Thai-teachers it's still working that way..
At the end I want to recommend Thailand as exchange-country for everyone. Studying here is maybe not the best quality you can get and everyday life is not always as cool as in pictures, but that has still been great time here in Thailand!
Best Regards!
Aki Kortetmäki
Building services engineering