I have been studying now for three months in Rangsit University. University is located about 30 minute drive away from the center of Bangkok. Campus area is really big, you can find shops, cafes (Starbuck, Amazon+ others), banks, many different kind of food places, hospital, dentist, library, swimming pool, gym and athletics field.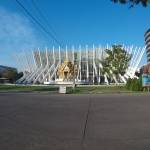 The quality of teaching here is not the best one but it is okay. The teaching methods are quite different than in Finland. We have traditional homework that we write on paper and ten return them to our teacher. Also there are not that many group work and no projects, only lectures, exams and presentations. What I find funny is that everything related to school is discussed in Facebook and not in school intra etc.  All my teachers here talk really good English but content of courses are quite boring. We just have midterm exams and I think they were easy.
At school we have to use school uniforms and they are really hot to use because weather is almost every day about +35 degrees and it is getting hotter when summer is approaching. Men have to wear black trousers, plain white shirt and University's necktie. Teachers and other students here have been really friendly and helpful.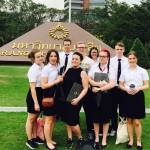 I have here school only Monday 9.00-18-00 and Tuesday 9.00-15.00 so got some good time to travel in Thailand.
We have been travelling in many places inside of Thailand with other exchange students and it has been really cool. First two months we travel inside Thailand borders but after that we have been in Singapore, Kuala Lumpur, Hong Kong and Macau.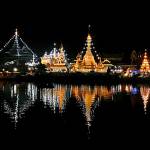 I am staying here two more months and calendar seems to be almost full. We have plans go to Vietnam and Bali. If we have time i would also like to visit Cambodia, Laos and Myanmar.