Before I came to Budapest, I thought that Erasmus would be only about studying. Now, after spending more than three months here, I can see that I was wrong. Erasmus is not only about studying, it is also about so much more. Meeting new people, getting to know the cultures of other countries, learning new languages, having lots of new friends.
I'm studying civil engineering in Szent István University, Ybl Miklós Faculty of Architecture and Civil Engineering. Our faculty is quite small and we have only 22 Erasmus students in our school. We are all in one group, both architects and civil engineers, and  I think it is nice to have also some artistic viewpoints and not only calculation all the time. Our group has become like a family for me because we have the same courses and we also spend a lot of time together outside of school.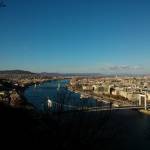 Budapest is very old and beautiful city with a lot of history. This picture is taken from Gellert Hill. The river Danube splits the city to Buda and Pest, Buda is on the left on this photo and Pest on the right.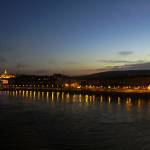 View from the Erszebet bridge to Buda side, which is full of hills. Pest side is flat.
I am staying here only for one semester, so it will soon be my time to return to Finland. On the other hand I am happy, because time here has made me realize how much I love Finland and for example seeing so many homeless and poor people here in Hungary is a little bit upsetting. On the other hand I wouldn't want to leave my Erasmus family (and cheap beer). All good things come to an end, like they say.
Viszlát!