After three months exchange in Maribor it might be a good time to tell something about this second-largest city in Slovenia. Before my exchange I didn't have any expectations from this city or even the country. But now when I am thinking about Maribor as an exchange city, there is a few things I would like to share with you. First of all, I can't skip a fact that this is the wine city. Maribor is surrounded by mountains. The biggest mountain called Pohorje is a well-known ski resort but every other mountain is full of vineyards. In fact, here is also the oldest vine in the world.  It's more than 400 years old.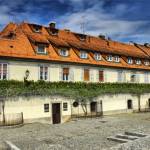 I didn't know this first but Maribor is also very famous from its Erasmus life. Students come here just because of that. Instead of just one welcome week we had two of them and also a lot of activities during the semester. This might be the reason why here is more than 400 Erasmus students at the time and it's growing every year.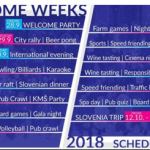 One rare thing comparing to other countries is student coupons. What? With student coupons you can go almost every restourant in the city and order portion from their menu. And the price is 0 to 3 euros including soup, salad, main dish and fruit/desert. If eating was cheap I can also happily tell you that drinking is even more cheaper. And actually the average price level is way lower than in Finland.
I am studying in faculty of Electrical Engineering and Computer Science in University of Maribor. Usually faculties organize separate lectures for Erasmus students. But I have one course where I am the only Erasmus so I have to study by my own.  This kind of studying method was totally new for me. But in generally studying here is almost same like in Finland. We have laboratory exercises almost in every course and  I like this kind of practical work. After laboratory exercise I had to write report but basically we didn't have any homework.
Of course this was a great oportunity to travel. Slovenia has a beautiful nature and it's surrounded by interesting countries. I have visited five countries and for sure more than twenty cities. In addition to many cities, I met a lot of awesome people from different countries and culture.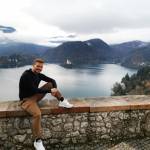 Only few weeks left here so I'll stop writing and go to enjoy these last moments!