I have been now in Russia, Saint Petersburg, three weeks and all the time have had lots of to do. Our "normal" school day start at 10 and end of school day take place at 18. This is really weird for Finnish student to start school so late and be there so late. My branch of studies is business even if in TAMK I study mechanical engineering. First three weeks have been very hard for me because I am novice in business things. Until today we have had one study visit to Baltika Brewery. There we had some tour and after that we had opportunity to taste different beverages.
Spare time I have tried to find new places with my friends. For example we found Mazapark where you can play laser war, table tennis, roller skate, billiard etc… I was watching hockey game СКА -Йокерит (SKA – Jokerit) with my friends. Atmosphere in hall was awesome and game was really good. SKA won that match 2-1 after penalty shots. And in weekends we have checked local night life. There are lots of night clubs but those are really small when we compare to night clubs in Finland. Night clubs are open very late morning, 6-8 a.m.
This picture is from our city tour. Собор Воскресения Христова = The Church of the Savior on Spilled Blood
Local Police car.
Hockey.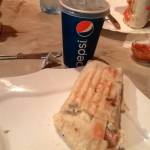 Local kebab = шаверма