In SeoulTech I didn't have any problem enrolling to courses. Here we just did excel of courses we wanted that we sent to the person in charge. Most of the people got what they wanted. All of the courses were mostly in English, sometimes mix of Korean and English. Professors English might be hard to understand at first, but when you get used to the accent isn't that hard to understand anymore.
I had six courses and that didn't leave me much spare time with all the assignments in the end. But I still managed to experience most of the stuff I wanted to do since I prioritized my work and exploring (no time for Netflix).  Courses I had weren't that hard but they did required lot of my spare time compared to Finnish studies.
After studying we did a lot of sightseeing around Seoul. With international students we saw most of the things that is advertised around Seoul, though it is much, we did spend almost four months there. These places were really nice and worth exploring, for culture we visited various palaces and a shrine that had interesting stories in them, worth taking the time and reading the story behind them. Also, Seoul has nice museums, especially the War Museum where you could spend days just reading and diving in to the history. For Korean culture the markets were a must-go, there is one for various of traditional goods, Korean street food, and one with various shopping centers. Lastly, I had chance to fulfill my childhood dream: visit abandoned amusement park.
For general sightseeing the nicest things were riding bike along the Han-river, visiting Haneul Park for sunset and awesome view of the city, walking along a stream in middle of metropolis, going for Namsan Tower for the mini hike, and lastly going for Lotte World Tower observatory for the awesome 123rd floor view. Lotte World Tower is must-go, but when we went there for sunset, we had to queue for two hours to get in, which wasn't that pleasant. If we would've gone other day or other time, probably wouldn't have to queue at all.
We also did a lot of hiking around Seoul's mountains. Since there is bunch on mountains around Seoul, it is easy to just take bus in the base of a mountain and just start hiking. When hiking you can see fit elderly Korean people just blasting through like nothing, and even some hikes have an outdoor gym where people can just blast a quick extra workout during the hike. One of the reasons to go for a hike, is to see the awesome sunsets, and we saw lots sunsets from the mountains. Of course, the sunset is just perfect with great people and few cups of Soju. I've never seen so many sunsets in my life that I get to see in this short time. After enjoying the sunsets, we had to be careful going down from the mountain, since it got dark fast after sunset.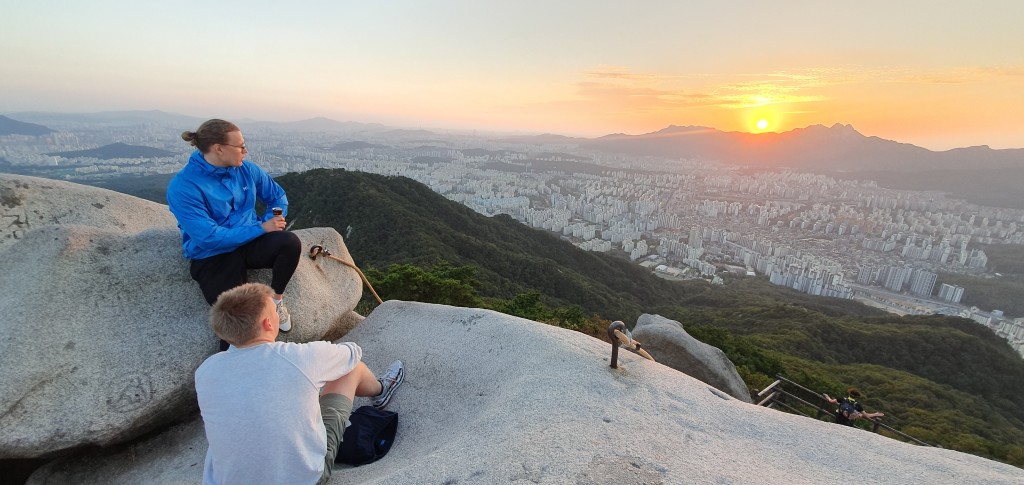 Highlights of the exchange was hanging out with great people around the world and sharing stories, cultures and ideas. We spent countless hours in campus' cafe Two of Us just enjoying coffee and talking. Also, we enjoyed Korean culture in a way of eating every day, just ordering bunch of food and drinks for the table and sharing it, no better way to enjoy food like in this social way. All of us made life lasting great friends, and we already planned meet-ups around Europe.
During October We had trip to Busan. It's large port city on South Korea, and it's known for its beaches, mountains and temples. Busan has population of 3.43 million which is around 65% smaller than Seoul. Traveling there with buses and taxis the whole place felt small, when we had already adjusted in Seoul. In Busan we did mostly sightseeing around docks, culture village, beaches, fish and food markets, and lastly a lighthouse, where we were stuck for an hour because we managed to go there just when it started to wind and rain hard. During nights we enjoyed Busan's nightlife and lived in a little cozy guesthouse. Other than sightseeing we reserved one whole day for surfing in Songjeong Beach, where was just enough waves for complete beginners. First touch to surfing and loved every minute of it.