Greetings from Wels! Wels is small city in Upper Austria where you don't have so much to do. But next to Wels is the third biggest city of Austria, Linz, which means good public transport connections all over Austria and Europe  (Tip: buy an ÖBB Vorteilscard Jugend for 20 € and get 50% off all the train tickets for a year). For example you can go easily in Salzburg, Munich, Wien… Also car rental is really easy and cheap option for a group of five person, especially if you are going to ski and you bring your own skiis or if you go travel in Europe. Austria have 7 neighboring countries which are actually really close! The longest drive is to Switzerland and it's just 4,5 hours. From Turku you can't even get out of Finland in 4,5 hours!
Level of equation is comparable to level we have in TAMK. So, courses aren't too difficult usually, but of course there are also exceptions. Teachers are mainly good, helpful and they speak clear english. Other students are always ready to help if you have some questions and usually they like to work together, as brainstorming.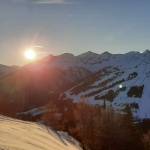 Alps
When I don't have anything to study I usually spend my time in gym or hanging out with other exchange students. Exchange is the best opportunity to to get new international friends!
-Petri