The title is one of the things I learned in Greek while I was here in Cyprus. It means "How are you?" or "How do you do?". If asked from me I would answer: "The same as back home." Because my experience here was pretty much normal life in different environment. I'm not  big party person nor am I the most sociable person on planet. I'm the Lone Wolf character when there are not people I really connect with around. Luckily I had my good "friend" Seppo (in the picture below) with me, who was given to me along for the ride by my girlfriend.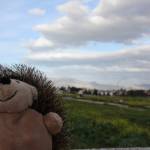 My normal life consisted of computer, school and wandering around. In that order. I was able to deepen my friendship with one of my already best friends, which was kinda funny considering where I was. School was nothing special, I just went through it with the same attitude as back in Finland. Sometimes I really thank my ability to learn easily by listening.
Cyprus is a really laid back country and you never really feel threatened, except I did once. I had promised my father and brother to go and watch a football match so I did(after many hardships mind you). Firstly I made the mistake of wearing green shirt, the one time I could have wore orange I decided to wear green. Orange is the color of APOEL Nicosia and green is the color of the local competitor. I was sold a ticket to APOEL fan stand basically, and heck was that scary for a Finnish guy with wrong colored shirt. Cypriot football culture is miles ahead of ours. In good and bad.
My exhange has already reached its end, last week I spent with my mother, brother and girlfriend in Larnaca. Now I'm at the same time excited and afraid of the return to Finland tomorrow (this will be posted when I'm already there though).
Oh, and if I would give a proper "Very good" answer to the title in Greek it would be: "πολύ καλά"