I have been in Italy almost two months now, and I am in love! Here are so many things to learn about the culture and so many new perspectives to gain. I am living in the middle of most beautiful landscapes and I recommend if you are going to visit Italy, you must visit Barolo area.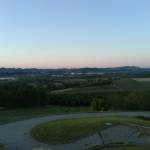 A little town called Verduno, is where I live now, has 600 habitants with lovely restaurants and wineries. Pelaverga wine is smallest DOCG certificated wine in Italy. This unique wine can be exclusively produced only in this little town!

Luxury villas
There are a many other little villages nearby worth to visit! For example Roddi, La Morra, Serralunga and Barolo.
I am studying Hospitality management in TAMK University of applied sciences. For my last year internship I came to work here in Monvigiliero Vineyard Villas. We have four beautiful luxury villas which can accommodate up to 40 persons, or individually up to 13 persons.
I came here in the beginning May and I will leave in the middle of August. I am sad realizing that my internship is almost over. Even though I love Italian hot summer, I would love to see Italian magical autumn as well. Especially because in the beginning of October starts famous Alba white truffle- season and harvest in the vineyards.
I wanted to come here, because I am interested to work in a hotel business. After I finish my studies, I would love to find a job in a hotel's reception. On my spare time I am sunbathing, relaxing and spending time with my boss. Usually I have 2 – 3 days off. Everything is doable if I want to travel somewhere; for example, I visited Genova last week and I before spent one night in Torino as well. I have a small apartment at villas, so it doesn't take a long time for work.
I didn't have any special expectations for my trip to Italy. The only thing that I considered as a difficulty was the language barrier. I did not speak Italian when I came here, only English. Now that I have been here almost two months, I know some words and I have started to understand some Italian.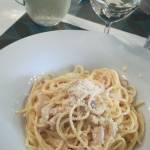 In Finland it is quite rare to drink even one glass of wine in a lunch break. Here it is normal to drink one glass of wine while eating. It is actually vice versa; if you don't order wine, everybody looks at you like you are sick! Of course, it is okay to drink one glass of wine, but I have not never seen that quite often. Overall this trip has been my best thing ever, I have learnt something new every day and I can't believe that I need to return home so soon!
-Nora