I've been working now for three weeks in Maaemo restaurant, and have one and a half weeks to go. Feeling a bit sad that I decided to stay in here only one month, but already miss home as well so it's fine I think..
Restaurant is located in centre of Oslo, next to train station. It got its third Michelin star few months ago, first in Norway.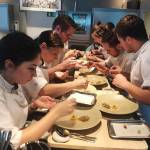 My working week starts in Tuesday and ends in Saturday. Every day we work from 10am to midnight. I'm working in snacks station, so we prepare many small dishes for dinner. Every day I'll start my day preparing bowls for oyster dish. 20 bowls needs to be polished, filled with seaweed and oyster shells. After that I prepare tarts for king crab dish. Then we do everything else for what needs to be done on that day. On afternoon we clean the kitchen everywhere from ceiling to floor. Then it's time for our break and staff meal. After the break we get every station ready for dinner service and have staff briefing. We get to plate every dish durig the service and have some dishes on our responsibility as well. In the evening it's again time to cleand the kitchen and head back to home and get some rest for the next day.
Even though our days are long, you kind of get used to it.
I've learned lot of new techniques and recipes, and it's nice to get a bit more challenging tasks and more responsibility all the time.
We have our days off on Sunday and Monday. Mostly I just try to relax during these days. I've been at the beach many times, last weekend we went to contemporary art museum and dinner with my work mates, also visited main island wich was really cool.
Workig culture compared to Finland is mostly the same in Norway. Many national holidays for example and similar working hours. Salarys are a lot higher compared to Finland, but obviously living costs are higher here as well.
In the restaurant I'm working everything of course very different because of high level, chefs work even more hours than what we do. Maaemo kitchen is very international, so I cant say that much of Norwegian working culture.
We pay a lot of attention to hygiene and to general cleanliness. Also recycling is really important and well organised in Norway.
The kitchen is run daily mostly by chef de cuisine and sous chef. Methods of management are similar to Finland. We need to always answer "yes chef" or "ja takk" to all messages from chefs. If you do something wrong, you will definitely hear about it. So some things are more exact here, but chefs guide us interns very supportively. They want to keep good mood in the kitchen because we work so many hours a day that it wouldn't make any sense if we couldn't enjoy our time there.
Alcohol law is mostly same as we have, but you can't buy alcohol from stores on Sunday, and on weekdays selling times are few hours less than in Finland. Also I've noticed that you need to always have your ID with you if you want to go to a bar, no matter how old you are.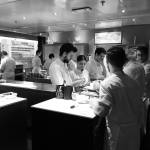 Glad that I still have some time to learn more and spend time with these people! Really enjoying my time here. 🙂