My exchange is coming on the end but it has been full of experiences. Cyprus is a sunny island where people love food and resting. I came in the beginning of October and during the whole month the temperature was still almost 30 degrees and I loved it! After October it has been getting lower but still in January during the daytime it can be very warm when the Sun is shining.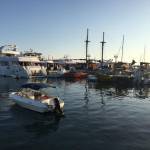 I have been studying Hospitality Tourism Management in a school named Higher Hotel Institute Cyprus which is located in the capital of Cyprus: Nicosia. The school is a very small, only 270 students and I have been living in a residence of the school.
In the beginning of my exchange the school and studying was difficult for me because of the language. My English wasn't so good but it has definitely got better and that's one thing i'm very happy for. I have lessons from Monday to Friday, some days only two hours and some days five hours. The lessons are in normal class rooms with chairs and tables (not in auditoriums like we mostly have in TAMK).
I have nine courses and specially the ones about traveling and tourism had been very interesting because we don't have that kind of lessons in TAMK. During the autumn we had tests, projects and mid-term exams. Now in January we are doing our final examinations. So right now i'm studying and reading a lot…
The studies are different here than in Finland because the number of people in one class is smaller and the teaching is more like "old-style". But mostly I have liked it and I have learnt many new things.
When thinking about the size of the school, there are advantages and disadvantages. The advantages are for example that the teachers know all the students and the relationships between them are close and friendly. The disadvantages are related mostly to being as an exchange student here. Here is only one another exchange student with me and the school doesn't offer any activities for us and they didn't tell anything about the events that Erasmus is organizing here.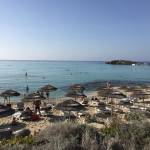 In the beginning of my exchange I used lot of my free time to go to the beaches and traveling around. I visited all the "main cities" and went also to the mountains. I also used my time (and money) to get familiar with the local foods and drinks. People here really love to eat and I can say the same of myself. I had tried all the traditional dishes and of course beers, wines, spirits…
Cyprus is a dry but beautiful island in the middle of Mediterranean Sea and people are open-minded and helpful. The culture is totally different than in Finland which has been hard for me sometimes but it had also taught me a lot. I have learnt new things of myself and met so many new people.
So, I already wrote three final exams and six are still coming… Hope I will pass all the courses!