Two months has now passed since I arrived to the beautiful capital city of Austria, Vienna. I've enjoyed my stay here and even though I still have two months left, I'm getting anxious when I'm thinking that I need to come back to Finland. There is so much to see, discover and do in this old historical city, the weather has (most of the time) been amazing, the people I've got to know are awesome and life in general is just really nice.
 Ice skating at Rathausplatz.
The studies are not the first thing to come up to my mind when thinking how I've been spending my time here. I'm only doing 22 credits in Vienna, and this means I need to go to school only once or twice a week. I study at FHWien der WKW and the school is mainly focused on management and communication. At TAMK I'm studying hospitality management, but here I'm having courses in international marketing, social media, eMarketing etc. All of my courses are only with other Erasmus students, so I haven't had the chance to get to know local people. The lectures and study methods are quite the same as in Finland: the teacher lectures about a subject and we do group work and have presentations (which I don't like.) A few times we've had quizzes of the subject that we studied in the last class, and the winner usually gets something sweet to eat as a price. Sometimes the classes are at a weird time, for example one course took place in the evening and ended after 10 PM. Another thing that differs from TAMK is that the schedule changes almost every week.
In my spare time I usually travel, because it's really cheap and easy here. We've travelled to Hallstatt (picture with the church), Bratislava, Cracow, Prague and Budapest and I still have trips to Italy (Rome, Pisa, Florence and Venice), Salzburg, Graz, Munich and maybe some other country in Southern Europe. We also like to go and spend time in some of the cozy cafes in Vienna. When it's warm we usually hang out in a park or around the Danube river.
I never got a culture shock, but there's few things that I'm still not used to in Vienna and Austria. First of all the public transport works perfectly here. The public transport ticket for the whole semester was only 75 euros and the trains, subways, buses and trams are ALWAYS on time. Another thing that is quite annoying is that grocery stores closes at 8 PM and they are not open on Sundays.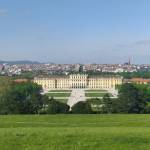 Can't wait to see what the next two months will look like!