I have spent almost three months in a small island called Raya Yai (or Koh Racha Yai) in south Thailand. I work as an office trainee in a Finnish scuba diving company, Raya Divers.
Raya Divers has offices in five
locations; Phuket, Koh Lanta, Khao Lak, Krabi and here in Raya Yai. I mainly chose Raya Yai because I wanted to live on a paradise island rather than in the city. I have never visited Thailand before so I wanted to get to know the more peaceful and calm Thailand first.
80 % of Raya Yai is jungle. On the other 20 % there are a few small shops and restaurants, an ATM, a few resorts, some bungalows and a lot of (Thai) diving companies. There is about 250 people living in here. On the road you can meet cats, cows, monitor lizards and water buffalos. Snakes are very common too, but luckily I haven't met any!
Most of Raya Divers' clients are Finnish, so I haven't got to use English that much in here. The much simpler and quite unique-sounding Thai English is very contagious, though. I learned a few words of Thai as well. I actually often find myself mixing the two languages when talking to the locals.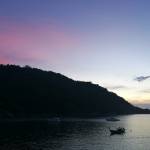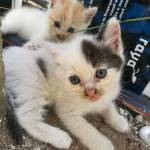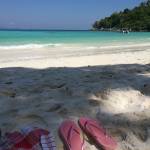 My office tasks consist of customer service, sales, reservations for transfers and diving, keeping the places clean and general helping and organizing. A typical working day is at least nine hours long. Each day is a bit
different, as it always depends on how much customers we are having.
During my training I also got to do a PADI Open Water Diver course, which was free for trainees. I was able to go diving almost weekly, which was great! I will definitely continue diving in the future and maybe do an Advanced course as well.
I have really enjoyed my time here in Raya Yai. We had a small but great team on a small but a great island and I wouldn't have it any other way!