Hi I am Andrea, I came to Finland all the way from Guatemala to pursue my Master's Degree in Factory Automation and Robotics.
Tampere is the second largest urban area in Finland, after Helsinki. That should make us
ask ourselves: what is there in Tampere that is attracting that many inhabitants? Well,
besides the great vibes of the city ruled by the Finnish student culture, there are so many
nice places to visit. I have been living in Tampere for exactly one year and thirteen days and
I can say that it has not been enough time to cover all the corners of the city, plus all the
different activities you can realize. However, from the places I have had the chance to visit
so far I can name 5 that I think are a "must visit":
Rauhaniemen uimaranta
As you might know, Finland is famous for its lakes and my favorite one in Tampere is Näsijärvi. This is a big lake where you can catch the most beautiful sunsets and even northern lights in the dark clear nights if you are lucky. During summers you can enjoy a swim in those clear waters, or have a picnic on the shore. In winter you will see a frozen lake where you can take a night walk or you can do ice dipping while using the public sauna, which is, by the way, the most popular sauna in Tampere. Out of the multiple times I have visited this lake, the most memorable one was during midsummer eve when I went to watch how the sun moves through the horizon without actually setting: wonderful!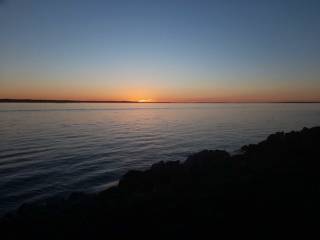 Suolijärvi
Yes, another lake, but after a while in Finland, you will realize that there are no two lakes alike, each one has its own different beauty. This lake is located in Hervanta very near Hervanta Campus. It comes with a big deck; during summers you will always find it full of people enjoying the sun. Last summer I even shared my swimming with a couple of swans! There are a few fireplaces so you can have a barbeque with friends. On top of that, you will find a 4.3km nature trail surrounding the lake, it takes about an hour to complete and it is a really enjoyable path.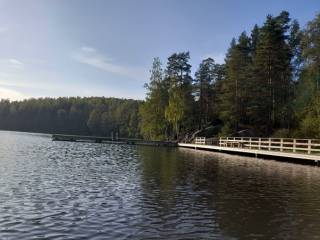 Pyyniki
This is one of the most famous sites in Tampere, for 3 reasons: the beach, the observation tower, and the cafe. You can go to Pyynikin Uimaranta to swim in the lake or you can simply take a walk around the gardens surrounding the lake. There is even a net to play beach volleyball. For just 2 euros you can ascend to the top of the tower and spot Tampere from a 26 meters altitude. Finally, it is a must to have a munkki (doughnut) and coffee or hot chocolate at Pyynikin Cafe, this cafe has been awarded the title of best café for various years in a row.
Taverna
This place is pretty well known by Tampere students because it is the perfect spot to end a night out. The cafe has more than 700 board games! And do not worry if you do not speak fluent Finnish yet, most of the games  have instructions in English. On Fridays and Saturdays, they are open until 1 AM. You can make a reservation online for up to 4 hours and even reserve your favorite board game. You can enjoy some snacks like sandwiches and desserts or you can have a few drinks while playing. If you go in a group of 4 people or more I would recommend you to play "Alias". I love that game because is very simple yet very fun.
Keskustori
Keskustori is the central square of Tampere. Here you will find different types of shops, kiosks, and even events all year long. During this summer they had a large summer terrace that gathered several restaurants to have some type of food court as a terrace to enjoy the lovely weather. Furthermore, last December I had the chance to visit the famous Joulutori (Christmas Market) where many local vendors were selling handicrafts, sweets, clothes, and more. All surrounded by splendid Christmas decorations, there were also some very lovely coffee shops where I had the traditional glögi with joulutorttu.
Picking just 5 places was not an easy task, maybe after a while of roaming around this marvelous city, you will agree with me. If you have not visited them yet, go for it! Also, remember to share with your friends any new spot that you find because you will realize that there is so much to do and see in Tampere.
You can learn more about Andrea's story here