While being a part of the volunteer organizer team of Slush this year, I decided to look into what sorts of different, and perhaps new XR applications, tools and devices I could find around the event. During those two very intensive days of meeting people, hearing incredible speakers and checking out new innovative companies I found a few things that were interesting.
Porsche
Porsche is a pretty regular sight over at Slush. They've had a booth at the event for as long as I can remember, and this year was no different. They had brought out their new electric vehicle, the Taycan. On their booth, you could meet members of their Digital Lab and Next Visions teams, and experience the Porsche Taycan AR Experience. You could point your phone at a model of the car to activate the experience, which then allowed you to view the car and explore its different features very much like their earlier Mission E AR app allowed you to do. Not the most exciting or innovative thing, but still exciting to see. I feel like with the current state of relatively primitive AR and VR applications, automotive companies like Porsche are some of the key brands that could utilize these new technologies in exciting ways. How about taking a test drive while just sitting in a mockup of the real car?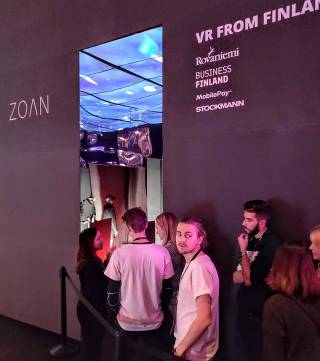 Zoan
Previously unknown to me, Zoan is a Helsinki-based virtual reality studio. They had brought out a huge booth, where you could hop in to experience some of the different scenes and other works they had produced. They strongly believe that VR will grow tenfold over the next two years, and their efforts really show. Right now they're building immersive worlds, experiences and stories for companies like Business Finland, Finnair, Mercedes Benz and Samsung. Though I didn't have the time to jump into their booth myself, it's very exciting to see that Finnish companies are not only focusing on the tech, but on the content aspect of XR creation as well. It'll be interesting to see where this company will go in the future!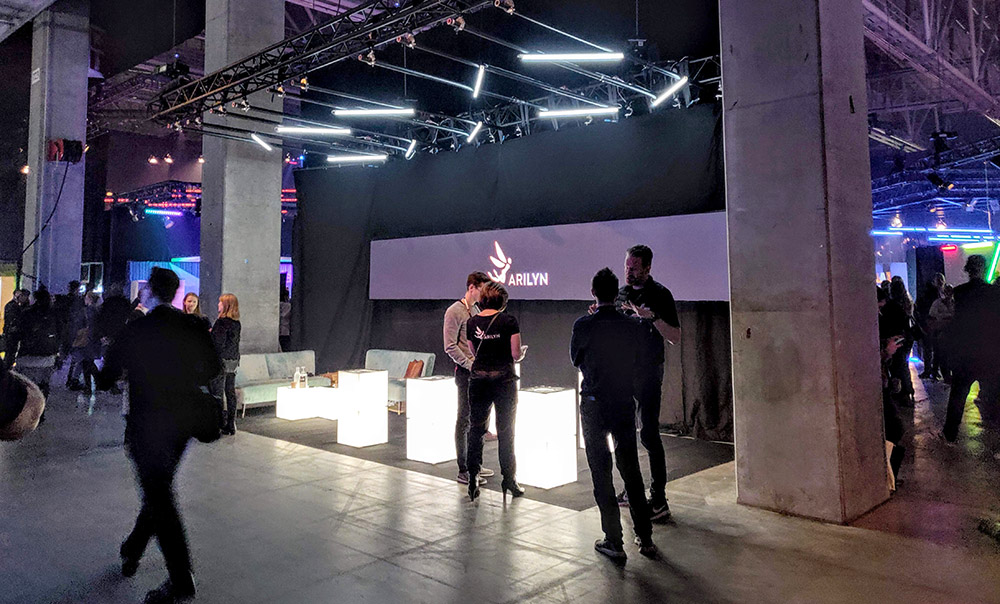 Arilyn
Most likely well-known by most Emerging Media students at TAMK, Arilyn was also presenting at Slush this year. They had brought out a booth on which they demoed their services to visitors and passersby. They also unveiled their new logo at the event.
If you didn't know, Arilyn offers a platform for simple, creative creation of AR experiences and interactions. Their services are currently being used by lots of customer-facing businesses, like Huawei, ANA, and Marriott. If and when things like AR become even more consumer facing, I feel like services such as the one Arilyn offers will become much more prominent than they are now.

Startups
Among the already established companies, there were a few different AR and VR startups that were present at Slush this year. One of them was Gleechi, which offers VR training tools and services for things like the automotive industry. Other examples include Sensoryx, who are developing their own VRFree glove controller system. Their solution offers very accurate hand and finger tracking in VR for a relatively small price. Another hardware company present was called Orbi, who are making the world's first 360 video recording eyewear. A company called NextMind also unveiled their new brain-sensing wearable, which can be used with XR applications.
Glue was also present. They were telling people about their virtual reality collaboration platform, that allows people all over the world to interact with each other as if they were in the same space. 
Thoughts
Although quite a few companies that work with XR were present at the conference, it still felt like the XR industry wasn't too well represented. Even some representatives from Oculus were present, but didn't have a booth of their own. I'm guessing they were mostly looking for new partners. It might be due to loads of different reasons. Difficulty of entry and high device costs are definitely some of them, although I feel like the largest reason lies somewhere else.
Consumer-level XR is still out of reach for many people. It requires somewhat powerful hardware, and it's still a pretty foreign thing for most consumers. If you buy a Vive today, you can play games on it, but that's about it. There are very few chances to try out the devices for yourself, unless you happen to be at a university that supports XR studies or actively participate in industry events.
I feel like that's why most of the companies (that presented at Slush this year, at least) are doing the smart thing for now, and focusing on business-to-business sales instead of business-to-customer ones. By selling experiences that companies like Finnair then use to present different things to their customers, they are passively building a wider audience for XR content, while also generating revenue to stay alive for now.
It was also a bit disappointing to not see any new consumer-facing innovations present at the conference, but that's most likely due to the previously described reasons. The tech is still in its early stages, anyway. For now, B2B is king for XR.
All in all, Slush didn't disappoint this year either. I'll definitely be looking forward to next year's event.
Text & photos by Eetu Eskelinen 2019