This January, I had an opportunity to do fieldwork at Davos for my research on the role of political, cultural and economic elites in world politics and international relations. Davos is an Alpine resort in Switzerland but in this context it stands for the annual meeting of the World Economic Forum (WEF), which has been held in the town since 1971.1
The WEF defines itself "the International Organization for Public-Private Cooperation" and argues that its main mission is to "improve the state of the world"2. However, the event is very exclusive, due to which this self-characterization has received plenty of criticism.3 Participation in the main programme costs approximately 16 500 €4. To be eligible to purchase the ticket, one must also be a member of the Forum, the membership of which costs minimum of 51 600 €5.
The notion of 'Davos Men' – or 'Davos Women' and 'Davos Class'6 – has emerged to communicate the idea that the participants of the Forum are not only rich and powerful but also out of touch with the reality in which the global majority lives. A part of this discussion concerns the way in which the members of the global elite convening in Davos are empowered by global connectivity and see nation-states as archaic constructions7.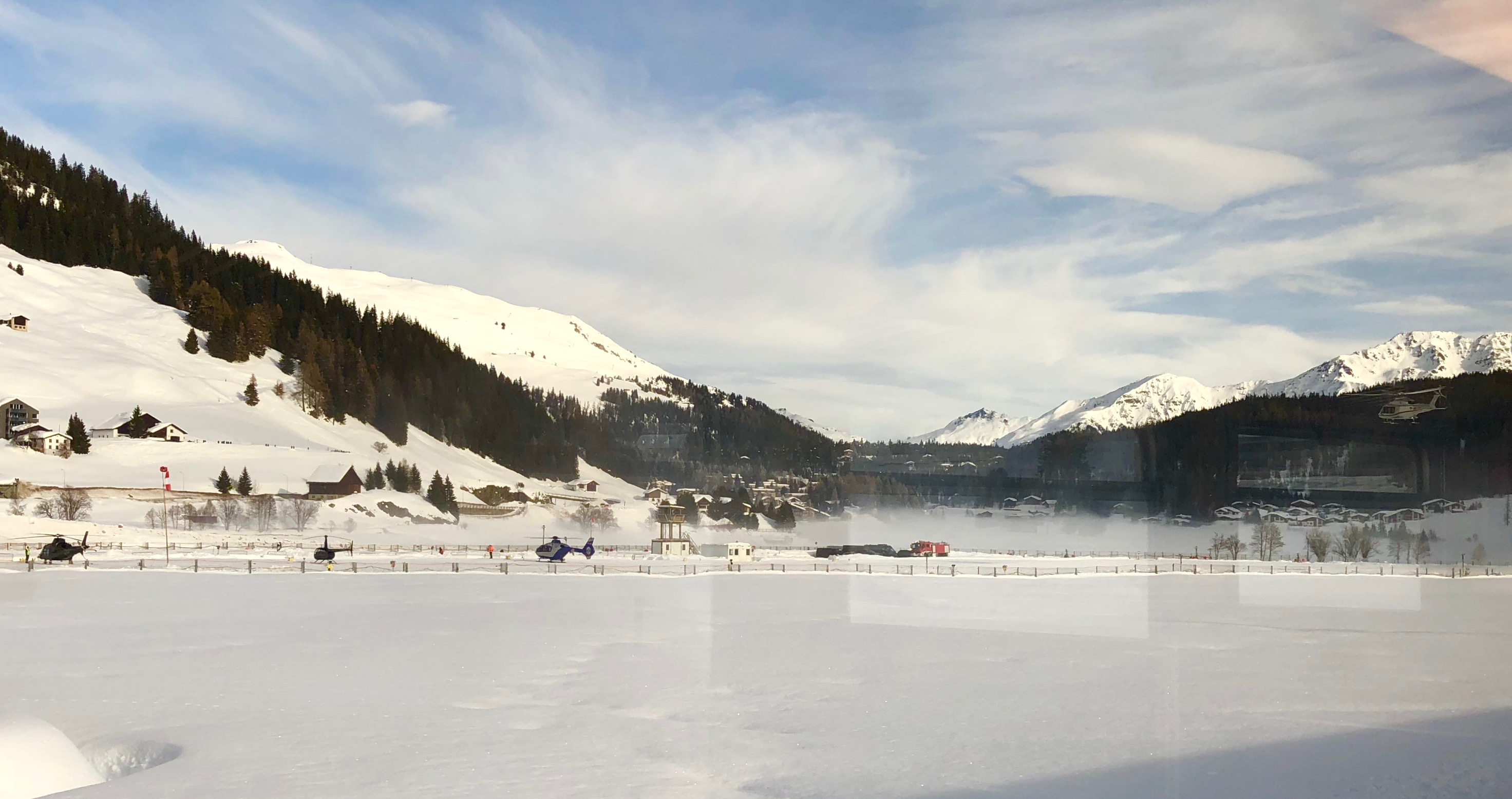 It's not enough to follow the money
I would argue that while insightful, the notion of Davos wo/man only captures a part of what is happening at the WEF meeting. What interests me is the fact that Davos is a specific kind of mechanism of "social alchemy". Pierre Bourdieu used the notion of alchemy to point out that the conversion of different types of capital into each other is a crucial part of the dynamics of power. His lesson was that "just follow the money" is an insufficient advice for those seeking to understand how power works. The traditional notion of economic capital needs to be complemented with the concepts of cultural, social, and symbolic capital9.
Bourdieu highlighted that the conversion of capitals usually occurs at the intersection of different fields – at places where the fields of commerce, power and culture, for example, intersect. Davos is exactly such a place. The WEF meeting brings together people representing various fields and embodying different types of capital. The participants of the main programme are high-level business executives, politicians, scholars as well as representatives of NGOs and the world of culture.
My point is not to argue that economic capital is somehow insignificant. Rather, what interests me is the way in which economic capital intertwines and is bolstered by other kinds of capitals. In this regard, it is interesting that it is mainly the representatives of business who are paying huge sums of money for taking part in the event. The attendance cost does not concern invited participants such as heads of states, academics and artists. They are able to "purchase" their participation in the event with other capital types: symbolic, cultural and social.
Besides the official programme taking place at the Davos Congress Center, the town of Davos is full of parallel sessions, national pavilions of states and other types of events organized by companies. Participation at these events is mostly free of charge, but may require RSVP in advance. The unofficial social programme also plays an important role in Davos, as that is where the WEF participants widen their networks. Different organizations and private individuals organize receptions and parties, access to which is often granted to a certain group of people, for example, CEOs and state representatives. Certain individuals embodying significant amounts of not only economic but also symbolic capital are particularly sought after in this game.
Davos is, indeed, a mechanism where specific kind of social capital, i.e. celebrity capital, can be accumulated. Headlines such as "Check out who all attended Jack Ma's private Davos dinner party last night" are a characteristic part of the alchemy of Davos10. One of the elements of social capital dynamics in Davos is the party organized by the Russian businessman and "oligarch" Oleg Deripaska at his chalet, which has become legendary for the soirée's glamorous nature and its selective guest list11. Arguably, throwing such exclusive parties where social capital can be accumulated forms part of the toolbox with the help of which figures such as Deripaska can "manage to stay on the right side of power"12.
Why is it important to do research on Davos?
The theme of the Davos meeting in 2018 was "creating a shared future in a fractured world", aiming to "to rededicate leaders from all walks of life to developing a shared narrative to improve the state of the world"13 All the talk about a shared future seems quite hypocritical as the meeting is and remains very exclusive. Most people simply cannot afford to pay for the expensive tickets – or lack that kind of symbolic, cultural or social capital that would materialize in the form of free access to the Forum.
However, for a researcher of world politics and international relations, Davos is not only an elitist meeting. It is a powerful mechanism providing a specific kind of setting for its participants to accumulate and convert different types of capital. In my view, it is not enough to point out that participants of this exclusive meeting are, perhaps, out of touch with the realities of the global majority lives. It is important to learn to know how such powerful mechanisms function as that may enable directing them towards other, more inclusive kinds of projects.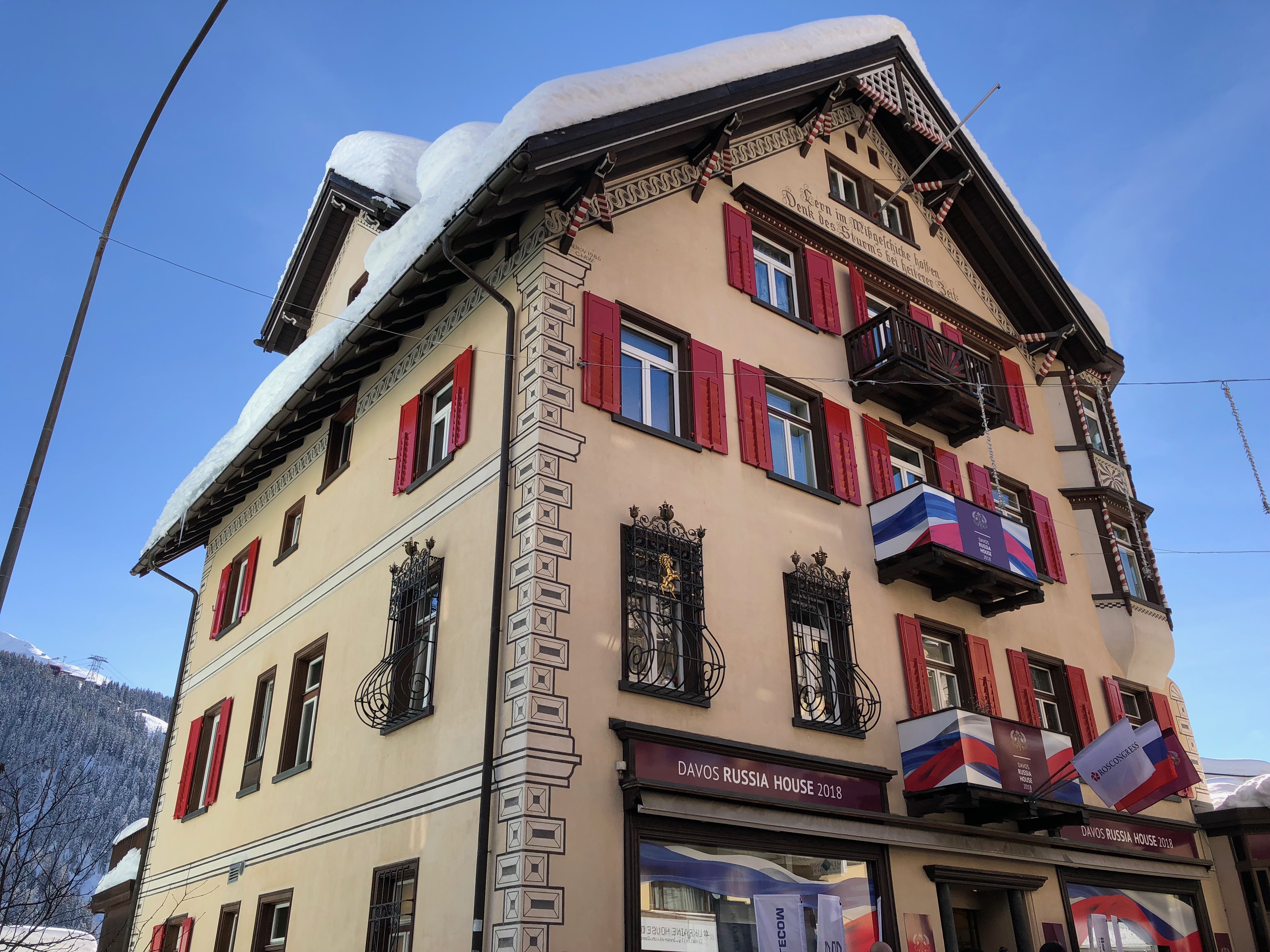 Cover photo caption: Davos is also a site where established power is challenged. Activist were demonstrating in Davos on Donald Trump's arrival day to the World Economic Forum.
All photos by Julia Bethwaite.
1Sometimes the annual World Economic Forum in Davos is referred to as just 'Davos', implying the various activities taking place in Davos during the World Economic Forum.
2FAQ, The World Economic Forum (2018).

3e.g. Who Does the World Economic Forum Really Represent? (2016, January 15). TNI.

4Neate, R. (2017, January 13). Army of Staff Descends on Davos to Serve WEF Super-Rich. The Guardian.

5Who Pays for Davos? (2017). The World Economic Forum.

6George, S. (2012). The Davos Class. Transnational Institute.

7Buxton, N. (2014). The Great Divide: Exposing the Davos Class behind Global Economic Inequality. State of Civil Society Report, p. 145.

8Ellyatt, H. (2018, January 22). Soldiers, snipers and security at Davos: Protecting the world's rich and powerful. CNBC.

9See Bourdieu, P. (1986). The Forms of Capital. In J. Richardson (Ed.), Handbook of Theory and Research for the Sociology of Education, (241-258). New York: Greenwood; Bourdieu, P. (1980). The Production of Belief: Contribution to an Economy of Symbolic Goods. Media, Culture & Society, 2 (3), 261-293.
10Linder, A. (2016, January 22). Check Out Who All Attended Jack Ma's Private Davos Dinner Party Last Night. Shanghaiist.com.

11Neate, R. (2017, January 13). Army of Staff Descends on Davos to Serve WEF Super-Rich.
12Roth, A. (2017. September 24). Manafort's Russia connection: What you need to know about Oleg Deripaska. The Washington Post.

13Annual Meeting 2018 Overview (2018). World Economic Forum.

Read more:
Youth apathy is not the general trend