I'm sending you this digital postcard to share my exciting experiences during my exchange from Finland to the UK. Salford might not be as famous as some other British cities, but it's a special place with lots to offer. So, let me give you a glimpse of what I've been up to!
Exploring around. I've been making the most of my time here by exploring not just Salford but also the nearby areas. Manchester, which is right next door, is a lively city with lots of culture, art, and history. I've been checking out famous spots like the Manchester United football stadium (unfortunately only from outside), Chinatown, and the magical John Rylands Library. I've been enjoying myself in this city.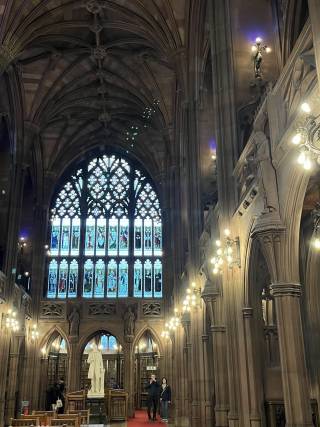 Salford Quays – a hidden treasure. One of my favourite places is Salford Quays. It's a modern part of town with a beautiful waterfront. There are impressive buildings like The Lowry, a famous theatre and art gallery. MediaCityUK is also located here, which is home to the BBC headquarters. I've been enjoying peaceful walks along the water, especially on sunny days when swans float on the river leisurely.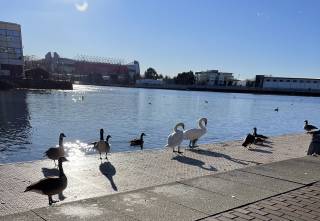 Studying in a different system. I'm here for my studies too, and I've noticed that the way education works here is quite interesting. In the UK, they really have lots of students in one class and encourage students to participate in seminars after each lesson. Figuring out different courses and adjusting to a different way of teaching has been a bit challenging but also educational.
Making friends and connections. One of the best parts of this exchange has been meeting people and making friends with students who come from different places. It's amazing to see how we all come together to learn and grow.
Thank you for reading my adventure!:)