My training
I'm a midwife student on my nursing phase of my studies. I'm currently doing an 8 week traineeship here in Sofia. I'm training in a private high-level hospital mainly learning about how to assist in the c-sections in the operating theatre. I'm aware that the hospital that I'm training won't show me the picture of how most of the hospitals are here in Bulgaria. I work from Monday to Friday from 8 a.m. until mainly to 4p.m. It is extremely nice to have regular work shifts because I wouldn't have them in Finland.
I'm honored to work alongside these amazing professionals. I'm thankful for how the personnel in the hospital have welcomed me and my friend. Most of the nurses don't speak English and I have tried to learn a bit of Bulgarian, but there is sometimes a language barrier with the patients or the personnel. Doctors in this hospital speak English well which has helped a lot. It has been heartwarming to see how people want to communicate with me even if we don't share a language.
In the mornings I usually clean and change the band-aid for the women that had a section the other day. I also take the urinary catheter away. That is also a perfect time to chat with the women. After that I would either dress sterile and work alongside the surgeons and operative midwife as an instrument nurse or I would help in other ways in the operating theatre. I place the urine catheters, help the doctors dress, do all the little tasks that you can do only when you are not dressed sterile. Sometimes I take pictures for the mothers. After the sections we take the women to monitoring. During my time I have also been on the gynecology, high-risk and maternity ward. I have done some pre- and postoperative training in these wards as well.
Freetime
In my spare time I've discovered new cities nearby. It is easy to catch a train or a bus from Sofia to Plovdiv for example. I'm still planning to visit the Black Sea. I have of course seen a lot of Sofia since I'm staying here. We have gone on a nature hike to Boyana Waterfalls here in Sofia with some medical students that I met. Bulgaria has a lot of mountains so I can't come back to Finland without visiting one. During my time I have met a lot of international students through different occasions.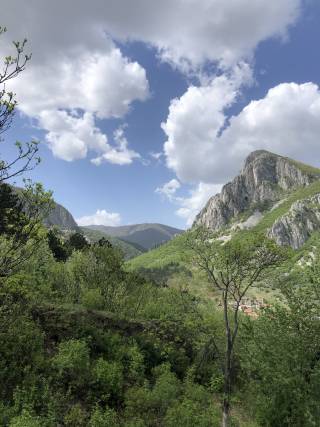 Some differences compared to Finland
In Bulgaria women give birth more with c-sections than with a vaginal delivery. I feel like the women don't have the same possibility to discuss with a healthcare professional during pregnancy. Many women have been scared in the beginning of the sections and many chose to give birth by c-section because they are also scared of a vaginal birth. It is easier to let somebody else handle the delivery. I have seen a few vaginal deliveries during my stay and compared to Finland here it is done more operation-focused. In Finland the schools teach that in the center of the care is the patient. In my experience, they approach deliveries in a different way.
I've been delighted to see what the work community here is like. All the doctors and midwifes get along very well. There is not the same kind of hierarchy as there are in some places in Finland.