Greetings from München!
I study at the Hochschule München (HM), or Munich University of Applied Sciences(MUAS). I'm studying mechanical engineering, but here I had to apply a little, because the English language course offer is really focused on automotive technology. The level of the courses is the same as in Finland.
The difference with Finland is that the German school culture is more conservative and not as relaxed as in Finland. Here, studying is more about theory than emphasis, and in Finland, subjects are approached from the perspective of working life.
The student culture here takes studying more seriously than in Finland, and the Finnish student culture is also more communal.
The school has an international club which organizes many events and trips for exchange students. They are a good way to get to know the country, the city and other exchange students.
I spent my free time doing hobbies, traveling, being out with friends, at parties. From Munich it is easy to travel to different cities and neighboring countries, especially Austria. My most memorable trips are the trips to Austria to go snowboarding and wakeboarding.
Picture is from Schlick 2000 ski center in Austria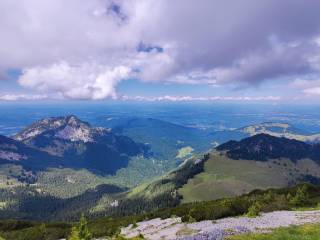 Hiking is amazing here, it takes 1.5h from Munich to south Germany and then you are in Alps. There is lot of places where you can hike. That picture are from my last hiking trip.
Picture is from top of the Wendelstein mountain.
Cable wakeboarding is my passion and it actually brought me to Germany. Here, the framework for practicing the sport is really good and I have spent a lot of time with it. If you like cable wakeboarding, you should come to Germany! Parks here are insane!
Thanks for reading, Bye!
Picture is from Turncable in Thannhausen