I am a student from TAMK, studying business information systems.
In this postcard, I´ll give some information about my exchange studies from Seoul, South Korea. Here, I´m studying in Seoul National University of Science and Technology.
My courses here are pretty similar to Finland but I think that degree of difficulty is harder here.
Professors and local students take studying very seriously.
I have courses like Basic UX, Smart app programming, and Marketing management. I had two programming courses, but I had to drop them because it was way too hard for me.
All courses here have mid-term- and final exams and also quite a lot of presentations.
Comparing the studying culture, it´s much harder here than in Finland. Also, my university Seoul Tech is not free to local students.
Professors are conservatives and expect a good study motivation.
For example, when we have presentations, local students have printed like 50 paper of lines what they´re going to say.
However, I like very much to study here at Seoul Tech!

I have school only a couple of days a week, so I luckily have enough spare time to travel to different cities and meet new people.
In my spare time, I like to go out with my friends, nightlife in Korea is so much different than in Finland. People's kindness is so nice to see and feel.
Seoul is so big city that there is so much to see every day. Also, I have travelled already to Busan, Jeonju, and Jeju Island. I´m so happy that I came here to see so different culture.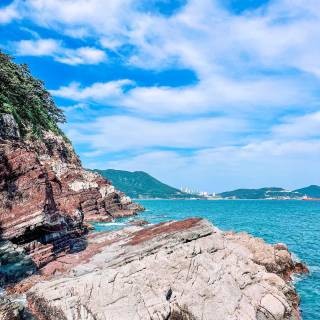 This has been a unique experience that I will never forget. I´m so happy that I decided to come here.
So if you ever think and you have the opportunity to go… just go! <3
-Rosanne