Typical daily living as a finn:
In Finland we are used to a certain type of everyday rhythm. If you're a student or if you're working on basic office hours, you're starting your work usually at eight o'clock and working until four o'clock. Before work you're going to have breakfast, in the middle of your workday lunch around 11-12 o'clock and after work when you're getting back home you're going to have a dinner between 5 and 6 pm. In the end of the evening before going to bed you're going to get some evening meal that is similar to a snack usually. 
Most of the people who's working on an a daytime shift or a morning shift they're starting their working day between 6 am and 9 am. Basic working hours for one day are usually eight hours. Depending on where you are working at or what kind of profession, you're going to get breaks during your working shift. The breaks are defined by your contract and the trade union of your profession is going to take care of that you can have prescribed breaks during your working day. At a normal eight hours working shift you're usually going to get 2 times coffee break which are both around 10 minutes. Then there is also a break for having lunch and depending on a work place, you're getting breaktime from 30 minutes to one hour. 
At the weekdays after the work day people have freetime. It depends on your lifestyle or your situation of life that how you're going to spend the last hours before going to bed. It can be a hobby that your focusing on or going to a friend's house or meeting friends at a restaurant or a coffee house, studying or just chilling at home and watching tv for example. Usually every finn is back at home around nine o'clock at the evening. It is not common that finnish people would be going out quite late. They are more likely to get early at home to get some chilling time and rest before going to sleep.

Spending time on the weekends: Dilemma at choosing between going out or staying at home.
FInnish people are usually living for the weekends. If your that type of person that you usually prefer going out than staying at home, there is chance that you can meet finnish people in local bars or pubs that there are people that more like to sit down and have a drink. Or there is also clubs and bars that have dance floors but the atmosphere is more to party and drink more alcohol! Of course there is also ball room places to dance and not to drink, but they are more grouded with people who are over 50 years old or even older. Those are the most places to get socially in touch with finnish people, wheter you want to go out with your friends or just alone at the weekends. 
Also there is other popular options to spend the weekend. You can just chill at home alone, with your family or with your friends. If you don't have anything special at your calender, it is easy to do housework and do something that you want to do during the day off. It can be a hobby, watching a tv-show or reading a book that your into. Or you can go outside to get some fresh air and have a walk. 
Some of the finnish people have a summer cottage or a cottage house that are also used during other seasons. Typical cottage house is located near to a lake and surrounded by forests. It is a nice place to settle in for a weekend or for a vacation and be away from the city and even more close to the nature.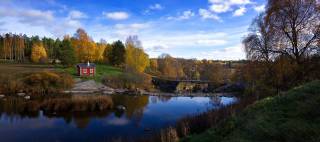 Maybe it is a typical finnish thing to have a stabile lifestyle and enough alone time for themselves. Even though we might be prepared to spend our time doing our own things, we also like to get in touch with people and be spontaneous or just go out for a coffee or a drink!