What is Finnishness?
I think it's about liking to be yourself and not making yourself a number. Modesty but at the same time open, communal, and good national self-esteem. We are from Finland, and we are proud of it! When Finland is mentioned, it's time to go to "Torille" (People go to the city center to celebrate some achievement in the world). Especially if (and when) Finland wins the ice hockey world championship. Then let's go to Tori. That's national pride.
Being Finnish includes all seasons and living with them. Summers when there are 20 hours of light, the sun is shining, and people are active and happy. Autumn, Summer fades and we prepare for darkness. it's wet, dark and people are more at home. We are waiting for winter and snow, which will bring light again in the middle of the darkness. Winter, always a disappointment, no matter how good it is. Always talking about how here is slush again and how it used to be better. Spring, full of hope. People are starting to dig out of their winter nests and prepare for summer, Polar night depressions are starting to turn to the side of victory and the general atmosphere is hopeful as we wait for that amazing summer.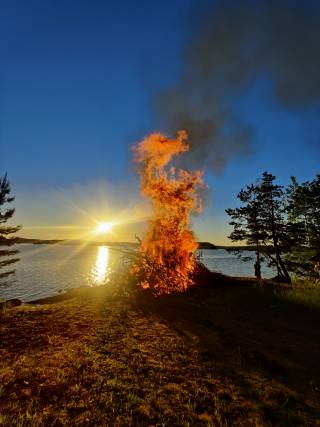 It is difficult to understand Finnishness without living this rhythm that repeats itself every year. It's hard to understand even though this same endless cycle has been going on for 23 years.
Each phase of the year involves certain hobbies, activities, and celebrations. In the summer we swim, we are at the summer gottage. Midsummer is a big celebration that is celebrated with family or friends. In the summer we enjoy the light, which is then enough, up to 20 hours a day, then sleep in it. Autumn is the wool sock people's promised time. When it's summer, it's over and you've socialized. In autumn, with a permit, you can put on woolen socks and stay at home just to be and you don't have to be alone with yourself. What a relief, after all, I've already been talking to people there for 4 months. In winter, it's time to dig the cross-country skis out of the closet and start all winter hobbies. Skiing, snowboarding, swimming in a frozen lake and being with the snow. I guess you can count those snow jobs as muscle fitness training, you'll get warm in that job. Many people think it's a little crazy that it's -20 degrees below zero and we go swimming, try it and you'll know. It feels good. Of course, we celebrate Christmas with the family, a big deal here in the Nordic corner as well. Spring, that wet but promised time of light. The brightness increases every day and before you know it the snow has melted, and summer is coming. Vappu (May Day) is also celebrated in the spring, a really big celebration especially among Finnish students. At their longest, students spend no less than 4 weeks on vappu.
All the seasons have a couple of things in common. Sauna, being with oneself and the fact that you can always be naked! That's not a thing here. I've seen most of my friends naked, including ladies. So not in any erotic sense, but in the sauna. It is the cradle of Finnishness. Nudity is not a strange thing here, but a normal way, part of the culture. Naked swimming in the lake, yes, you feel close to nature. Nature is important to Finns, and they cherish it. The cottages are basically by the lakes and in the middle of nature, far from the city.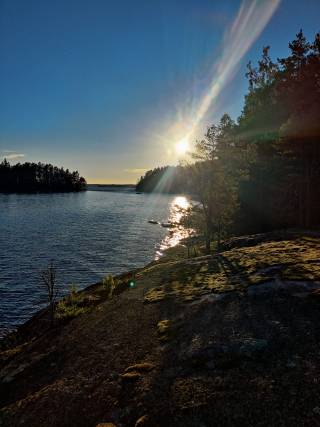 Here were thoughts about Finnishness.
-Topias