When campuses closed due to Covid-19 in the spring I was in the middle
of planning the 13th annual TAMK Art, Music, and Media International Week. With the encouragement of Timo Kivikangas, Head of the Media and Arts degree programme, my team and I decided to plan and produce the first virtual iWeek in less than a month. The event was a huge success, and since then I have been working on multiple productions in TAMK and become an expert in virtual event production.
Virtual events, why and how?
Current restrictions have forced events to either be canceled or moved to a virtual environment. Now that everything is online and study life has changed, one of the most common effects is Zoom fatigue (we all know the feeling). We asked ourselves "how can we elevate our Tampere Universities community events beyond the regular Zoom meeting?"
TAMK Virtual Event Service (TAMK-VES) was created in the autumn of 2020 to provide technical support for virtual live event production within the Tampere Universities community. TAMK-VES consists of students and staff from the degree programmes in the field of media located at the Mediapolis campus. Our team is skilled in video, sound, lighting, graphic design, event production and more. From small workshops to large-scale seminars, our team can produce it.
Producing a virtual event includes:
● Understanding the needs and objectives of our client
● Assessing and/or suggesting technical options
● Designing the visual look (set-up, graphics, etc.)
● Coordinating and operating the technical support of the event (sound, lighting, cameras, PowerPoint presentations, remote guests and presenters, etc.)
● Streaming events on Zoom, Microsoft Teams, YouTube, etc.
● Zoom platform management
● Post-event reports and overviews.
Building up our experiences
In only one month's time, from mid-November to mid-December of 2020, we produced five events all varying in size, virtuality and target groups. Some events, like for the Tampere Chamber of Commerce and TAMK Student recruitment's Jatkoon!, had a physical set and live guests in the studio. Other events like Resonanssi had virtual speakers joining via Zoom and our host in the studio, only in front of a green screen for a virtual set for the event. Finally, the TAMK graduation ceremony in December 2020 was pre-recorded, edited, and then streamed.
For 2021, we have many events already planned, including Eye on TAMK, the biggest International Week yet. The online event brings together all the degree programmes of TAMK as well as the hundreds of partner universities around the world. Stay tuned for the event in March!
The joy of learning
I originally had very different plans for 2020, including going on an exchange to Canada. As you can guess, they were all thrown out the window.
After the success of iWeek, Timo Kivikangas asked our production team to consult on pilot cases for Tampereen Messut (Tampere Trade Fairs) and start working on the virtual XR-Factory event. Soon after that, we found ourselves joining the creation of TAMK Virtual Event Service.
I have always been interested in live event production and working in a virtual live production is just as interesting. TAMK-VES is a great opportunity to provide a service for real clients and events. Event production is fast-paced and requires acting fast to get it done. I enjoy it a lot, and work with enthusiasm during each event. So far, I have had various tasks: building websites, setting lights and designing graphics. Working with a great team makes the experience fun. Every event has been a triumph and we learn and improve with each one we organize.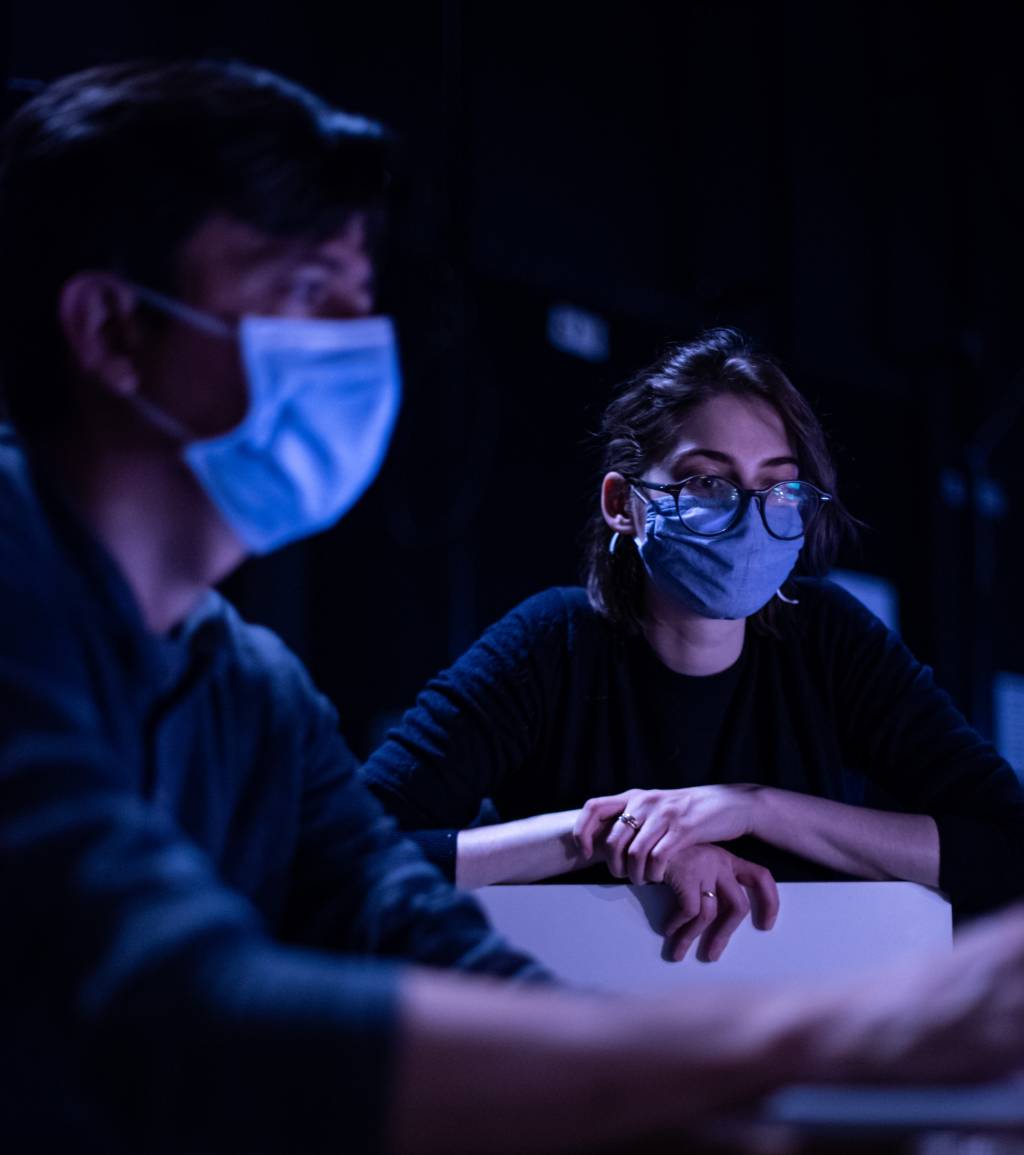 It is wonderful how we learn different aspects of virtual event production while working on real projects. I am grateful for being part of such a great team and have been given the space to pivot from my original study plans. The encouragement to learn new things and become a specialist in this field has been unbelievable.
For any inquiries or questions about TAMK-VES:
Timo Kivikangas
Head of Competence Area: Media, Music and Art
timo.kivikangas@tuni.fi
Text: Isabella Presnal
Images: Luiza Preda, TAMK student in Fine Arts