I'm currently doing my mandatory exchange at Hochschule Fulda in Germany. The semester started in October 2022 and will end in the end of February 2023. In total I have 5 courses (all worth 5 credits): 3 logistics related courses, 1 marketing related course and a German language course. I've already done 3 exams, 2 more to go in the next 2 weeks. It's crazy how quickly time has passed and only 4 weeks until I return to Finland!
When comparing the IB courses at TAMK and my courses here, the courses here are much more demanding, especially the logistics courses. In the logistics courses we actually learned the topics thoroughly and did a lot of calculating. While studying here, I've unfortunately realized how low quality some of the courses at TAMK have. To be honest, I think the Hochschule here prepares students better for work life compared to TAMK.
The evaluation in many courses is almost fully based on written exams and some might have oral exams/presentations. I was happy about that, because TAMK has soooo many group assignments so it was nice to get a break from that. The lectures however are very similar, with the exception of addressing the teacher with their last name (or calling them a teacher, that's what I did). It also worked the other way around, some teachers used my last name only- it feels very weird 😀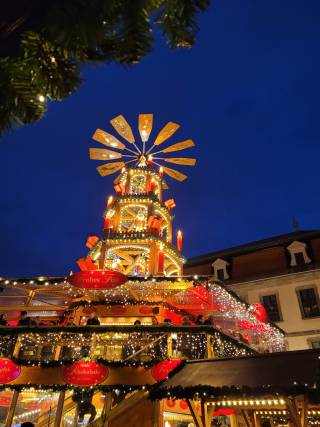 Fulda is a small city, the population is only approx. 69 000. Therefore there isn't that many things to do, very few student events compared to Finland. Luckily, I've found an international group of friends with whom to meet and come up with things to do. Christmas markets are a huge thing in Germany, so most of December we visited christmas markets in cities closeby. In total I visited 9 different markets but Fulda was the best one and had the best decoration (see photo above). With our student cards we have been able to use public transport for free in the region of Hessen, so we have explored other cities whenever we've had the chance. In addition, we visited Strasbourg in France and Prague in Czech Republic – those trips were super fun!
I'm very happy that I had the possibility to have this experience. I've met lovely people and it has been interesting to live in a different culture (the only issue is the language, German is hard!). As the exchange is coming to an end, I have mixed feelings about leaving. It is sad to leave Fulda and the lovely people I've met, but at the same time I'm really looking forward to going back home.
"Ich bin in Fulda verliebt" <3 (a quote from a song made for Fulda)