During my spare time in Paris, I've spent a lot of time with my new friends, who come from all around the world: Mexico, Germany, Italy, South-Korea, Russia, and France. I've tried to do as much as possible through exploring Christmas Markets, Pop-Ups and famous sights of Paris. Here is me at La Tour Eiffel: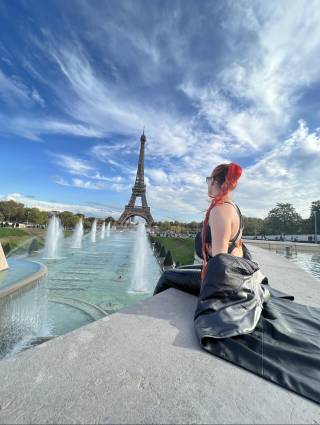 I chose these courses for my exchange:
Financial Management
Luxury Innovation, Sustainable Development and Quality
Luxury Brand Management & Environment
French as a Foreign Language
Strategic Marketing Planning
Financial Management has been a challenge for me, as I'm not very good with numbers, but I think it'll be very useful for my future as Entrepreneur. Luxury courses are something you'd never find in Finland, as luxury is not in the core of our society in the same way as it's for the French. Luxury sector is one of the biggest money makers for the French economy. Teaching style in France did not differ that much from Finnish one, as a lot of the studies were based on different group projects, which I think is universal right now. The biggest difference was in learning French, because that happened in French, which to me was weird as we're not natives and thus learning has been very difficult, as I do not understand the teacher or have the necessary vocabulary to ask questions. This to me was the biggest cultural shock, that I'm supposed to learn a foreign language from the foreign language and not as it's done here: from Finnish to French. This picture is from my Luxury Innovation course:
I'm very excited to take all this new knowledge with me to Finland and utilise it in my studies for Bachelor of Entrepreneurship and Team Leadership.
Cordialement,
Emilia Parikka