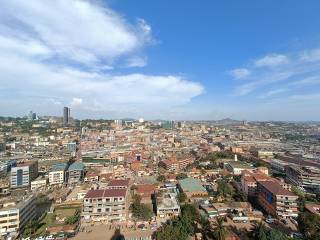 Uganda, also known as the Pearl of Africa is a country in eastern Africa by the lake Victoria. The population of Uganda is about 47 million and the capital Kampala has a population of around 7 million. At the moment it is winter in both Finland and Uganda. Ugandan winter means basically that the temperature is something between +18 and +30 Celsius and there are heavy rains almost on a daily basis. Local people wear winter coats, hats and gloves and I wear shorts and t-shirts. Now that my exchange in Kampala is coming to its end I can tell that Uganda and Finland are so different, they might as well be located on different planets.
I've had an opportunity to get to know some of Ugandan working culture in my practical training place at Caring Hands. Caring Hands is a Non-Governmental organization which offers entrepreneurship training for youth and women. I got to be a part of the students computer training lessons where I assisted them to get their own e-mail addresses. On Thursdays and Fridays we went to some slums to teach entrepreneurship to students whom were not able to come to Caring Hands. I interviewed and wrote some stories about the students and some of the them got posted in social medias of Caring Hands. My training days usually lasted from 9 am. to 3 – 5 pm. depending on how late our driver arrived to pick us up in the afternoon. Everyday life in Uganda got basic very quickly. Just like in Finland, we had to plan what to eat and go to a grocery store to buy some supplies. We cooked our meals, played a lot of card games and watched some TV in the evenings. In the weekends we visited the city center, went to eat in a restaurant, did some schoolwork and rested.
The working culture in Uganda is somehow very chill, but at the same time it is tough. You can arrive to work like two hours late and that is seen as normal, but your working day might last over 9 hours. People who drive Uber or a taxi for a living tend to be there for their clients 24/7. Ugandans may have to work for a week or two in a row without any days off. A local man said that in Uganda they don't focus on the efficiency but rather on getting a task done. That is something I noticed for example in stores. The cashiers were so slow that sometimes standing in a queue felt like forever. In Finland we are more focused on the efficiency of getting tasks done in a certain time. In Uganda they focus on getting a task done, but it might take 1 hour or 3 weeks. For Ugandans there is not a clear difference between working time and spare time. In Finland therefore we are more precise in keeping working hours and free time apart. Ugandans are on the move all the time. Salaries are not very good in Uganda so people often have some side jobs or their own businesses in addition to their paid labour.
This exchange has truly been an eyeopening experience and I will miss Ugandan people, their positivity, quirky sense of humor and easygoing lifestyle. I will miss Uganda for its nature, climate, beautiful landscapes and exotic animals. I will even miss the working culture because in some matters it is so much more relaxed than the working culture in Finland. But for now, I am thankful and happy to day goodbye to Uganda and I look forward to visiting Uganda and Africa again sometimes in the future!