When I think about Finland, first thing that comes to mind is the beautiful nature we have here. Along with nature comes the peacefulness that you can find almost everywhere if you just walk into the nearest forest even during the busy times in your daily life. When I've been abroad, especially in big cities, it's always the nature and the peace that I miss the most. During the summer, being able to just go swimming in the lakes is such a privilege. Also during winter being able to go skiing in the forest is such a pleasure and when I tell about it to my friends who live in abroad where that is not possible, they say it sounds like a thing you could only do when you travel somewhere for a holiday. Nature in Finland brings so much joy into my life here.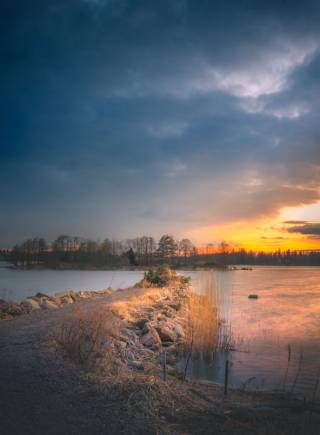 The second thing I love is the people. I love the way respect each other and especially respect each other's privacy. I also don't like talking much a lot with random people, especially small talk feels like such a waste of time, so I love that we don't really need to do that here.
And I can't forget about sauna. In addition to nature, it's the thing I always seem to miss the most when I'm abroad. Especially when I used to live in a house where I had my own sauna, it was amazing that I could just go there every day if I wanted to. And even when I don't have my own sauna in my house, I love that most buildings in Finland have a sauna that all the residents can use, which is also something my friends abroad are always surprised about. During winter, there's no better feeling than going outside from sauna to cold weather and then back into the warmth of the sauna
And one more thing, I really love cooking and grocery shopping in Finland. There are such big markets with such a big variety of different food products and also items from all over the world, so I love how easy it is to buy groceries and make your own food. Rather than having a culture where people eat outside often, I like that we don't have that here because I enjoy making my own food the way I want to and I can invite people over to share it. When I've been abroad we mostly just eat outside with my friends, which is nice too, but I just can't help but always miss my own kitchen and grocery store items when I'm abroad.