To begin with, Masaryk University is a large university located in Brno. Brno is a student city, much like Tampere, and has much to offer students. The different faculties are scattered around the city, and there are different dormitories around each faculty. I am staying in Vinarska, which is practically on the Economical Faculty grounds, which means I have a 5 min walk to my classrooms. The courses I have taken have not been difficult adjusting to, and despite being more theoretical than what I am used to at TAMK, they follow a nice structure and are taught fully in english, so it is alright.
Ouside of school, there is a lot going on. Brno as a city has much to offer in terms of activities, attractions, and a vivid nightlife. As Brno is located in Moravia, which is a famous wine region, there is a lot of wine to try here. Also, the beer brewing culture is as strong as anywhere in Czech Republic, and a pint costs down to less than a euro. Regardless of the means, anyone can enjoy a beer or a glass of wine with friends.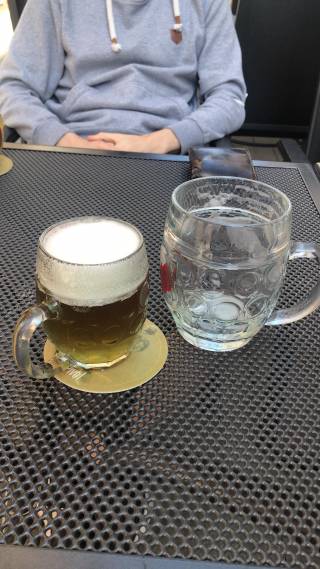 Here are a couple pictures of green beer that is served in easter-time. It includes herbs and/or coloring, and has a bit of a different taste than what normal beer tastes like.
Also, my dorm is a short walk away from the Starobrno beer brewery. There they have a drive-through beer tap, which I have never seen before, and I find that funny. Here is a picture of the sign for that.
As mentioned, there is much history in the city. Here is a picture of the Cathedral of St. Peter and Paul.
This cathedral has the distinct look of medieval times, as much of the city still carries.
Compared to Finland, there are many similarities and many differences. One of the biggest differences could be the climate. Where in Finland there would often still be snowy around March time, there was severaldays with more than twenty degree heat here. In terms of the differences in study/work culture, there is often a break in businesses here between 12:30-13:00 where they close completely. Also, it seems as there are more small businesses that keep open, despite seemingly never having any customers. Perhaps this could be due to seasonal peaks in the work culture here.
Lastly, here is a picture of the street close to my dorm.
Thank you for reading!
Jonas Hennum