My three-month internship is almost over, and I've had a great time here in Tenerife as a physiotherapy student. I've been practicing in two different hospitals for 10 weeks and I've learned a lot of about physiotherapy and Spanish language also. Here in Tenerife I've been using almost only Spanish in the practice and in spare time also. In the beginning of my internship I had difficulties because my Spanish level wasn't good at all. Of course it affected to my capability to practice physiotherapy in the work and communicate with the people there. But I'm glad to say that all the physiotherapists, nurses, doctors and patients received me very well in the hospital and encouraged me a lot. Actually, I've always felt very welcome no matter where I have gone on this island.
Now in the final of my internship when I've learned a lot more Spanish, I've been able to work independently in the practice with many different kinds of patients of which I'm very grateful. I'm happy that I can already communicate in Spanish pretty well, or at least I've been understood. Three months is very short time to learn language, but I think that if you're really motivated to learn and you try to use it as much as you can, you can get kinda far in a short time too.
In my spare time I've been exploring the island a lot and meeting new people, trying local food and drinks, been surfing, dancing bachata, studying Spanish a lot, been partying and above all just enjoying the Canarian weather. I have visited many beautiful beaches and coasts like for example Punta del Hidago, Playa de las Teresitas, Playa de Benijo, Playa de Diego Hernandez, Playa el Duque and many many more. I've been hiking in few mountains and seen amazing sunsets. I've also tried surfing first time in my life here and got a little hooked on it. I've met many new people here and got some new friends which I'm very happy about. I think that conversations with the locals have increased my language level a lot and through them I have also learned a lot of about culture and local things. People here are very friendly, happy and open and use to talk a lot and loudly. Here is common to give many compliments and ''pampering names'' to even strangers. It's part of Spanish culture but I think that the sun might affect it too why people are in a such good mood.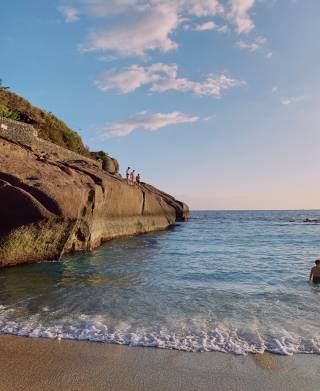 Working culture here is kind of similar like in Finland, at least based on what I've seen. I think that Spanish people work pretty hard and invest in quality but that depends on person of course. However, people here are not as accurate or punctual as in Finland. For example, here it's normal that patients come 20 minutes late to their appointments, it happens every day and the patients don't feel sorry about it. The meaning of time is different here. However, might be that Spanish people are not as hard-working because they love celebrating and enjoying life, which I kind of like.