Of course I have to mention sauna by the lake! Last summer as my friend from Australia came to visit Finland, I gained a whole new aspect of our culture from her point of view. We had great warm weathers but we still enjoyed the public sauna in Kaukajärvi Tampere. Swimming in the lake after sauna while the sun was setting slowly was a perfect example of the beauty of a finnish summer evening. Sauna serves us in all seasons of the year, and each season has something special in it. I'm glad my aussie friend got to experience this one.
Winter would be my second topic. I'm hoping to get my aussie friend back to Finland in this cold snowy season! I myself am from Lapland, and the winters there are so pretty. Coldness isn't experienced as extreme as people from other parts of the world might think. Our houses are built for these seasons, and winters are dry rather than wet which makes the coldness different in a way. White landscape changes the way we experience the darkness of the winter. On those short days when sun only shows up by the horizon, it makes the clear sky beautiful pinkish colour, combine that with the white radiating trees. When the darkness comes, snow still shines white.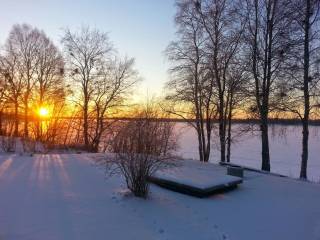 Regardless of the season, finnish people do have good humour about them. Some think we only have one season (I'm sure you can guess which one), some think we have 29 seasons (and summer lasts for about one Tuesday in June).