The picture below features the first neural network computer developed by Timo Hämäläinen between 1993 and 1996. The first wave of artificial intelligence made use of this machine until late 1990s. Hämäläinen worked with digital technology as hardware designer.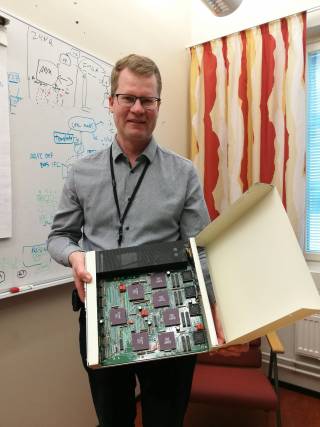 He started working in a machine learning project as a research assistant. In 1993 he wrote his M.Sc thesis on the architecture design and the application of data transfer of a neural network computer. The publication of the thesis was soon followed by a dynamic period of work on his doctoral dissertation, which he defended in 1996. The NC (Neural Computer) machine project was funded by the Academy of Finland. Excluding the usual peer learning network contacts outside Finland, the project did not involve any official international cooperation.
The time of the publication was followed by a period of silence in the front of neural networks. Hämäläinen, like many others at the time, worked on video codec programming and software. Jarno Vanne is a top researcher in the field of video technology, devices and work methods. This was a popular topic of research and development for some time. Until it was time for the second wave of AI.
What eventually enabled the rise of neural networks was the emerging cloud computing technology. The new, scalable data management systems created a sharp rise in the neural network capacity. The networks grew larger, more layers were built, and the idea of convolution was introduced. The number of neurons suddenly expanded from thousands to millions. This was the era of major steps in advancing the new technology. Finland was well represented in the development of artificial neural networks. Professor emeritus Teuvo Kohonen of the Academy of Finland, together with Erkki Oja, who is rated high on the Shanghai Ranking list of the world's most quoted researchers, are among the best-known Finnish AI gurus and pioneers.
The research work conducted in Tampere on neural networks is extensive. We do not only focus on image recognition but also audio pattern detection algorithms. The Tampere network has succeeded well in international contests. Professor Moncef Gabbouj, Head of Research Group at the unit of Computing Sciences, runs a notable group of researchers and students. Joni Kämäräinen and his Vision Group are top object detection specialists who work hard every day to develop robot vision and 3D body modelling.
-Written by Ritva Savonsaari-