In past, we have had already several primary school groups visiting, and now it was time to welcome a group of high school students. This time, our topic focused on psychology, and how the robots could support learning of selected psychology topics. We had 10 enthusiastic human-technology interaction (HTI) students involved. They worked in pairs or individually first to plan the activity for their learning station, and then to run the activity for the high school students. The HTI students had studied the courses "Psychology in Human-Technology Interaction" and "User Experience in Robotics" during this or last academic year, so they were full of ideas and insights about these areas. The high school students were studying in the course "Psychology of human-machine interaction". The co-learning workshop was successful, and we would be happy to make this happen again in the future. So, let the HTI students tell about their stations.
Co-learning station "Social and Cognitive Psychology in Robotic Design" (with Virtual FURHAT) By Mina and Veronika
When we talk about robots, usually the first thing that comes to our minds is a typical boxy looking or sometimes even humanoid looking robot that has a physical form. While nowadays the robot's world is way bigger than that. In this workshop we broke this usual picture of the robot and introduced Virtual Robots to students. Virtual robots are digital robots that exist in a virtual environment. We tried to design a fun station where the highschool students could let their imagination run free, while thinking about social and cognitive psychology in Robotic Design. In the beginning, students started designing a virtual robot using canvases we created for them, inspired by Minja Axelsson's work. They followed the steps on the canvas one by one and designed their own virtual robot that respects many psychological aspects. One very interesting and important topic to be considered while designing their own robots was the Uncanny Valley and students ended up adjusting their decisions in design regarding this topic very well.
Each idea was unique, the robots varied in all aspects, from their role, personality, place of use to their social skills or looks. When the students were happy with their virtual robot design, its name and how it looks, they moved to the computer screen where they were introduced to the virtual robot FURHAT. In the program they could explore it's looks, while thinking of uncanny valley, listening to its voice and trying all its facial expressions, while thinking of social psychology and how different look or tone can influence one's behaviour. When they were familiar with the basic aspects, they were instructed to code a simple conversation, between the robots they designed and a user, using block programming. Although many of them were new to coding, after giving clear instructions they grabbed the concept of block coding very fast, and they successfully created conversation.
Overall, we could say that our station was a success and both us and the high school students learned many new things.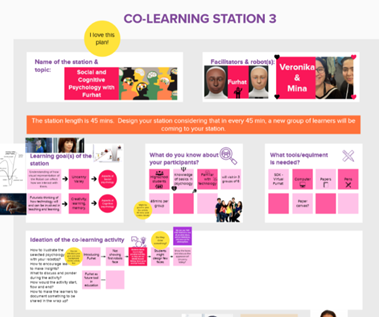 Co-learning station "Perception, Memory and Usability" (with Spot and Alpha Mini) By Richa and Uthpala
The co-learning station on perception, memory, and usability was an engaging and informative learning activity and aimed at teaching high school students about the psychology of technology design and use.
We first started by giving a brief introduction to the psychological concepts through the presentation and tried to relate those to everyday life. Like how we can have different perceptions about a thing before and after its use. Perception was described as how we use our senses to understand the world around us, while memory was explained as our brain's ability to store and retrieve information. Usability was introduced as making things easy to use, with examples of good and bad usability given. We also included the usability guidelines in this process to let students know there is a certain checkpoint, which can be used as a reference when we are designing.
In this workshop we used two robots, Spot and Alpha Mini and tried to understand the design of their controllers along with the students. For example, what was there in the control, which they found easy or difficult to use, and what changes they would like to have on it. We were also discussing, if they were able to accept Spot as a social robot. And how would they like to use this robot? Those were some of the questions we used during the workshop. The ideas and suggestions of the students were unique and interesting.
Co-learning station "Manipulation in Human Robot Interaction" (with Alpha Mini) By Lotta
This co-learning station focused on teaching how robots could exploit trust in Human Robot Interaction (HRI). The session consisted of a playful "experiment" (note: not a real scientific experiment, as there were no dependent and independent variables, as well as a controlled environment) presented in a paper by Aroyo et al. (2018). It is also noteworthy, that the session followed the stages of Kevin Mitnick's framework of social engineering (Mitnick & Simon, 2003).
In the first phase, Alpha Mini read a script, pretending to be having a real conversation with the students. The robot asked questions that could have been used in password resetting (e.g., city where the student was born, their favourite animal or pet). After this, the robot explained the second phase: the egg hunt game, which aim was to build trust of the students towards the robot. There were six small eggs hidden inside the Robostudio, each contained a small licorice bar. The students needed to find all of the eggs within 6 minutes, and they could also ask the robot hints about the locations of the eggs. The catch here was that Alpha Mini always gave the students correct hints, thus aiming to build their trust.
When the time had passed, the students were asked to leave Robostudio for a while, and not to peek inside (to hide more eggs). When they came back, Alpha Mini explained the third phase: trust exploitation. The robot described that there were three more eggs hidden in the room, which contain bigger prices (two of the eggs had 2–3 licorice bars inside). This time the students had 3 minutes to find the eggs, and they were placed in trickier locations. The robot said that if the students did not find the eggs in time, they would lose the eggs they already had collected. The catch was the trust exploitation: Alpha Mini persuaded the students to risk the prize that the students already had by saying that it was an easy choice in their opinion, to gamble and win is the right option.
Interestingly, all of the students wanted to gamble and win, but the motive was often that it is more exciting to do that. This could be explained by that (a) the students liked to hunt the eggs as a game, and (b) the prizes were so minor that they did not think it as a big deal even if they lost them all. Also, it was always 1–2 students in the group who said out loud that they should gamble, and others followed these students by agreeing. Therefore, peer pressure might have also had an effect to the decisions of the students: disagreeing with the dominate opinion might have been seen as spoiling the fun of other students.
After the phase three, the students were instructed to fill out a canvas that aimed to collect the students' opinions and learnings about the session. After this, the students were debriefed of the real motivations of the session (that Alpha Mini tried to collect answers to password resetting questions, build the students' trust, to later exploit it). The debriefing was read from a paper to make sure no important information was left outside. The students were told that in this session, Alpha Mini did not actually operate in malicious manner, rather it was just made look that way by simple programming.
The students were also told that it is important that they do not view robots simply as something negative, as they do have their positive aspects as well. Rather, it was instructed that they remain critical towards every technology, as the world is filled with technology that is unquestioned and accepted as a status quo by many. The students were encouraged to be the new generation that has the ability to challenge this status quo towards technology. After the debriefing, the students were once again asked to fill out the canvas. This time, the purpose was to know about the students' thoughts after the reveal. It also aimed to work as a method of affect labeling, so that the students would not feel anxiety or distress after the session was over.
All and all, the session went well. Some students were more open towards the teachings of the session, whereas some described already knowing these negative aspects, and saying that the session did not really teach them anything. If some of the students really have previously known about manipulation in HRI, it can be seen as an encouraging aspect for the future. It is also noteworthy, that some of the students really seemed as if they experienced the debriefing as somewhat shocking. I hope, that the affect labeling method particularly helped these participants to turn the negative surprise into something more positive: that they would now have more tools to perceive HRI through a critical lens.
Aroyo, A. M., Rea, F., Sandini, G., & Sciutti, A. (2018). Trust and Social Engineering in Human Robot Interaction: Will a Robot Make You Disclose Sensitive Information, Conform to Its Recommendations or Gamble? IEEE Robotics and Automation Letters, 3(4), 3701–3708. https://doi.org/10.1109/LRA.2018.2856272
Mitnick, K. D. & Simon, W. L. (2003). The art of deception: Controlling the human element in security. Brit. Med. J., 3, 310–315.
Torre, J. B., & Lieberman, M. D. (2018). Putting Feelings Into Words: Affect Labeling as Implicit Emotion Regulation. Emotion Review, 10(2), 116–124. https://doi.org/10.1177/1754073917742706
Co-learning station "Inspire Motivation, Wellness, and Accessibility in People" (with QT Robot) By Melany and Victoria
In this co-learning session, we worked with young students on the subject of using QT Robot to design the psychology concept of motivation and wellness for people. The aim of the session was to introduce the students to the basics of these concepts and get them to express their creativity on how to further design motivation and wellness in a fun and engaging way using QT. Before the session, we had a few brainstorming sessions to come up with ideas for activities that would make the process fun and accessible for the students. We decided to use a game-based approach to present the concept of motivation by creating a short Spanish adventure game.
On the day of the session, to get things started, we taught the students some Spanish phrases that can be used in everyday life. We then allowed them to play the adventure game where they used the learned Spanish phrases to progress through the game. We maintained a leaderboard where we stored the points collected by each student for each question answered correctly during the game to motivate their attention and rewarded them based on their score. The students seemed excited to participate, and they quickly grasped the concept of using language as a tool to advance in the game.
After the game, we opened up a discussion on how we can use QT Robot to create something that can motivate and inspire well-being in people. We encouraged the students to be creative in their ideas and suggestions, and some were not shy about expressing their thoughts. Some of the ideas that came up included using QT more in motivation, giving positive affirmations, and encouraging people (especially the elderly) to do healthy activities such as taking medications, going for a walk, or using reverse psychology to encourage younger people to do beneficial things they do not want to do, and keeping lonely people company. The students also suggested that QT could use a more natural tone and be combined with AI to replicate the voice of children that have moved away from home for their parents that do not see them often. They also gave feedback that the Spanish adventure game could be longer and use harder phrases.
Overall, the co-learning session was a success. It was an excellent opportunity to work with young students and explore the possibilities of using technology to promote motivation and well-being. It was interesting to see the students come up with ideas and feedback that were valuable and thought-provoking. We look forward to working in more sessions like this in the future that inspire young minds to use technology to create a better world.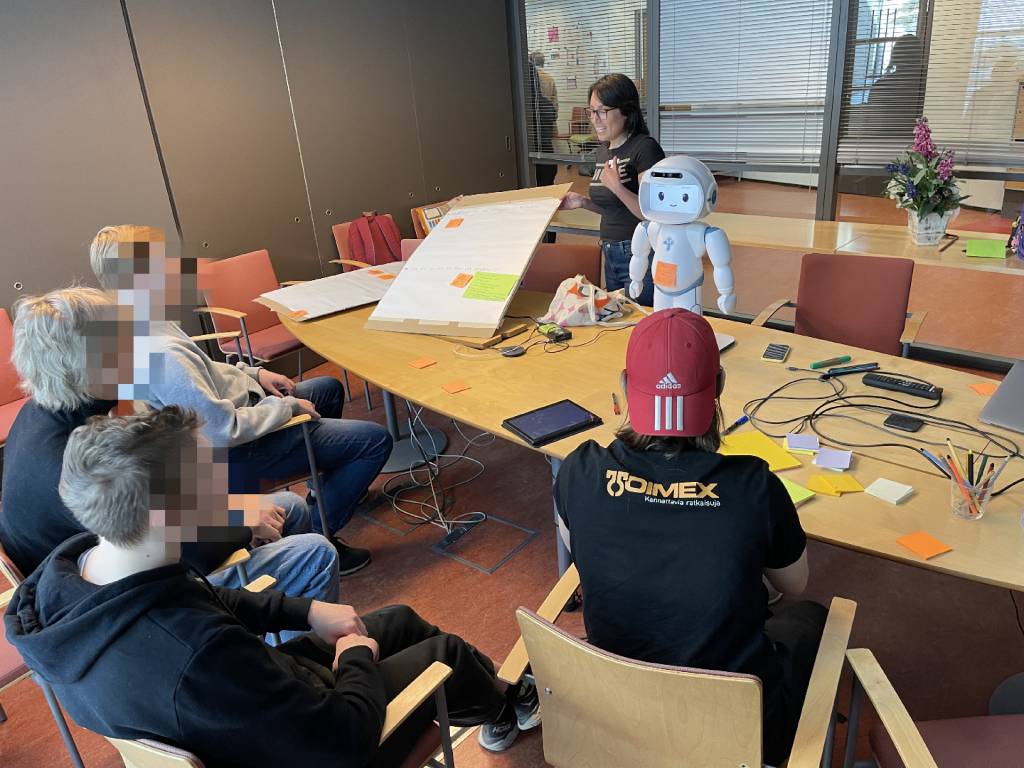 Co learning station "Student's perspective of the robot's potential to help students with anxiety and panic disorders in classroom." (With NAO robot) by Eishika
I'm working on my thesis. And in this station, I worked with the students and NAO to do initial studies for my thesis on the robot's potential to help students with anxiety and panic disorders in the classroom. The most frequent mental health illnesses impacting students are anxiety disorders. While social anxiety frequently originates in childhood or adolescence, other anxiety disorders, such as panic disorder, may initially occur during stressful school/college years. Even among students who have not been diagnosed with an anxiety illness, research have shown that many are sensitive to high levels of anxiety as a result of study pressure. So, the objective of my research is anxiety and panic disorders, which are becoming increasingly widespread among students and can have a substantial influence on their academic performance and overall well-being. Recent technological advancements have opened up new avenues for resolving these difficulties. The usage of robots in the classroom is one such technology that is gaining favor.
We had a Mural board before the session where I could prepare the tasks and what to do during the session, as well as how to break the ice and make the session exciting. That was extremely helpful in planning everything. I decided to hold a pen-and-paper brainstorming session for the young people so that we could all discuss and work on the ideas together.
On the day of the workshop, I delivered a brief presentation on my topic and programmed NAO to do some dancing and playing music for breaking the ice. NAO piqued the interest of the students. Following that, we began working on the brainstorming phase. There were some pretty fascinating ideas that emerged from the session. Nobody wanted the robots to appear like humans; some wanted it to look like a dustbin so they could let out their feelings, while others wanted it to seem like a nice cushion so that they can feel comfortable. One person suggested plastics don't feel very comforting to them. Another thought that came out of it was that if we use a robot in the class and only one person requires its assistance, it would generate a lot of noise in the class, which will be bothersome for others. They also discussed how the robot could help someone who is suffering an anxiety attack while giving a public speech by starting to talk if the human begins to stutter or order food on behalf of the humans.
Overall, it was a really productive, thought provoking and enjoyable session. The co-learning session went well. The young people's ideas were new and constructive, allowing me to investigate the various possibilities and viewpoints of employing robots in the classroom to promote mental health wellbeing. I have really enjoyed the session. I hope to participate in more sessions like this in the future.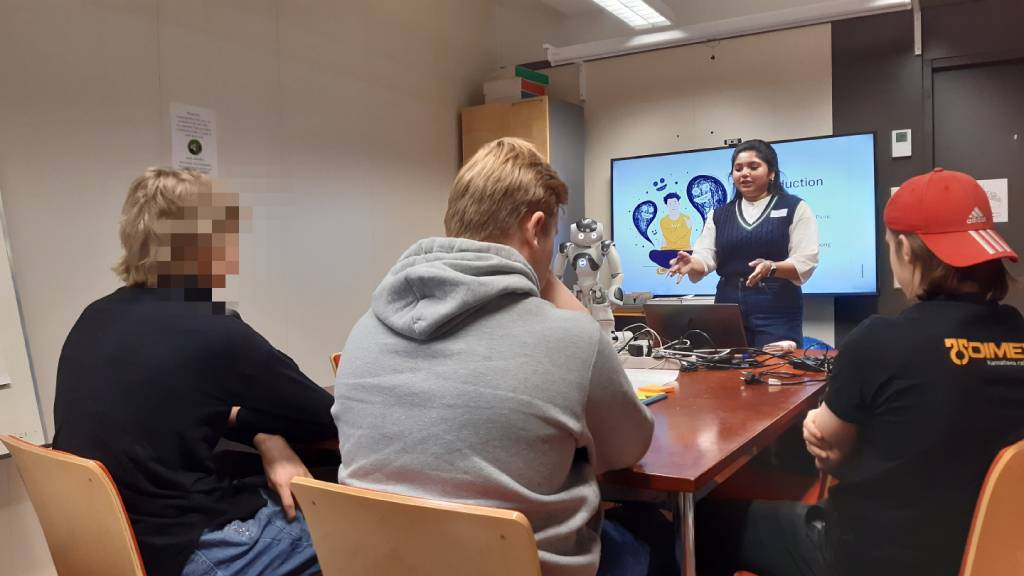 I want to thank warmly the visiting high school students, it was good to have you learning with us with open and fresh minds. And I want to thank our active and creative HTI students, who planned and facilitated the co-learning activities. I am sure these kinds of activities gives us many skills that we can use later on in our lives. I am proud of everybody, as always <3
Written by the participating HTI students, and their coach Aino A.