Most of the Delegation study visit for ILE alumni and educational authorities from the region of Antofagasta  -programme participants were TAMK alumni from the Diploma Programme in Innovation and Educational Leadership that was implemented together with the Universidad Catolica del Norte (UCN) during 2019-2020. There were also other educational actors from Chile who took part on the programme to learn more about the Finnish education. The group of altogether 30 leaders arrived in Tampere on Sunday 1st of May 2022. The purpose of their visit was to learn new methods and tools to apply in the home institutions as well as to find new project initiatives with Tampere University of Applied Sciences.
The participants visited schools in Ikaalinen and Kangasala
According to the participants the programme was a complete success. The one-week intensive programme was tailored to the needs of the participants by Virpi Heinonen, Team Leader, Latin America and Caribbean at TAMK. Dr. Riitta Juusenaho, who has long experience in the field of pedagogy and education, shared her knowledge to the participants. This programme would have not been possible without our long-term partner Kenneth Gent from Momento0 who took care of the practical arrangements of the group with the help of Marta Gil-Carcedo Cabezon, Senior Adviser of  Internationalisation and Business Operations from TAMK.
During the week Tampere city schools were in strike (something that had not happened in thirty years) so the participants were kindly welcomed for a visit to the school of Valkea Ruusu in Ikaalinen and Vatiala- and Pitkäjärvi schools in Kangasala. One of the main objectives of the group was to observe the school daily activities to complement their prior knowledge from the diploma programme. Diploma programme is offered by educational institutions which focuses on specific skills for career readiness.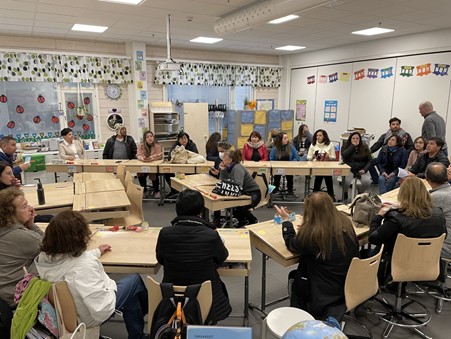 Practical approach was appreciated
Participants were extremely happy about the practical approach of the week. They felt that they got many new tools and methods to apply into their leadership style. They were also happy about the expertise and quality of the training.
During the closing ceremony at Milavida Palace the Ambassador of Chile to Finland Mr. Rodrigo Olsen came to Tampere to meet the participants and gave them his support and best wishes for all the new ideas and initiatives that they will take back home.
Text: Virpi Heinonen
Pictures: Jose Gutierrez  and the archive of Virpi Heinonen