Over the years, TAMK has built a reputation for creating opportunities for students to apply their learnings in real work environments. It comes as no surprise that the students of the Service Management Bachelor's Degree programme (studies in Finnish), are able to set up a café in the heart of Tampere.
Running a business through the Co-operative
During the third year of studies, the course "From Business Idea to Service Enterprise" (=Ideasta Yritykseksi) awards 10 study credits and a unique opportunity.
During this course, the students can create a fictive business idea or execute a real business idea. In teams, the students pitch their business ideas and compete for the opportunity to have their own business for one year through "The Co-operative of Tampere Hospitality Management students" (=Tampereen restonomiopiskelijat osuuskunta). Even though TAMK owns the company, the students in it do everything on their own. Everything from accounting, setting up bank accounts and insurances to baking, marketing and sales.
It is also possible to use TAMK's Catering Studio, which is the restaurant learning environment, for the business. The goal of the course is that students are able to seek the knowledge they need to start a company, to formulate a business plan, and to sell it to stakeholders.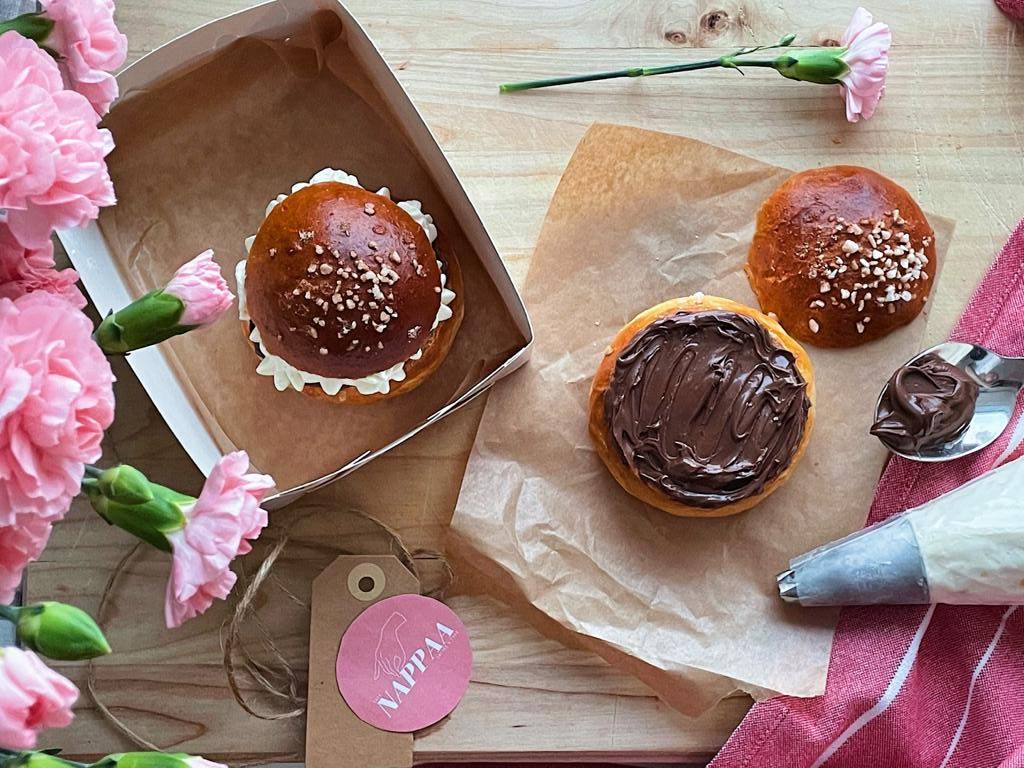 "This is the fourth year we have a team of students making their dream true and establishing a café in Tampere. The first two years the teams run their café business in Hatanpää Manor in Tampere, and last summer a team opened a café in Nokia market place," explains Riitta Brännare, TAMK lecturer and tutor lecturer for this project.
This year's team established a catering service and online pastry store, called Café Nappaa (Café Nappaa means something to grab, take away etc.). Due to the pandemic restrictions, opening a café seemed impossible. Fortunately, TAMK bought a food truck which can be rented to the student teams. Café Nappaa's team had the opportunity to participate in the whole process; from the purchase to the visual design of the food truck, product planning, marketing, budgeting. Finally, now they run their physical café in Tampere.
Determination and hard work
Behind Café Nappaa, there are three young women: Nella Kumpulainen, Tarja-Katariina Stepanova and Jenni Marjamäki. Running our own business has been our life's dream and without TAMK's support, we would not be here right now! We are all hard working and not scared of long hours. Working for yourself makes all that effort worth it.
Coming to this current situation has not been easy. At the beginning of our journey, we had completely different concept and business plan. Plan A fell through three months before our scheduled opening date and we were devastated. We chose not to give up and we came up with this current concept of café on wheels. It took lots and lots of pitching, calculating and research to get the plans to the point where our investor, TAMK, agreed to buy this food truck.
Café Nappaa is an outdoor-cafe on wheels. This allows us to go anywhere we want. All the products we are selling, are handmade by us, and that's one of the best things about entrepreneurship. You can bring your own visions to life and make it just the way you want it.
Every morning one of us comes to the kitchen and starts baking the products of the day. Others will join later; open the cafe and they work until the closing time. This project takes lots of time and effort, but with good planning we manage to have some days off too.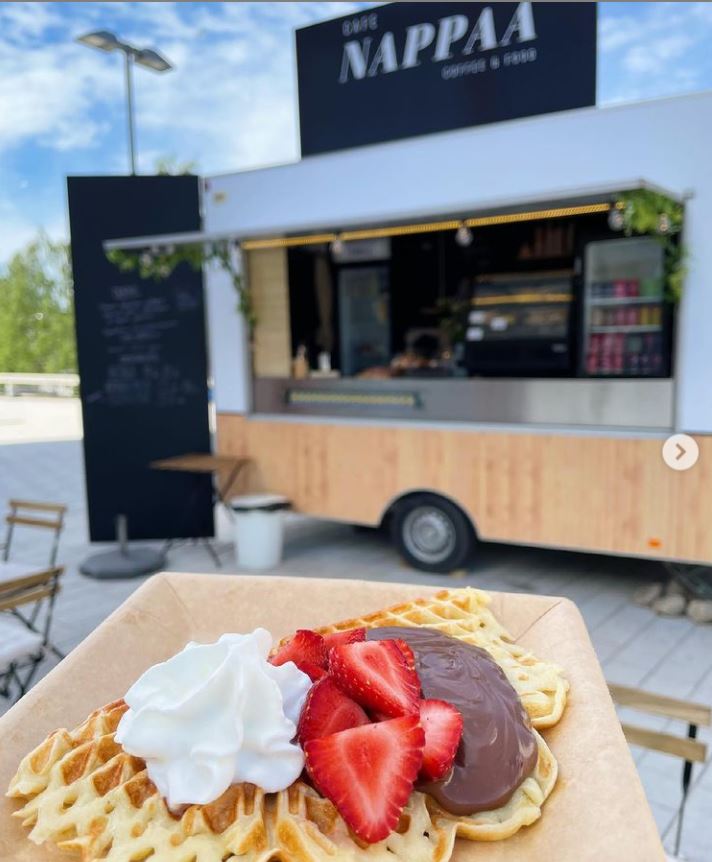 Go in with an open mind
From this project we have learned so many things about entrepreneurship. Accounting, marketing, pitching, practical and social skills, just to name few. We can learn things from books but getting actual experience from the field has taught us so much more. So we want to encourage everyone to take a chance and get out of your comfort zone, that will make you a true professional.
"Already, during the first a couple of days they learned a lot about customer behavior and the purpose of concrete marketing. They have also noticed that running a business is not as easy as it seems "on the paper". The team has the ambitions to succeed by learning more about business, concludes Riitta Brännare.
The most important lesson from this experience has been to believe in our dreams, follow them and not giving up. It's up to you how you react and continue from failure. If you think something is awesome and you believe in it, do it.
This summer, the food truck will serve as a café, but in the future, hospitality management students will use it in different kind of projects. Maybe it can become a pop up restaurant. The trolley is a great addition to Catering Studio's environment.
"The co-operative of our degree programme is a safe platform where students can test their entrepreneurial readiness and willingness. By renting the trolley out at a moderate price TAMK can support and improve entrepreneurship in studies even more," concludes Riitta Brännare.
You can find Café Nappaa form different locations around Pirkanmaa. Starting from 28 June we will be at Suupantori in Pirkkala. You can follow our road on our website or social media platforms.
Text by: Café Nappaa student team; Nella Kumpulainen, Tarja-Katariina Stepanova and Jenni Marjamäki, and Riitta Brännare, lecturer for "From Business Idea to Service Enterprise" course and Tutor Teacher of this project
Photographs from Café Nappaa Instagram profile