The competition was organized to introduce Spot to a wider audience. The event was kicked off by Aino Ahtinen (mother of robots) and Juho Hamari (professor, Faculty of Information Technology and Communication Sciences) where they explained the agenda of the day and revealed Spot's new name, TAssU Spot Robonen! The event was followed by Spot agility competition and demonstration of robot demos which are developed by Robostudio's students and researchers.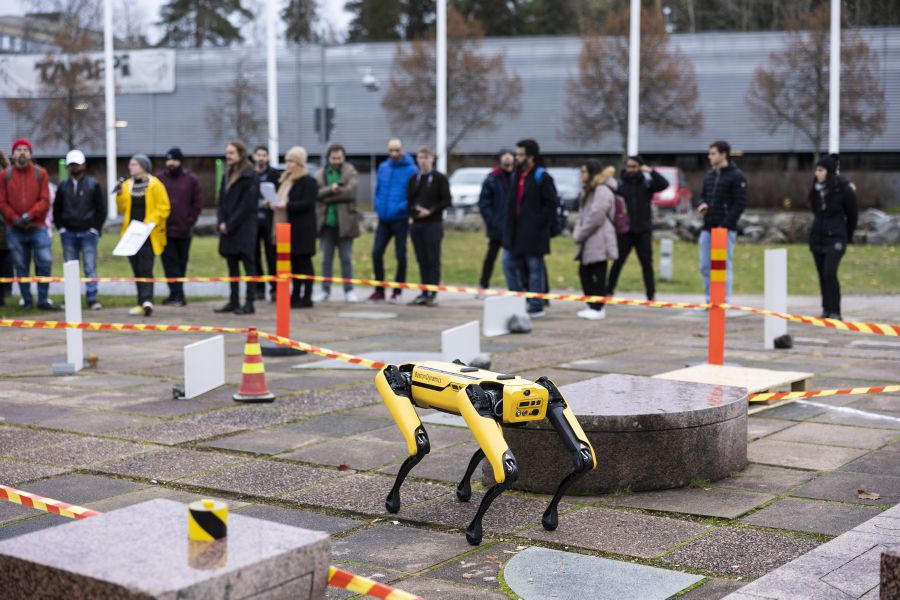 Spot agility game (By Rahat) 
The Spot agility game was assuredly the main attraction of the event. As organizers we were both excited and anxious about this segment of the event as this was our first time arranging an agility game competition with a zoomorphic robot. We wanted to do something unique with Spot (TAssU Spot Robonen). After having a lot of discussion, planning, designing (agility tracks & obstacles) and testing, we finally came up with a simple yet exhilarating collaborative agility game contest in which the registered participants were randomly assigned in teams of two or three people by us. As a team, their tasks were to go from Point A to Point B or vice versa using one of the two tracks in which they must follow the patterns, avoid the obstacles or in some cases go over the obstacles. We designed two tracks with almost similar levels of difficulties. Each team had to choose one track when they were at the starting point. To ensure participation of each team member, there were controller exchange points in each track where the participants handed over the Spot robot controller to the other teammate. We measured completion time for defining the winners (top three teams). Everyone was listening to the instructions and game rules very attentively before this segment. We were really happy and pleased to see a certain level of excitement and astonishment among the participants and audience when they saw Spot in this agility game. Everyone was clicking photos or making videos of Spot during the competition. Even after we were done with all the registered teams, people from the audience wanted to try it out and looking at their eagerness and excitement, we could not say no. So, we let them try the Spot agility game for the next half an hour. Indeed, Spot was the showstopper.
Indoor Demos (By Apa) 
While the competitors were waiting for their turn in the competition (or waiting for the results to be announced), they could visit some robot demos organized indoors. The two demos were created and demonstrated by students and researchers of Robostudio; Temi as wellness coach by Apa and Emotion Recognition on QTRobot by Luu. Temi as wellness coach would detect the sitting posture of participants and gave feedback if they were sitting correctly. The feedback was displayed on the dashboard from which the participants could understand which of their sitting posture was incorrect. The audience which came to see Temi were brainstorming many possibilities with the robot and were also making some jokes. One audience mentioned it could analyze walking postures in physiotherapy and correct them. Some were making jokes when they thought Temi was "lost", "I think it is intentionally ignoring me!". Another indoor demo was QTrobot recognizing emotions of the participants. The participants would express different emotions infront of the robot and it would recognize and imitate those emotions. During the demos, the Dean said "I did not know we had so many robots! Now we must mention in events that we have this many female employees, this many Male employees and this many robot employees!"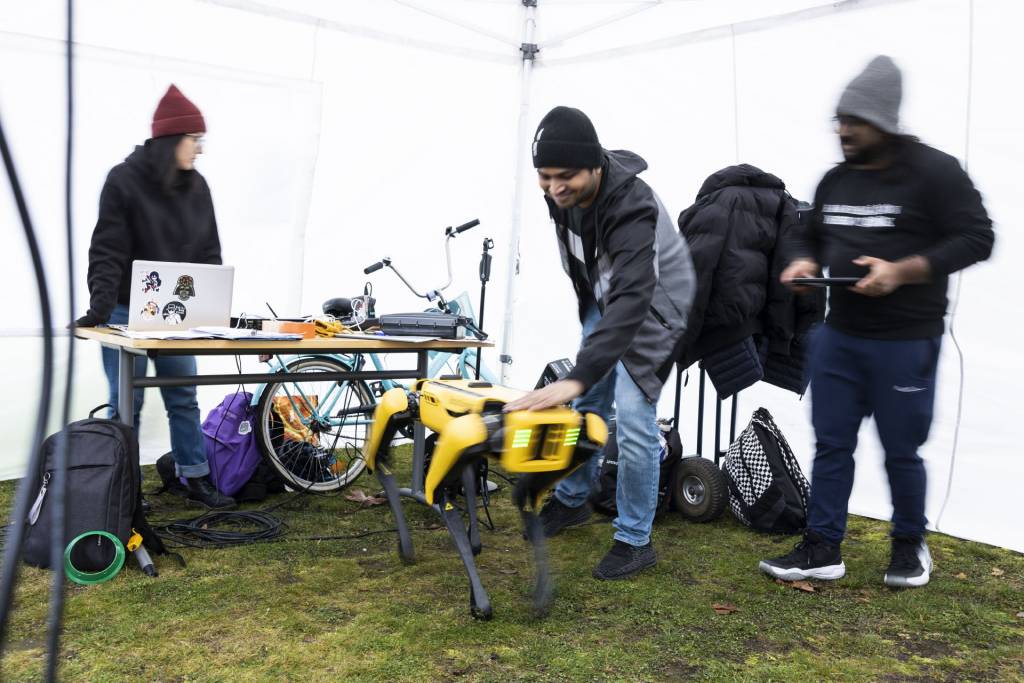 Behind the scenes (Aino) 
We started to plan this Spot Unveiling event several weeks ago. The further we got in our plans, the more there seemed to be things to be planned and figured out. We had weekly meetings at Robostudio to plan the agenda and check our increasing activity point list. Agility Contest design and implementation. Coffee and tables for that. Registration form and desk. Obstacles. Piloting. Indoor demos. Reservations. Audio equipment. Last minute tent order. DJ and music. What not. Since the very beginning it became clear that we had an excellent team of around 10 people to make this event true! Without any complaints people (students, instructors, researchers) just invested lots of effort to make it happen, and we learned so much about arranging this kind of event. This Spot Agility event reflects so perfectly the concept that I call "Robostudio team spirit". We help each other when needed, reciprocally and emphatically. We laugh and cry together. And we make things happen. Thanks to all superb people who were there to make this true, you are lovely. 
Read more about the event: 
Ja hänen nimekseen tuli Tassu Spot Robonen (shorthandstories.com) 
Tassu the robot dog is the newest member of the Universities community | Tampere universities (tuni.fi)
Written by Aparajita Chowdhury, Rahat Rahman and Aino Ahtinen