During the weekly sessions, the concepts of Finnish art and design, with a focus on architectural and interior design, were introduced. The students also studied well-known Finnish architectural examples of school, villa and sauna design. The course was tailored taking into consideration the cultural differences and the needs of the students by Stella Yuxing Ikonen, Senior Adviser of Internationalisation and Business Operations at TAMK. The themes of the course were chosen together with lecturers from Weihai Vocational College and TAMK.
Creativity and peer feedback
The course started with a Self-Hack Workshop, which aimed to help the students focus on themselves, find their paths and set meaningful goals for their studies. The workshop was a success as the students actively engaged in discussion, which is uncommon for Chinese students.
After two lessons on Finnish school design from an architectural and pedagogical perspective, the student teams presented their design of a dream school and received peer feedback.
Groupwork is common in China but giving and receiving peer feedback is rare. In the beginning, the students were too shy to either present their work or comment and give feedback to others. After receiving encouragement from Dr. Riitta Juusenaho, experienced educator and school designer, the students started to confidently present and comment on peers' work. It was great to see how the students became more actively engaged in the dialogue.
The students also got a taste of story-based design with renowned Finnish artist and TAMK senior lecturer, Dr. Juha Suonpää. In Suonpää's lectures, the students expressed themselves through photography. The students shared emotional and relatable personal stories with creativity. Suonpää has rich experience in teaching students from Asia, so he expected to see students sharing such personal topics in a fully online course. Students commented that Juha's sessions were a joyful learning experience with a relaxing learning atmosphere and intriguing content.
Positive feedback and future cooperation
According to the students, the course deepened their understanding of design and improved their appreciation of artistic beauty. They were also impressed with the lessons and the professionalism of TAMK lecturers. The students have also expressed their interest in visiting Finland and meeting TAMK lecturers face to face.
On the last day of the course, Carita Prokki, Director of External Funding and International Development at TAMK congratulated the students on the completion of the course and gave them her best wishes. She pointed out the importance of opening their eyes and understanding different cultures in the world of design in the process of being more creative and forming their unique design style in their career.
Zhongfeng Sun, Vice President of Weihai Vocational College, joined in the last day together with directors and lecturers.  He thanked TAMK for making this course a valuable experience for the students during their studies in China. He is looking forward to more cooperation activities in the future between Weihai Vocational College and TAMK.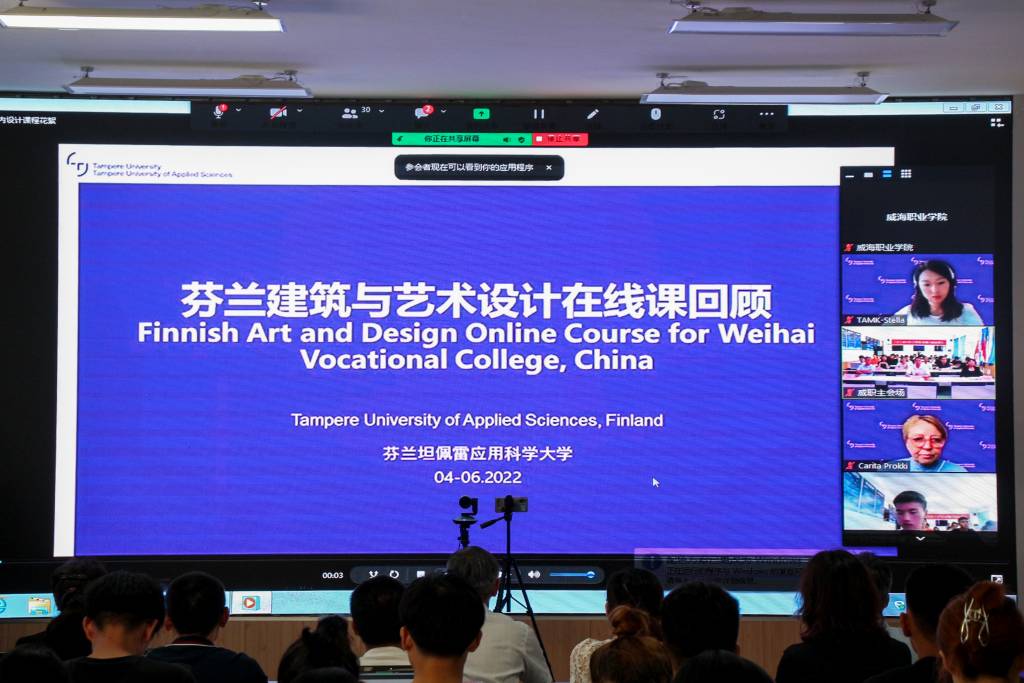 Text: Stella Yuxing Ikonen
Pictures: Stella Yuxing Ikonen and the archive of Weihai Vocational College