The first concrete step was to receive two master's degree students Francesca Avallone and Francesco Di Vincenzo in Tampere within an EU-funded traineeship programme. The aim of the three-month visit was to establish a research group with TAMK's business administration and international business students and produce at least two theses and a published research paper on a research area. In addition, our international guests visited a local startup incubator with the purpose of establishing cooperation possibilities with companies in the Salerno region. I have been the supervisor here in Finland and Professor Bice Della Piana in Italy.
The students from Salerno came to TAMK just before the corona restrictions. The students had about a week to familiarise themselves with TAMK's teaching methods and operation before TAMK's doors had to be closed for students and staff.
In week 22, Francesca and Francesco will leave Finland. Despite the many challenges in teaming, data collection and adjustment to the new environment in the exceptional situation, all objectives will be achieved. My supervision has gone well even if it has at times concerned areas I could not have imagined, such as mental support when the young guests were worried about their relatives' situation in Italy. Thanking all parties for excellent cooperation, I share some of Francesca's and Francesco's thoughts and experiences on their visit to Finland.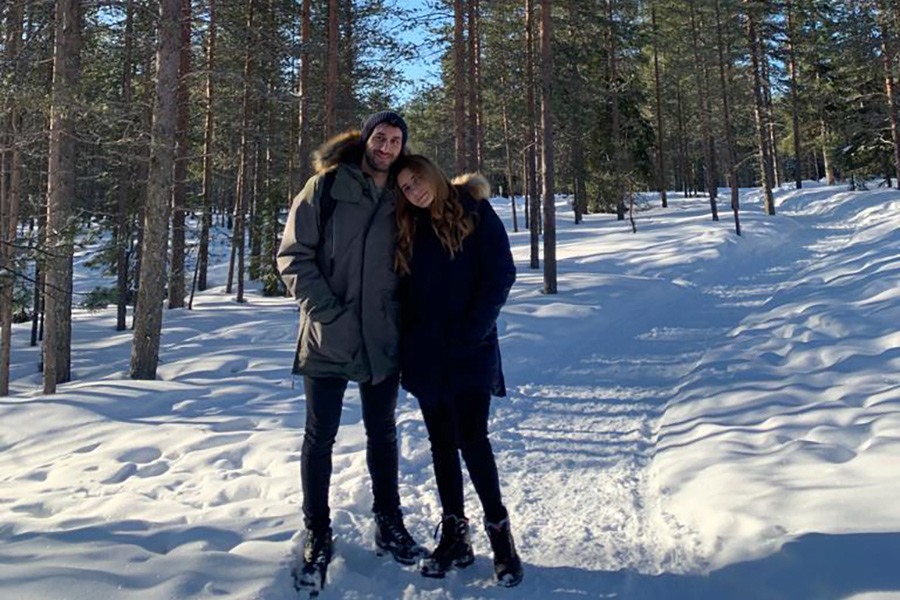 What was the personal purpose of your visit to TAMK?
Francesca: The purpose of attending my traineeship in TAMK was to gain competences and soft skills in a working environment. Moreover, I chose this specific programme in order to increase my cross-cultural competences and team-building skills.
Francesco: Here in TAMK I'm attending my 3 months' traineeship, in which I hope to improve my cross-cultural competence and to evolve team-work skills. As a master student this experience allowed me to undertake research paths and at the same time to get closer to the work environment thanks to the meeting with the incubator.
What kind of results have you achieved so far and from the point of view of the continuation of the teamwork? Could you already describe some results of the research?
Francesco and Francesca: We are really proud of the results we could achieve, because despite of the spreading of the coronavirus we have had the opportunity to submit the questionnaires to an important number of students here in TAMK, in order to estimate the cultural intelligence. The purpose of the research is to understand how it can be possible to improve the students' CQ and we are extrapolating encouraging and important results. Thanks to these successful results, fertile ground has been created for future collaborations.
How did the collaboration with the other members of the group succeed? How did the coronavirus influence the collaboration?
Francesco: The group worked very well, and despite the possible cultural barriers that could have arisen we were always able to find bridges and to work with serenity, competence and ability. The coronavirus did not allow us to meet in person, and despite the work at a distance and behind a screen, we always managed to achieve the desired results.
Francesca: The coronavirus dramatically changed the way we collaborated, mostly by switching to a virtual team. Despite this, I believe that the team has successfully overcome the difficulties that could have arisen from the exceptional situation through strong cooperation and the desire to achieve good results together. In general, I am satisfied with the work done as not only are we getting the desired results, but we have also learnt to deal with unforeseen situations and we have acquired new skills on how to work in a virtual team, which is nowadays an essential requirement in working environment.
What is your opinion on TAMK and universities of applied sciences in general? And how did you see them through the glasses of the coronavirus situation?
Francesca: The university of applied sciences is, from my point of view, a very innovative university compared to the standards of universities in Northern Europe. I was positively surprised by the direct relationship it has with businesses and its way of training and effectively bringing students into the working world. I also appreciated the way they manage and put students' ideas into practice to create a bridge between students and the working world in order to make them actors that actively contribute to development of the society. In the current situation, the university was able to cope with the difficulties by immediately switching to an online teaching methodology and providing students with the necessary support.
Francesco: At TAMK I found a very welcoming environment. Ideal for students who want to learn and improve every day. It is the perfect place to improve, not only from the didactic point of view but in accordance with the didactic methodology envisaged, it allows you to compare yourself with other students and improve your team-building skills. The proximity of the companies to the university means that the student receives training experiences in close contact with the work environment, preparing him for his future no longer as a student.
And what did you think about Finland and Tampere?
Francesco and Francesca: The pride and care of the Finns towards their nature was the first thing we noticed. And especially nowadays when the world wonders a lot about how to limit pollution and preserve nature, Finland can be a source of inspiration.
Tampere is a very modern and dynamic city with a clear desire to continuously improve, thus making it a perfect city for students and for innovation. Unfortunately, the spread of the coronavirus did not allow us to fully enjoy it.
When are you going to leave Finland? What kind of expectations and wishes do you have for the future? How do you think this experience in Finland has changed you or influenced on you both professionally and from an interpersonal point of view?
Francesco and Francesca: In a few days our experience here in Tampere will end. Every trip and every experience help to improve us, and certainly these three months here are a confirmation of it, with the hope of being able to continue successfully in our school career and in the future. We hope that Finland will help us to appreciate more and more the nature and calmness that distinguishes it. The meeting with the innovative incubator was an important moment of openness and discussion to find a bridge between the university and work environments.
Professionally, thanks to the activities carried out we have gained a lot of experience in meetings, data collection and reporting activities, which will surely prove useful for the future. The experience and work done in this university have allowed us to acquire new pedagogical practices and develop our competence.
Describe yourselves briefly
Francesco: I'm Francesco Di Vincenzo and I'm 23 years old. I'm a master student from the University of Salerno where I study Strategic Management. I'm here in Tampere in order to attend my Erasmus traineeship at TAMK.
Francesca: I'm Francesca Avallone, I'm 21 years old. I'm attending the last year of my bachelor studies in Economics and Management at the University of Salerno.
Further information on the cooperation project:
Pietro Albanese, Senior Lecturer, Tampere University of Applied Sciences,
pietro.albanese@tuni.fi, tel. 0503791947
Text and photos: Pietro Albanese