Ljubljana is a good alternative for students and teachers for exchange. Slovenia is situated on the border of Italy, Austria, and Croatia. Its culture is a historical blend of Mediterranean and Eastern European cultures. The landscapes are exceptionally beautiful as the country is located at the foothills of the Alps. The Slovenian people are known for their warm hospitality and friendliness, and they made us feel comfortable and at home throughout the week. Communication in English was very smooth, and it was clear that they were enthusiastic about the development of nursing education.
Our goal for week was to strengthen the collaboration and student exchange between the University of Ljubljana's nursing and midwifery programs and Tampere University of Applied Sciences (TAMK). Throughout the week, the practical implementation of student exchanges became clearer and more defined. We also discussed about future plans for projects. University of Ljubljana has been a strong partner for example in 4Steps and DigiNurse projects with TAMK.  Additionally, the aim of the exchange was to assess the partner university's interest in collaborative teaching, plan joint courses, study modules, and course components. Discussions on these topics took place, and collaborative planning for education occurred, particularly in the fields of perioperative care and pediatric nursing.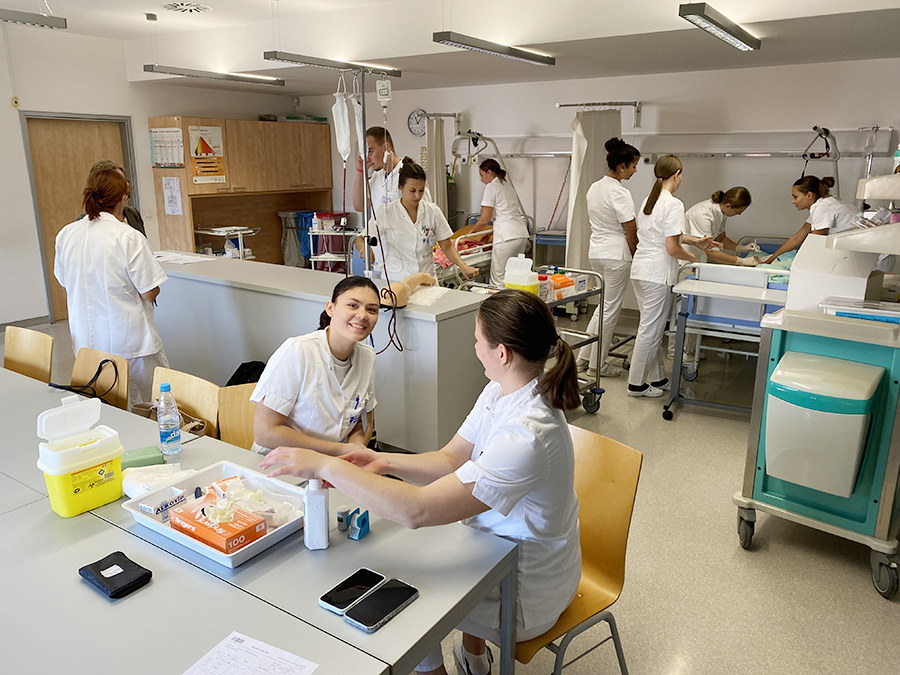 As new cooperation begins, it is important to get to know the staff and facilities that students will encounter during their exchange. During the exchange, we were able to discuss the possibilities for clinical training and participation in theoretical lectures.
During the exchange week, we had the opportunity to familiarize ourselves with both nursing and midwifery programs. Concerning nursing education, we participated in an intensive skills simulation week and a skills review, which the students had attended after their summer break before starting their clinical placements.
Additionally, the week's program included collaboration meetings with the responsible persons and instructors of the midwifery program at the University of Modena, Italy (UNIMORE). They expressed interest in collaboration and Erasmus+ teacher and student exchanges with TAMK. The university also offers nursing education and is one of the oldest universities in Italy and the world. We also gave presentations about Tampere University of Applied Sciences.
The week also developed our own international competence, which can be utilized within the increasingly international community at Tampere University of Applied Sciences (TAMK). The number of international students is continually growing, even in programs conducted in Finnish. The exchange also provided an opportunity for language skills development.
We highly recommend Slovenia as an exchange destination for both teachers and nursing students. If you need more information about this destination, please don't hesitate to contact us, and we will be happy to help you!
Text: Anna Karma and Anne Mäenpää, Senior Lecturers in Nursing
Photos: Anne Mäenpää