Will it snow in Finland? That was one of the first questions my friends asked me before coming for a visit. I was trying to type in my phone, but my fingers were so frozen that I thought it would be better to answer later. Meanwhile, I was thinking they would be quite surprised coming to Finland as they have never seen the snow. We are from the south of Spain where winters are warmer. (Well, our winters would be autumns for Finnish people). I told my friends the same thing every Finnish person I told me: "Winter is coming". And for sure they were prepared for the winter! When I saw them, they were wearing so many layers that it was almost impossible to hug them.
Silent people and laughter
Our trip consisted of three parts. First, we visited Lapland, then Tampere, and finally the capital Helsinki. We really loved these three cities, and we visited every corner of them. The first cultural shock was experienced on the train to Rovaniemi: everyone kept silent – except us. This was something that happened during the whole week. We were the only ones that you could hear. I do not want to exaggerate, but I think people all over Finland could hear our laughs. This was the first time my friends said: "Wow, we think that we talk too loud".
Snow and northern lights
As I said before, I was sure that my Friends would love the landscapes. This was the best thing about their experience: seeing everything being covered in white. Also, we felt like kids as we were making snowmen and having snowball fights all the time. One of the most incredible things was knowing that each snowflake was different and unique. However, it was disappointing not to see northern lights. It was one of my friends' dreams, but seeing northern lights is not as easy as you would think. The situation gave us a chance to laugh about our bad luck.
Safe country
We felt very safe during the whole journey. At first, my friends did not trust my words but at the end of the week they agreed with:  you can easily trust the people here! We felt relaxed as Finns are usually more calm than Spanish people.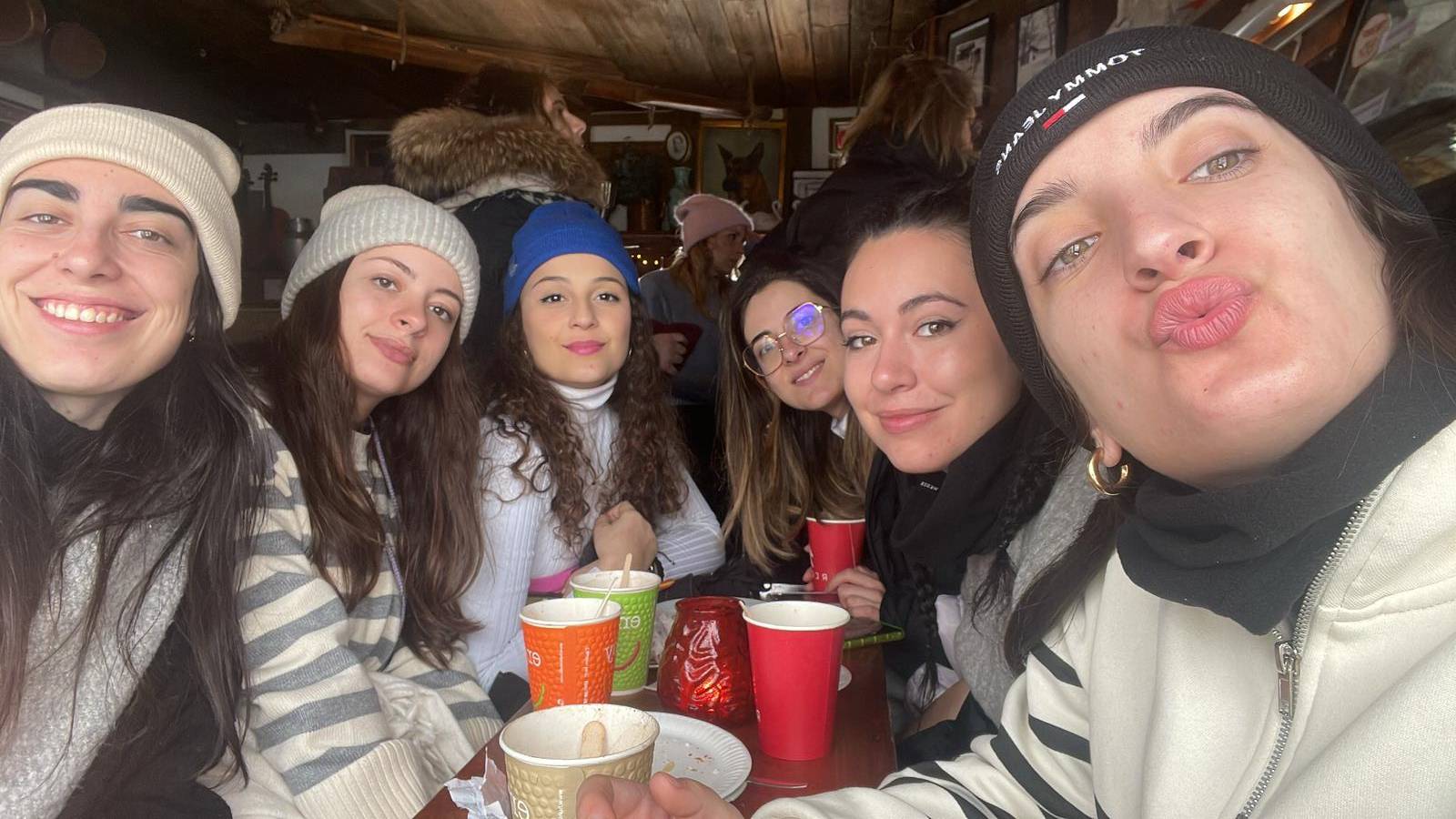 What is the right time to enjoy lunch and coffee?
When we were in Tampere, we spent part of our day in TAMK. At first, my friends did not believe my words when I told them that we usually have lunch early in Finland. For them it was a cultural shock to have an after-lunch-coffee at 13:00.
Student life
My friends really liked the student union Tamko's facilities and how the space is really meant for get togethers. Moreover, my friends were surprised about people taking their shoes off indoors.
We did a lot of activities and enjoyed the nature by hiking and making a bonfire. We also had an extreme sauna experience with a quick dip into the frozen lake!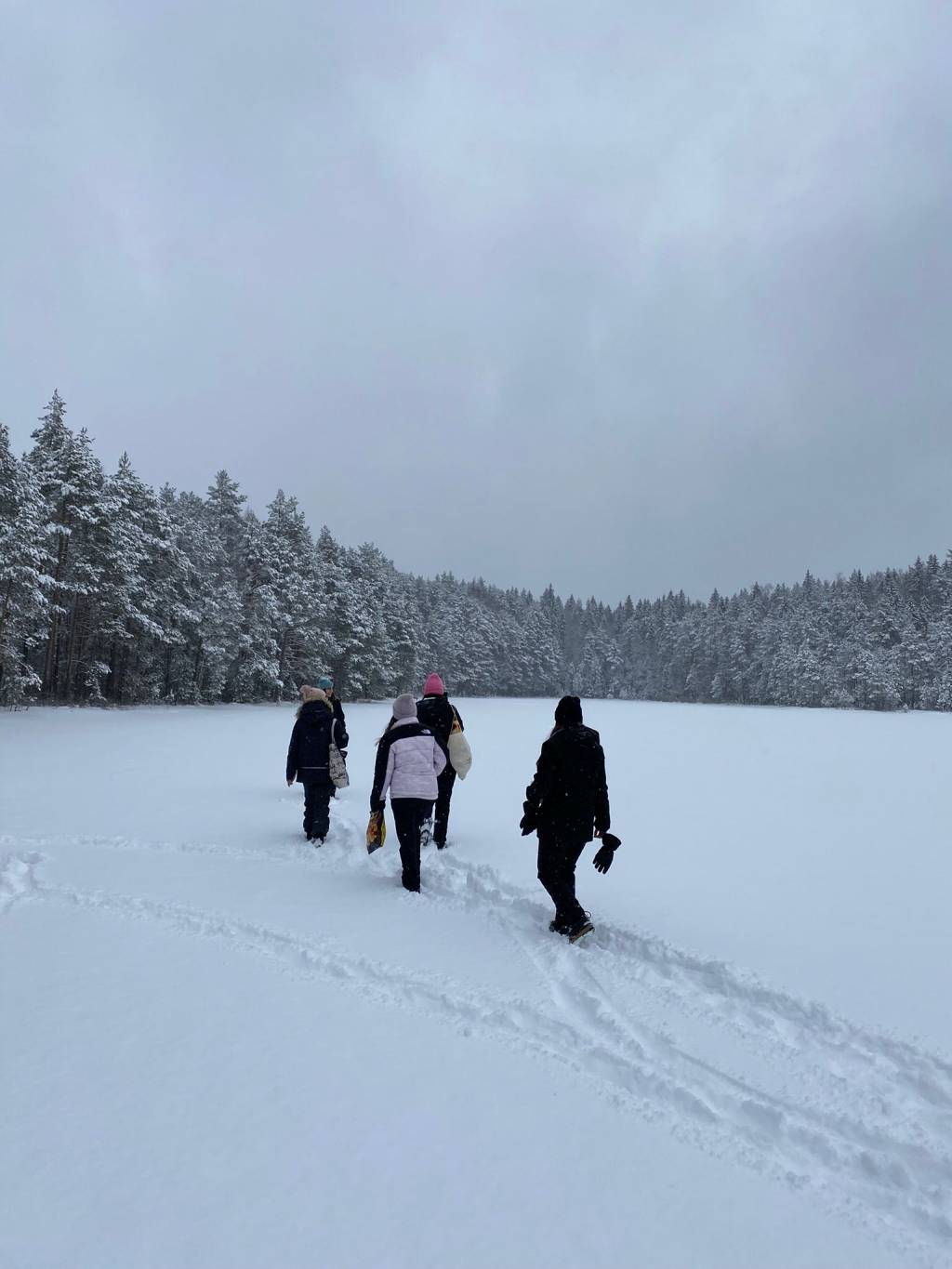 Valuing the difference
We spent our last day together in Helsinki. We visited every of its corners and I need to admit that our favourite place was the Helsinki Central Library Oodi. It is just amazing! This day was the only sunny day we could enjoy, but the sunset we saw in the ferry coming back from Suomenlinna felt like Finland was telling us goodbye.
I was feeling very glad to have the opportunity to share experiences from the place that had become my new home. My friends enjoyed their time in Finland, and although they told me they could not live in this kind of weather, they left me with a piece of sun to remember that I am lucky for having the opportunity to live a year abroad – in such a different reality.
TAMK helps international students with Talent Boost Programme's Study and Stay
Being a foreigner in Finland can be a rewarding experience, as the country offers a high quality of life, a safe and stable environment, and opportunities for personal and professional growth. However, it's important to be prepared for the challenges that come with living in a new culture and to be open-minded and willing to learn and adapt to new surroundings. Via various Talent Boost activities TAMK aims to promote international students' application to TAMK, study progress, integration into the society and ultimately employment and stay in Finland, and especially in Tampere Region.
Text:
María Coronado Cuenca, TAMK exchange student from Spain, working as an intern in TAMK's Talent Boost programme during the spring semester 2023
Eija Syrjämäki, Senior Adviser, TAMK Education and Learning Services, Talent Boost TAMK
Pictures:
Pictures 1, 3, 4: Jorge Mena Herrera
Picture 2: María Coronado Cuenca