In November 2022, Sprint was organized as a hybrid event. Four challenges were online and 11 challenges were solved on campus. Almost 500 students solved real business challenges in multidisciplinary teams.  
To solve the challenges, the students get support from coaches, experts and members of the organization that presented the challenge. The intensive week concluded with the jury reviewing the work and picking the best solutions. 
 The innovation week is planned based on the Design Process. With the Design Process students can make sure to go through every important step while solving the problem, like defining the problem, gathering information, ideating, validating, prototyping, testing and of course – building a pitch about the best solution.  
Partners and challenge examples
In total, the Sprint Innovation Festival included 15 challenges. During registration, the students describe what challenge they want to solve. Below there are some examples of our partners and their challenges.  
Bronto Skylift 

/

Challenge: Sustainable workplace 2030 in industrial sector

 
"We want students to discover and ideate what a sustainable and green workplace in the industrial sector should look like in 2030.
What does a sustainable workplace in 2030 look like from the personnels' perspective? Values & ethics, physical and social environment, employee benefits, something else?
On the other hand, what does a sustainable and green workplace in 2030 look like from operations' perspective? Emission & waste, carbon footprint, energy solution & consumption, something else?
We challenge you to ideate new solutions and create a versatile vision of a sustainable workplace in 2030. Choose a perspective for your work in order to create solutions we could take into action!"
City of Tampere 

/

Challenge: Tampere – the best place to live and stay for internationals

 
"Have you ever dreamed of stepping in the shoes of a mayor of a great city for a day or two? Now is your time to shine in those shoes and help make Tampere an even cozier home for all internationals. You may know that Finns choose Tampere as the most loved city in Finland year by year. We want the internationals to feel the same.  Mayor of Tampere launches a new Welcoming City program next year to help internationals to live and stay in Tampere. How would you advise her? Unleash your creativity and let your ideas fly!"
Fortum 

/

Challenge: Emphasizing electricity consumption in everyday life

 
"Many people still think that electricity just comes out from the plug, and do not bother too much how much electricity they are consuming. Since everyone's effort is needed to tackle the climate change, Fortum wants to activate consumers to consume less electricity and increase their understanding and impact. What new and innovative use cases can be identified regarding making electricity consumption a more concrete and relevant part of everyday life (homes, workplaces, mobile apps, online services etc.)? What would motivate consumers to consume less electricity and increase their understanding and impact, both as individuals and as communities/user groups?"
Valmet

/

Challenge: Today we sell products. Tomorrow, we want to sell carbon neutral solutions and services.

 
"Valmet produces felts and fabrics that are plastic-based textile consumables for customers operating board, tissue, and paper machines globally. As Valmet's goal is to get new ideas for service and business models that encourage customers to make more carbon-friendly choices related to shipments, product usage, and recycling the used products and product packages, we challenge you to innovate new ways for delivering carbon neutrality to Valmet customers. "
See all challenges on our website.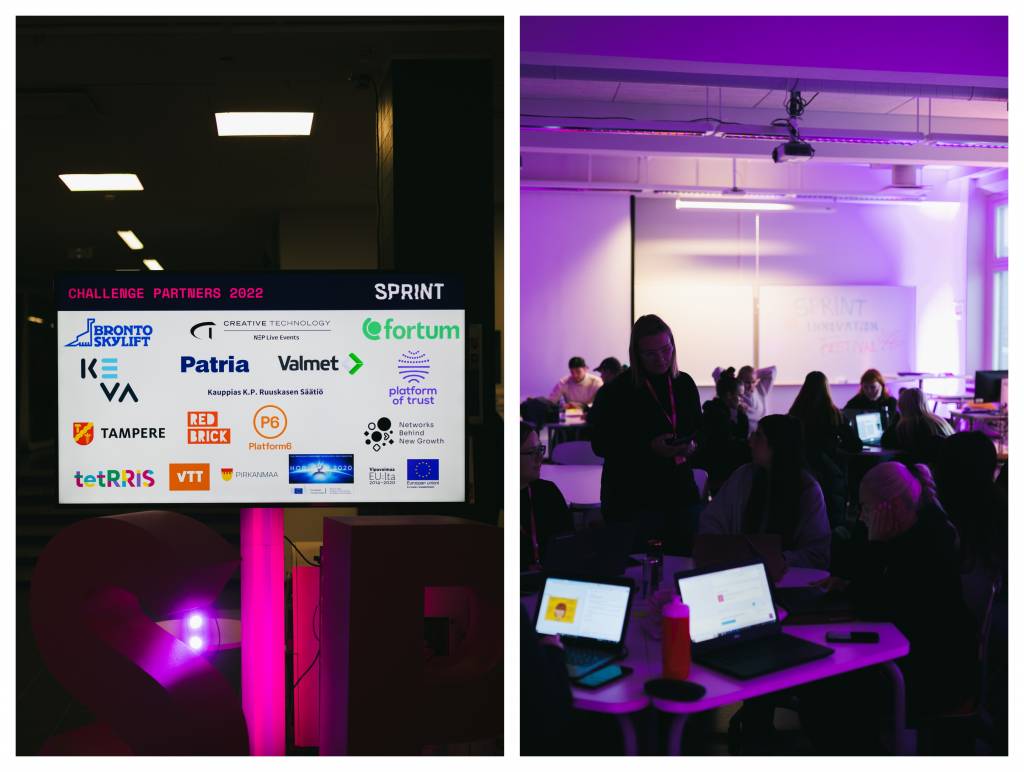 Digi-SOC & Sprint Innovation Festival  
In Sprint Innovation Festival 2022, there were experts and observers also from Digi-SOC, and also students.  
Digi-SOC offers a framework to address the needs shared by all participant organizations from Poland, Spain, Slovakia, Sweden, Finland, Italy, Switzerland, France and Portugal – to develop transnational cooperation, foster innovative curricula, that promote cross entrepreneurial mindsets and competences around digital skills. 
"I didn't expect an online event to be so interesting and fun. I learned how Hackatons work and how the way you think for a solution has to be innovative and all the things matter, is important to have a good brainstorming and also to deliver your solution with a good pitch," commented a student from Universitat Autonoma de Barcelona. 
Text: Sanna Tahlo, Producer in HUBS 
Pictures by Tuukka Nyström