Just like other events, TAMK's traditional Non-Teaching Staff Week was canceled this year as various Covid-19 related restrictions still remain in place on a global scale. The International Services teams from both Tampere University and Tampere University of Applied Seiences began brainstorming new ideas to bring the colleagues together and create value for all international partners.
As a result, "Partner Day 2020 – For International Partner Universities" was born as the platform to share topical news of the working environment in higher education institutions. As the covid-19 pandemic dominates international actions in a very profound way, the selected topics fitted the changes that professionals working with international affairs are facing.
"Our initial aim was to create a space where we could come together with our partner universities and share news about different current situations in each institution. There is so much we learn from each other." comments Noora Kahra, Coordinator in TAMK International Services.
An active mindset is key for successful collaborations
The day began with welcoming words by TAMK Vice President, Kirsi Viskari. Her words reminded everyone of old office routines; team lunches, coffee breaks and spontaneous brainstorming sessions with colleagues. That reality changed in a matter of days, as institutions had to switch work processes to accommodate mandatory remote work.
The challenges also brought new opportunities. The higher education institutions have now new ways of rethinking their internationalization strategies. Collaborations and partnerships are now possible without travelling or time restrictions. With the use of new technological tools, idea exchange and working together continue without many limitations.
"We had to use these new tools suddenly, without time to train and familiarize ourselves. We were worried about the future of internationalization and international collaborations. By persevering to actively communicate with our partners, we all continue growing and improving our services," Viskari reminded.
New reality, new ideas
During the Partner Day workshops, the participants were split in Zoom rooms and dove deeper into specific themes. Firstly, the partners exchanged insights on designing and organizing successful online student projects. The second crucial topic was the wellbeing of staff and students in these unprecedented times. In an active discussion, the partners presented practices and ideas on supporting and improving everyone's wellbeing. Thirdly, the issue of international mobility was covered. While each country has set different restrictions, the partners shared their experiences with this new reality in student and staff mobility.
The workshops became the setting for in-depth idea exchange for possible virtual mobility, cultural introduction during social distancing and mobility support. The participants shared tips on technical tools and practices and plans for dealing with these issues. At the end of the workshops, the key findings of each discussion were shared with everyone in the main cyber-conference room.
The keynote speaker and Professor of Practice, Matti Apunen discussed the long-term effects of this pandemic both in the economy and the societal behaviors. As certain sectors struggle during this pandemic, others are on the rise. Data Science and AI related positions will be more necessary in the future and talent sourcing may have fewer constraints, as everyone is more familiar with tools for video conferencing and distance collaboration. There will be new team managing styles and workplace premises.
 "A global talent pool is now differently available as distance work has been normalized. Maybe in the future people can live in the city of their choice and offer their services anywhere in the world," said Apunen emphasizing the possible need for re-evaluating skills taught and employee rewards.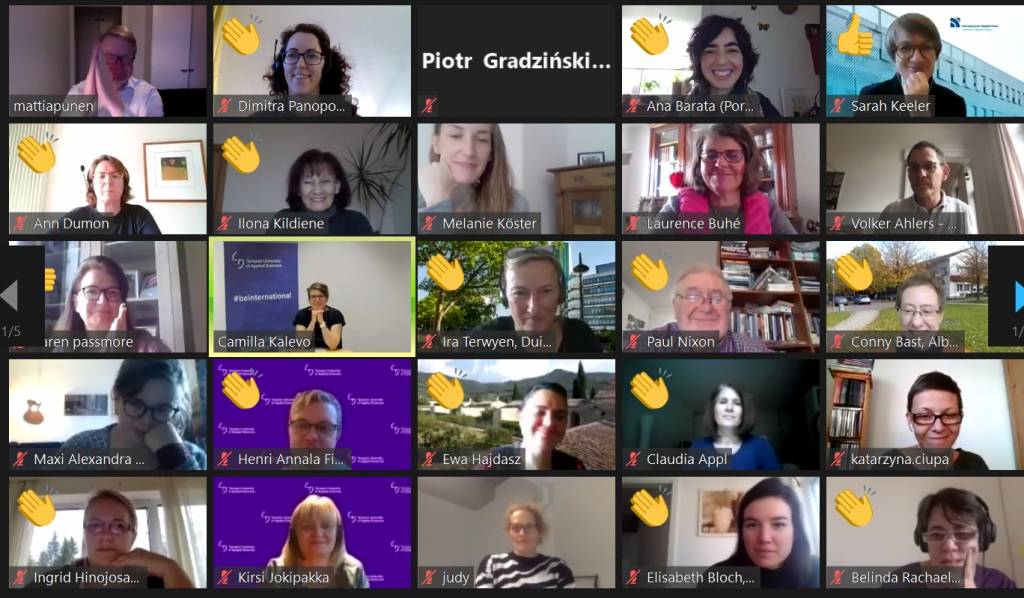 Organizing the virtual event
Tampere Universities community has years of experience in organizing international events, but the organizing team quickly saw the difference in organizing a virtual event. In a virtual event, extra attention must be paid for possible technical issues. Using these new tools, brings both excitement and stress process. Fortunately, the team can rely on the IT department for valuable support and help.
On the other hand, the virtual nature of Partner Day 2020 offered a unique opportunity to bring together partners from all around the world. Professionals who otherwise would not have been able to take time out of their busy schedules for a trip to Tampere, were now able to participate and join the conversation from the comfort of their home or office. This brought a bigger range of backgrounds and perspectives into play, making a successful first Partner Day.
"The word spread, and our partners were excited to join. There were participants from Mexico, Uruguay and Russia side by side with our European partners. There were active and fruitful discussions throughout the day," exclaimed Krista Merikoski, TAMK International Services Coordinator.
Mira Kauppinen, International Mobility Specialist for Tampere University, promised that the participants' feedback will play a crucial role in designing the following Partner Day events. It seems that Partner Day will continue being an online event each year with an effort of bringing colleagues together without the need for travel. Tampere Universities community is thrilled to be hosting more and more guests each year, both virtual and physical.
Learn more about International Tampere University of Applied Sciences