When the team began planning and conceptualizing the program of iWeek 2020, nobody expected that the format of its contents would be so drastically changing in the last minute. Due to today's unforeseen circumstances with global travel restrictions and Tampere campuses being closed, the iWeek 2020 could not happen according to plan. The organizing team quickly decided to swift the iWeek to a digital format open for all.
"I have been coordinating the International week for 8 years and I didn't want to cancel or postpone anything. We have experience in distance teaching and my boss, the Manager of Media & Arts Timo Kivikangas encouraged us. I am curious and love to learn new things. Without our student team Anna Haaraoja, Isabella Presnal and Luiza Preda, it could have been much more difficult, since I don't have so much experience in social media platforms." -Sohvi Sirkesalo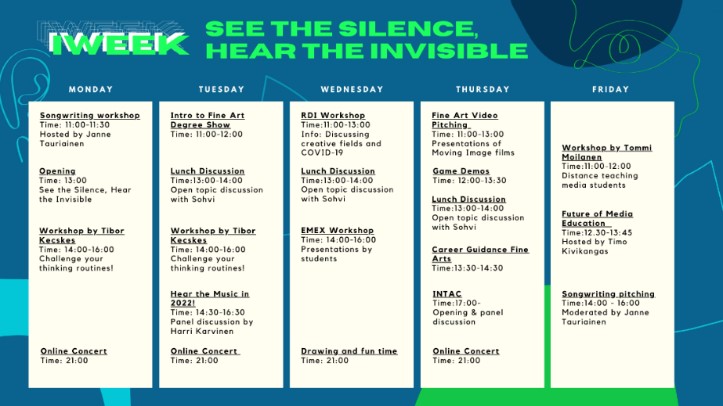 The challenge of going digital
Before the closing of the campuses, the team was planning to host art galleries, installations, music performances and workshops in TAMK's Mediapolis. Quickly recovering from the shock of the lock-down, the team's tasks changed to adapt to this new reality.
"Originally our tasks were completely different than what they finally turned out to be."- Anna Haaraoja
Each separate element of iWeek was carefully transformed into a digital event. For example, the exhibitions that would normally be hosted in the Mediapolis campus, are now available on the website. The online concerts were still planned with traditional event management in mind: lights, live mixing, hosting and simple visuals were essential.
The biggest challenge was organizing the online workshops. Some guest lecturers faced limitations with their internet capacity or know-how of hosting online workshops. The idea of virtual international week was so new to all of us.
"I am so grateful that at TAMK people are open-minded and ready to accept challenges!" – Luiza Preda
A new experience for all
In this year's iWeek there were more participants from long distances than before. Participants tuned in for the sessions from Mexico, China, Uruguay, South Korea etc. A great variety of disciplines was present with students of design, engineering, IT, architecture etc.
"I feel that we had a lot of participants from other schools that we wouldn't typically have in a physical event. It allowed for a different type of participation, people were active in the chats or just a viewer." – Isabella Presnal
Despite the social distancing in our life, there were no barriers between the speakers and audiences in iWeek 2020. The participants were a bit shy at first, with the possibility of attending with camera switched off and the microphone muted, but they became more active during the week. It seemed as though there were more discussions between individuals. The panel discussions and lunch meetings were particularly casual and easier to join in.
Thanks to these hard times, iWeek 2020 became much more coherent and a bigger audience was able to participate in it. This first taste of an online International Week has given TAMK and our partners lots of new ideas. Stay tuned for next spring, as iWeek 2021 will be the biggest one yet!
Text: Dimitra Panopoulou-Huovila
Photos: iWeek2020