The Sustainability Science Days is a transdisciplinary conference organised by Helsinki Institute of Sustainability Science and Aalto University. In May 2023 the  conference theme was Pathways of hope. I attended SSD2023 to seek hope, confidence and transdisciplinary evidence to keep up the work we have initialised in an EU-wide FUSILLI Project consortium.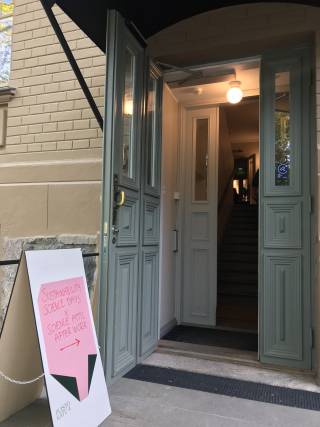 A keynote by Minna Halme, Professor of Sustainability Management at Aalto University, was plain-spoken about the economy. She was asking if an economy based on key values of short-term shareholder profit maximisation and ever-increasing efficiency can ever produce a sustainable future? So, what can a business do? Food system transformation requires changes in business models and new leadership styles. Leaders need courage to speak a difficult truth while already anticipating next crisis. Businesses and stakeholders need a shared positive vision about safe, fair, sufficient, healthy, community-based future, to understand which activities should be scaled up and which reduced or replaced. Even if we wouldn't have all competences and skills just yet, we are responsible to operationalise what we know in the food system decision making.
Transition towards sustainable food system requires getting rid of fossil fuels in production, dietary shift to low-carbon intense, and mainstreaming biodiversity footprinting. Ecosystem services, such as pollination, are invaluable for food production. Food industry, restaurant and catering businesses have an impact directly via decisions what's on the menu and procurement. Marja Turunen from University of Turku shared strategies on biodiversity-respectful leadership in food chain: favouring organic production and opting for plant-based diets. In general, awareness and readiness to take the leadership could be higher, but there already are pioneers in all stages of the food chain.
To promote sustainable practises in restaurants and catering, let's showcase those who take the lead in something that is not mainstream just yet. New narratives are needed, as well as inspirational stories, and sharing insight also about experts and citizens contributing alternative food networks. Prevailing paradigms must be recognised and not to let them to limit our thinking. Paradigms mean thought patterns we take without questioning; such as a human-centred food system, which is clearly unsustainable in terms of planetary boundaries and animal welfare, or an illusion of consumer power in retail and restaurants. Shifting the paradigms is a tough cookie to bite. Annika Lonkila from Finnish Environment Institute encourage us that recognising and bringing existing paradigms to light is already a start to look for leverage points for transformation.
How to communicate all this, after all? The Science Basement community suggests that the most effective science communication is based on the emotional connection and engagement with people we are talking to. Professor of the social dimensions of environment at the University of York, Ioan Fazey, stated 'we are end of the world as we know it'. Modern food system is about to come to an end. With limited planetary resources, we won't be able to sustain many of the practises we currently have. Accepting it is necessary to be able to let go many of the operations our societies are currently relying on. Food system transformation in the cities, business models, consumption habits and beyond, will involve a fundamental change.
Read more about FUSILLI project.
FUSILLI Project has been funded from European Union's Horizon 2020 research and innovation programme under the grant agreement No 101000717.
Text: Sanna Luoto, Senior Lecturer, TAMK Service Business
Pictures: Sanna Luoto