Tutkivan Tie-journalistin kuva-arkistosta löytyi kaksi edustavaa otosta alkuvuodesta 2020, jolloin maailmassa ja Hervannan kampuksella kaikki oli vielä suhteellisen hyvin (mm. Ilves oli voittamassa jääkiekon Suomen mestaruutta Tapparan jäädessä hopealle, eikä valtioneuvosto ollut sulkenut Tampereen yliopistoa, nyyh).
Tuossa autenttisessa kuvamateriaalissa TAU:n Tietotekniikan maisteriohjelman opintojakson Software Engineering Methodologies viikkoharjoituksessa tulevat isänmaamme ICT-toivot harjoittelevat ohjelmistoprojekteissa tarvittavia jokapäiväisiä taitoja; muiden muassa nopan heittoa, korttipakan sekoittamista ja puuttuvan kortin tunnistamista pakasta, sekä ilmapallojen puhaltamista ja paperihattujen taittelua. Äkkivilkaisulla asioita tuntematon maallikko saattaisi luulla kyseessä olevan jonkin alkeellisen leikittelyn, mutta tuo on vakavaa ohjelmistotuotantoa eikä mitään lyhytnäköistä humpuukia.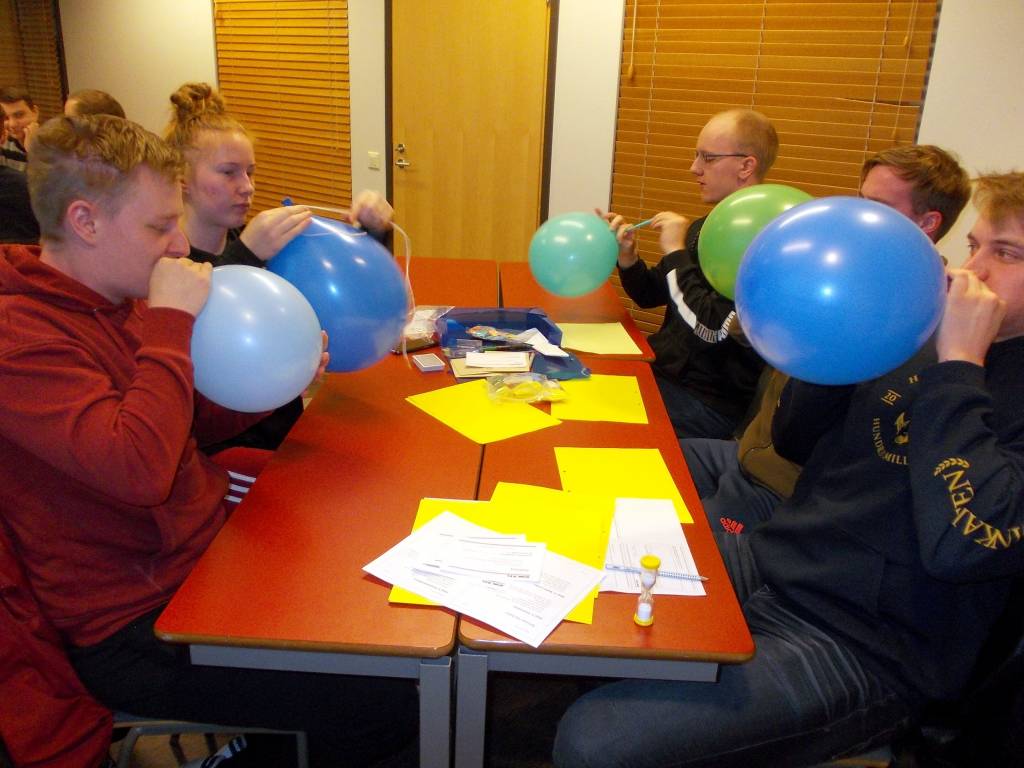 Kannattaa huomata että ajastimena on mekaaninen luotettava taskumalli, joka on helppokäyttöinen sähkövirrasta ja häirinnästä riippumaton kotimaisen tuotekehityksen tulos (muista Tietotekniikan yö 5,
DarkTUNIWeb:ssä myytävä EXAM-jammer). Tuollainen sopisi ajattoman hyvin esim. firmojen johtoryhmien ja tiedekuntaneuvostojen kokouksiin. Päivittäispalavereissa (Scrum Daily stand-up meeting) tuollaisia jo käytetäänkin yleisesti johtavissa Pirkanmaan firmoissa (sekä saadun tiedon mukaan Stadissa eduskunnan puheenvuorojen pituuden mittaamisessa).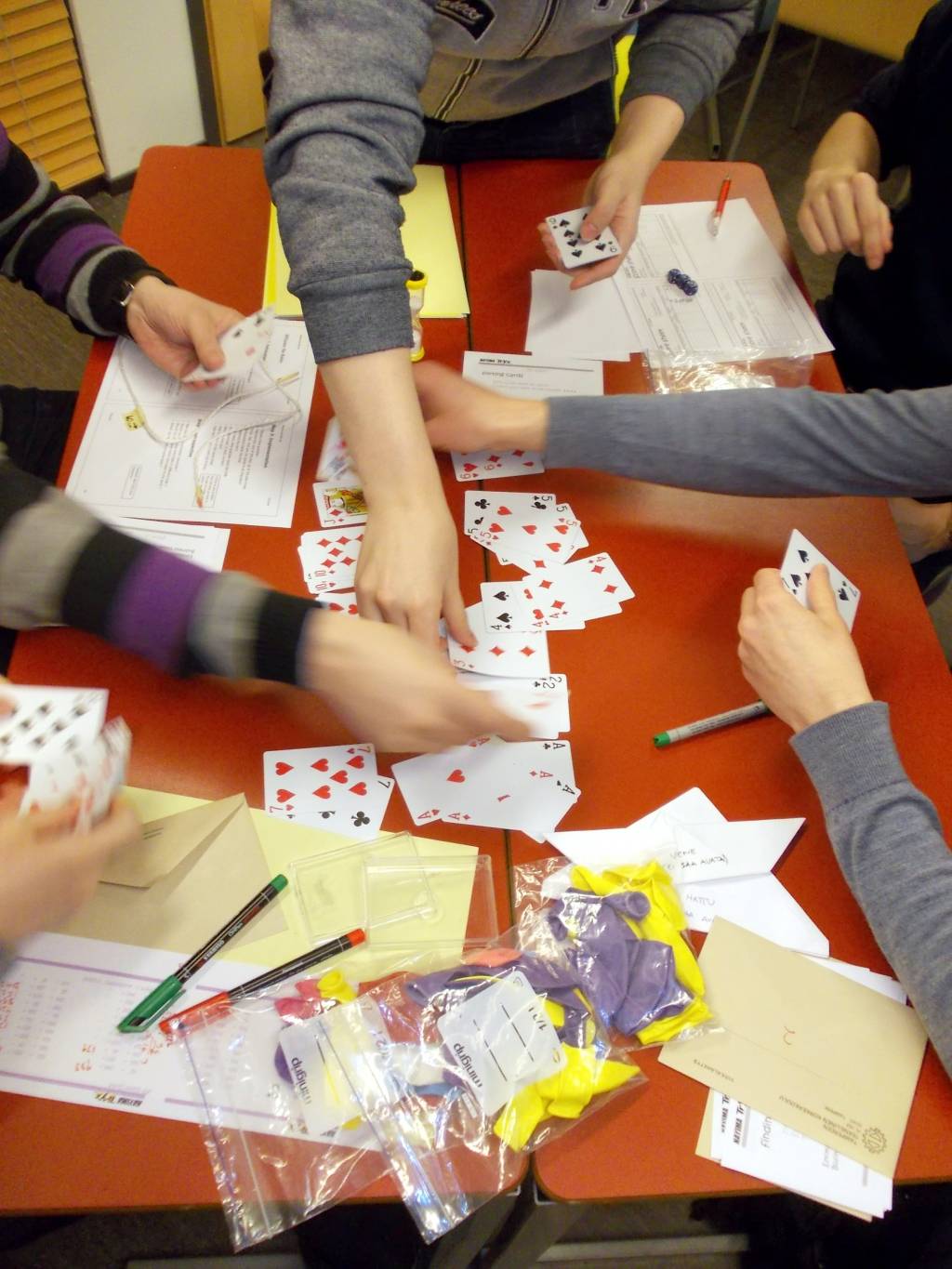 Tämän hetken etäopetuksessa tuskailevat voivat vain ihaillen ihmetellä tuollaista tehokasta saman pöydän ääressä työskentelyä. Varmasti kasvokkain tehtävän ryhmätyön arvostus on noussut huimasti, nyt kun sellaisesta ylellisyydestä ja tuottavuudesta on jouduttu hampaita kiristellen luopumaan. Mutta ehkä kenties joskus, jonakin päivänä kaukaisessa tulevaisuudessa, voitaisiin taas palata tuollaiseen hyvään opetuskäytäntöön…
vanhoja parempia aikoja muisteli Tuntematon lehtori
************* _o/ ****************
And same in English:
Two authentic document photos taken earlier this year reveal the sophisticated groupwork methods which were used at TUNI CS unit's software engineering teaching.
These real-life exercises and advanced pedagogical methods have been highly respected both by companies and academia for many years. While trying to complete almost impossible tasks in short time, good groups become teams, and every now and then some of the best teams get their task done. Students need to practice essential skills needed at modern software development, e.g. throwing dice, shuffling deck of cards, and blowing balloons.
There are plans for extreme version of this group exercise. We would like to hire an ugly-looking "project manager" who yells confusing phrases (like "use reverse backlog method", "burn-up layer must be respected", or "you losers are going to fail") behind backs while group struggles completing the almost-impossible tasks in limited time. But unfortunately we had not got any funding for such experiments yet. By the way, would YOUR company volunteer to lend one project manager to TUNI/CS-unit for one week next January ?
these pictorial memories from "good old times" were brought to you by the Unknown lecturer