Under normal conditions, TAMK receives approximately 200 exchange students, 150 degree students and 10-20 double degree students each autumn. In autumn 2020, study exchanges were, however, cancelled due to the pandemic. Only degree and double degree students could arrive, depending on residence permits and quickly changing international travel restrictions.
Student mobility during Covid-19
Students starting a new degree during the Covid-19 pandemic, experience a different learning environment, with online classes and virtual events. Since March 2020, teaching is primarily delivered remotely, and only necessary face-to-face classes, laboratory workshops or exams are held in small groups in accordance with safety guidelines. Yet, it all starts with a 14-day quarantine advised for all arriving in Finland.
Therefore, in the autumn of 2020, we decided to ease the new international students' arrival and quarantine with free food aid.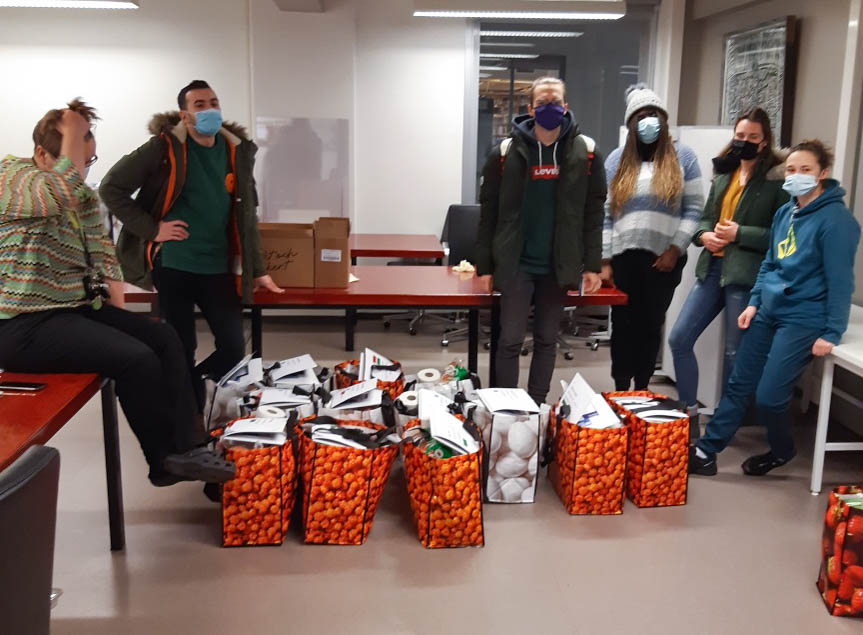 Finding the right formula
Many Finnish universities introduced different measures to help new incoming students: some picked students from the airport, while many arranged food aid. Although we knew one bag of food is not enough for a 14-day quarantine, it is a good starting point. We also provided instructions on ordering food deliveries from either shops or restaurants.
TAMK's food package is worth 30 euros and includes 22 items: rice, spaghetti, macaroni, noodles, pasta sauce, canned crushed tomato, salt, vegetable stock, ketchup, eggs, canned tuna fish, lentils, juice, milk, bread, margarine, cheese, yoghurt, cookies, salt crackers, apples and toilet paper; all packaged in a reusable shopping bag.
A total of 32 new students arrived in the autumn semester of 2020. It was easy to arrange 1-3 food packages at a time fitting the students' arrival dates. We shopped and delivered the food the same day; my colleague Eeva Heikkilä by bike, I by car.
Then we heard of 100 students arriving in January 2021.
Taking it to the next level
The TAMK Food Package project was lifted to another level in December 2020. A lot of planning was necessary regarding food quantities and dietary needs, students' arrival dates and housing locations, logistics of purchasing, packaging, and distributing of the groceries.
We prepared 70 food packages including mixed, vegetarian, vegan and allergy foods. We bought all dry food online before Christmas, and it was delivered to TAMK by truck.  We packaged and stored everything in an empty classroom, until the fresh food order in January.
Roughly 20 international students helped us on 4 January 2021. They had themselves received a similar package in the autumn and were happy to help.
That day over 40 students arrived. TAMK tutors met the students upon their arrival and delivered their apartment key and Survival Pack including basic household items. Once the students reached their housing, they sent us a message on WhatsApp. Then our team delivered the food package and new student's folder using TAMK vehicles. It was a long day, we started at 8am and delivered the last food after 9pm.
In total, during January 2021, over 100 new international students received food aid packages upon their arrival in Tampere.
Food aid goes a long way
The hardest part of the Food Package project was the logistics: buying big quantities of food, ensuring everyone gets the food they can eat, and distributing it safely to students arriving on different days and living in different neighbourhoods… all under exceptional Covid-19 restrictions and safety measures.
However, the joyful reaction of the students made it all worth it:
"It was very helpful and the bag was huge. It was a pleasure after a very tiring trip day," said Clémentine Goetzmann from France.
"It was great for me, after arriving I was just too tired. Also, I liked that it's mostly long-lasting food," exclaimed Jessica Yáñez Juárez from Mexico.
"I was grateful I received one! It was very well thought through and the fact that I could choose lactose-free was a very big deal for me," said Elektra Kiourtsoglou from Cyprus.
"It was really nice that I was able to choose the vegan option," said Pia Altevolmer from Germany.
TAMK is the only Finnish university that has a full-time Social Counsellor working with international students. The work includes assisting students with practical matters: housing, permits, health care, other Finnish officials, Finnish culture, etc.
Read more about Mirja Onduso's work in our Tampere Student Ambassadors blog 
Text: Mirja Onduso, TAMK Social Counsellor for international students
Feature Image: Saara Lehtonen, Production Coordinator in TAMK Communication Services