"I wanted to strengthen my teacherhood with pedagogical studies. Because of my bicultural background, the English group was the obvious choice for me. I was admitted on the third time," thinks back Project Manager Ursula Helsky from TAMK. She works with events and Learning Lab coaching.
Pedagogical studies were new for her as her three prior degrees (Vocational Qualification in Business, Bachelor of Business Administration and Master of Business Administration) were from the commercial field. By contrast, studying in a foreign language was familiar to her as she completed her master's degree in English at TAMK.
"In my childhood, I dreamt of becoming a German language or music teacher. I have always been interested in teaching and team coaching even if I have worked with event production, export and marketing," she recalls.
The English professional teacher education group was taught by Mark Curcher, Sisko Mällinen and Jori Leskelä. Ursula Helsky completed her teaching practice among TAMK's International Business students.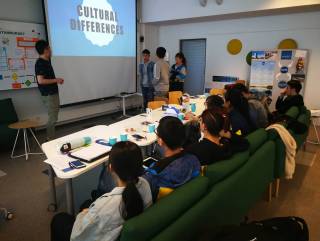 "I used to live and work abroad, for example in Germany, Holland, Italy and Austria. I like working in international groups. It keeps my language skills up to date and deepens my professional vocabulary. The studies also offer a genuine global mindset, which is not the same in Finnish networks," she describes.
She reminds that Finland is not a global environment for all. Even if interested in international matters, entry into genuine multicultural activities often takes time and effort. This is reflected in the difficulty of finding foreign-language training places. It is worth starting the search for the teaching practice place in time.
It is important that student groups also have Finnish students because international students need to hear Finnish students' experiences.
She describes the English-language teacher education as very important. Teaching and studying in it are however more demanding than in Finnish-language implementations. Foreign-language studies also support education export.
Orientation is important
The importance of orientation increases when students come from several different cultures and continents. For example, the teacher concept and practices may be very different. Understanding of the Finnish education system and the library's and study secretary's roles become emphasised. Good orientation offers a safe beginning for the new studies.
"And it would not hurt if educational organisation members participated in the education. I probably took the role of an unofficial tutor in relation to my peer students," she thinks.
Ursula Helsky sees it important that native Mark Curcher participated in the teacher team of the foreign-language education. It did good for cultural understanding and language skills.
"In Mark's words, I take my hat off to all who study in a foreign language. It is more demanding but also more educational," she considers.
The best in pedagogical studies
A year after the studies, it is good to consider what the pedagogical studies offered.
"Dialogic discussion was one of the best and most educational contents. We shared our experiences and learnt together by working in large and small groups. We formed a strong professional network during the studies," she describes.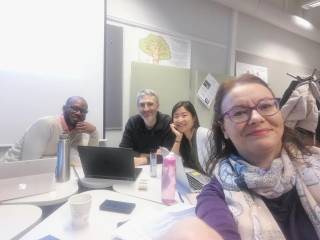 The studies learnt Ursula Helsky to put herself in students' shoes. She also considered doing together and her teaching style closer.
"Reflection was not very familiar to me before the studies. The studies learnt me new viewpoints in doing and communication, which was really welcome. I learnt to pay attention to self- and peer assessment and the importance of assessment in learning."
Giving and reception of feedback are significant for teachers and students. It is not possible to give too much feedback and feedback provision is a skill. She emphasises that her supervising teacher Marja Keränen's feedback was significant for her professional identity.
Organisational skills increased along with the studies and it was great to notice how important hour plans were for successful implementation. And of course, the MOT dictionary became familiar when studying a new topic in a foreign language.
"I really wanted to understand the meanings of all key concepts even if it was painstaking sometimes," she recalls.
How to Make an Online Course proved to be an especially useful module for the corona year, which followed her graduation. It focused on planning and implementation of online courses from diverse viewpoints.
The application period is on 5 – 21 January 2021 (ends at 15.00 Finnish time). You will find the online application form at www.studyinfo.fi during the application period.
Text: Heli Antila
Photos: Ursula Helsky's album.