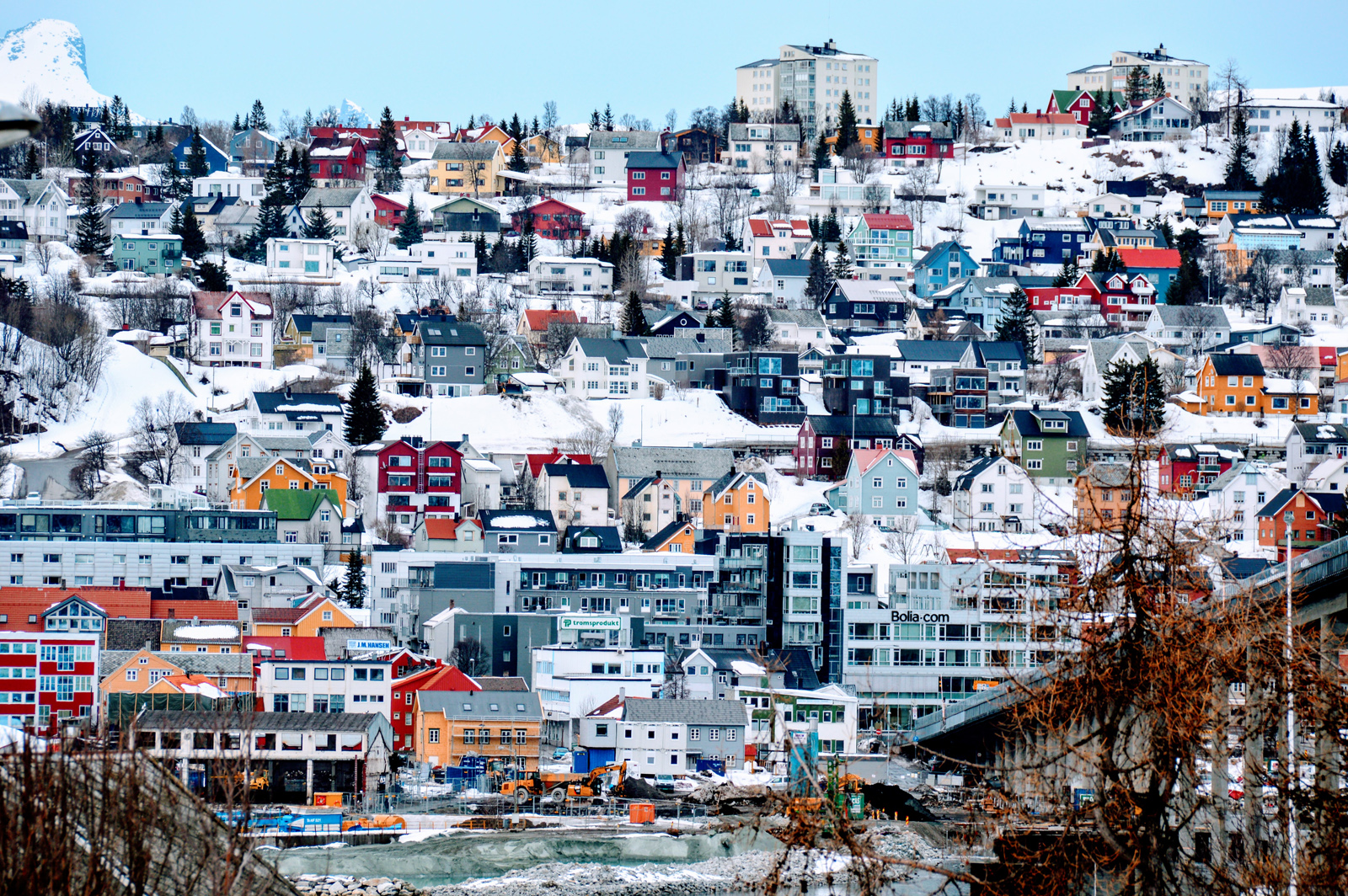 Downtown Tromsø
In spring 2018 we spent one week in Tromsø, Norway. The coordinator of the Nordplus Nordic and Baltic Business Innovation Network and the intensive course "Multiform marketing of experience-based product/service innovations", Senior Lecturer in Marketing Pirkko Varis from Tampere University of Applied Sciences (TAMK), Finland together with Vidar Alvarstein and Kirsten Zachariassen  from UiT The Arctic University of Norway, School of Business and Economics, organized the programme for us.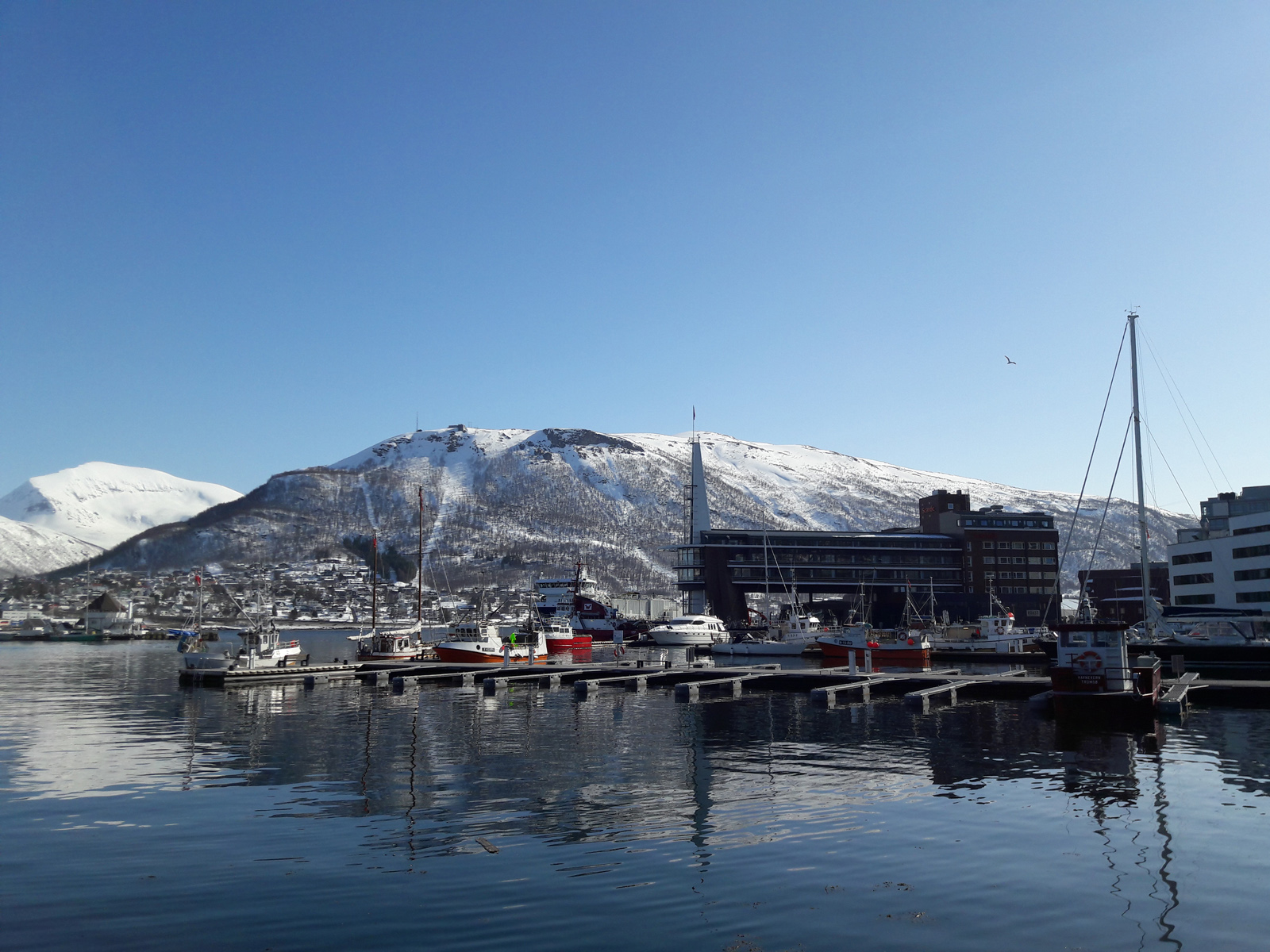 View from downtown to Fjellheisen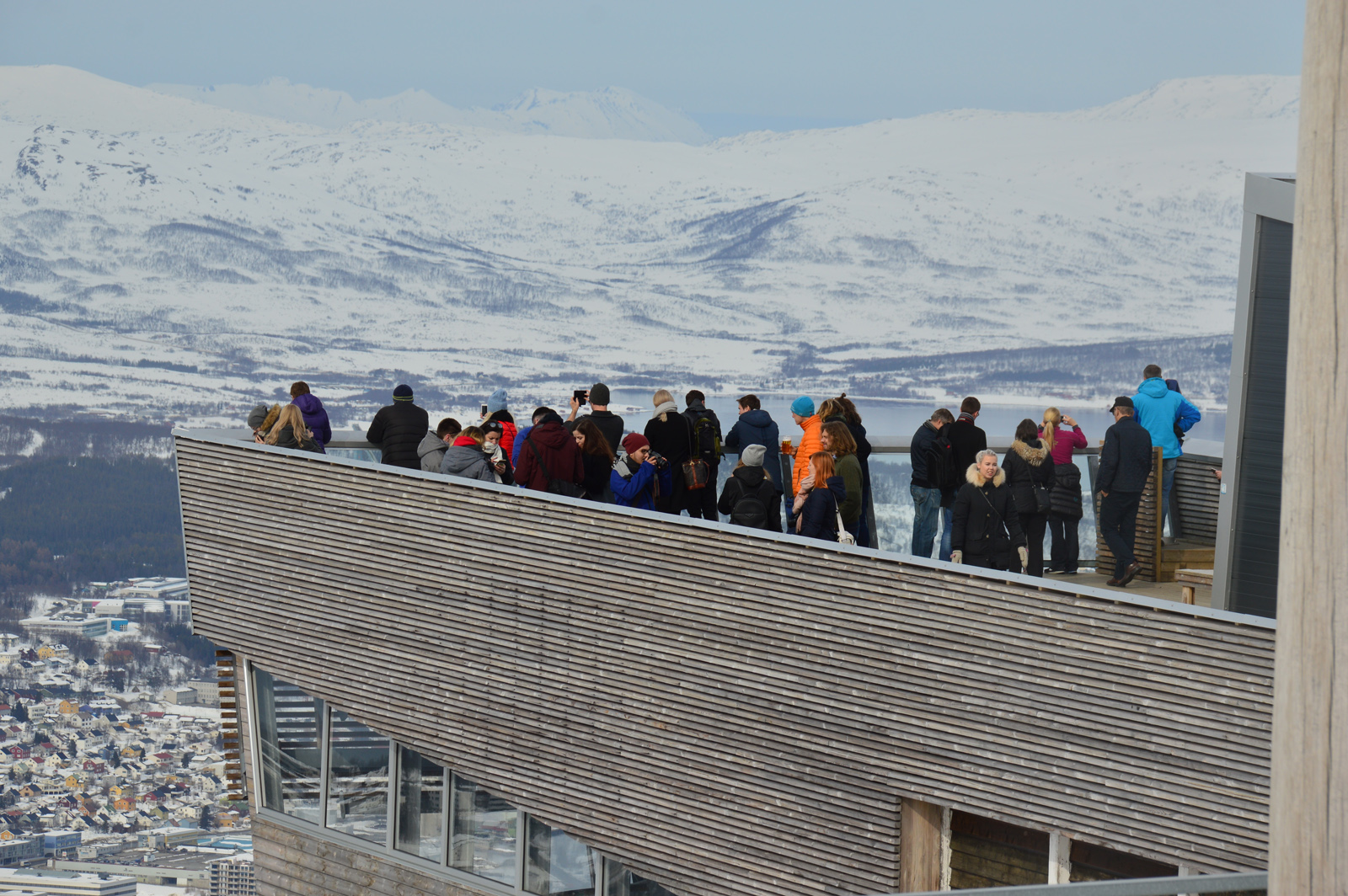 Participants on the viewing platform of Fjellheisen
Altogether 28 students and 10 staff members from Denmark, Estonia, Finland, Lithuania and Norway joined the intensive course. From TAMK, Finland students Marja Koskimäki, Miisa Kuivanen, Noora-Emilia Hassinen, Salla Vaittinen, Maria Eskola, Janica Saralevä, Titta Savolainen and Henri Hellsten took part in the Nordic & Baltic week.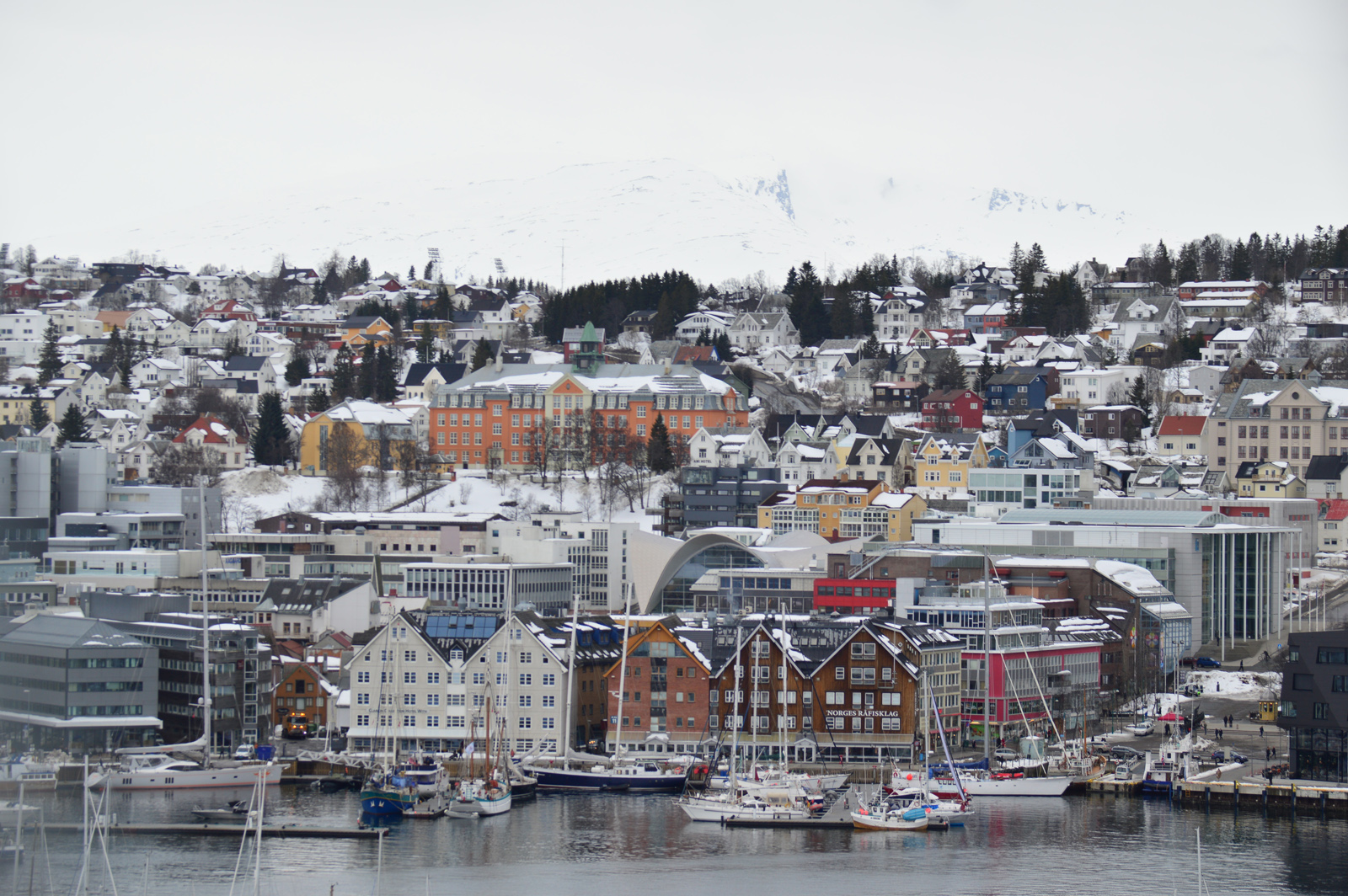 Downtown Tromsø with sailing boat harbour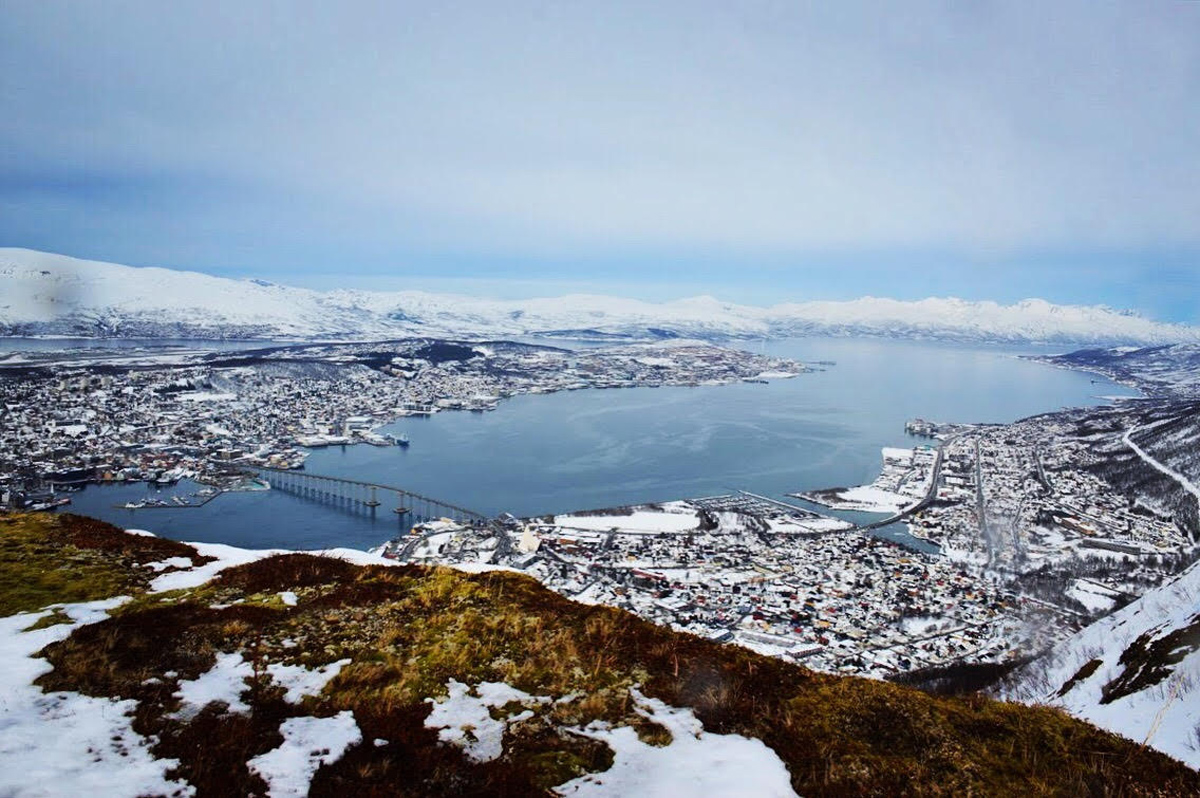 View from Fjellheisen to downtown
On weekend we could get acquainted with each other and spend some time together. We also did a walking sightseeing tour in Tromsø, including a visit to Fjellheisen with a cable car. On Monday we had presentations of all the countries, cities, universities and study programmes taking part in the intensive course.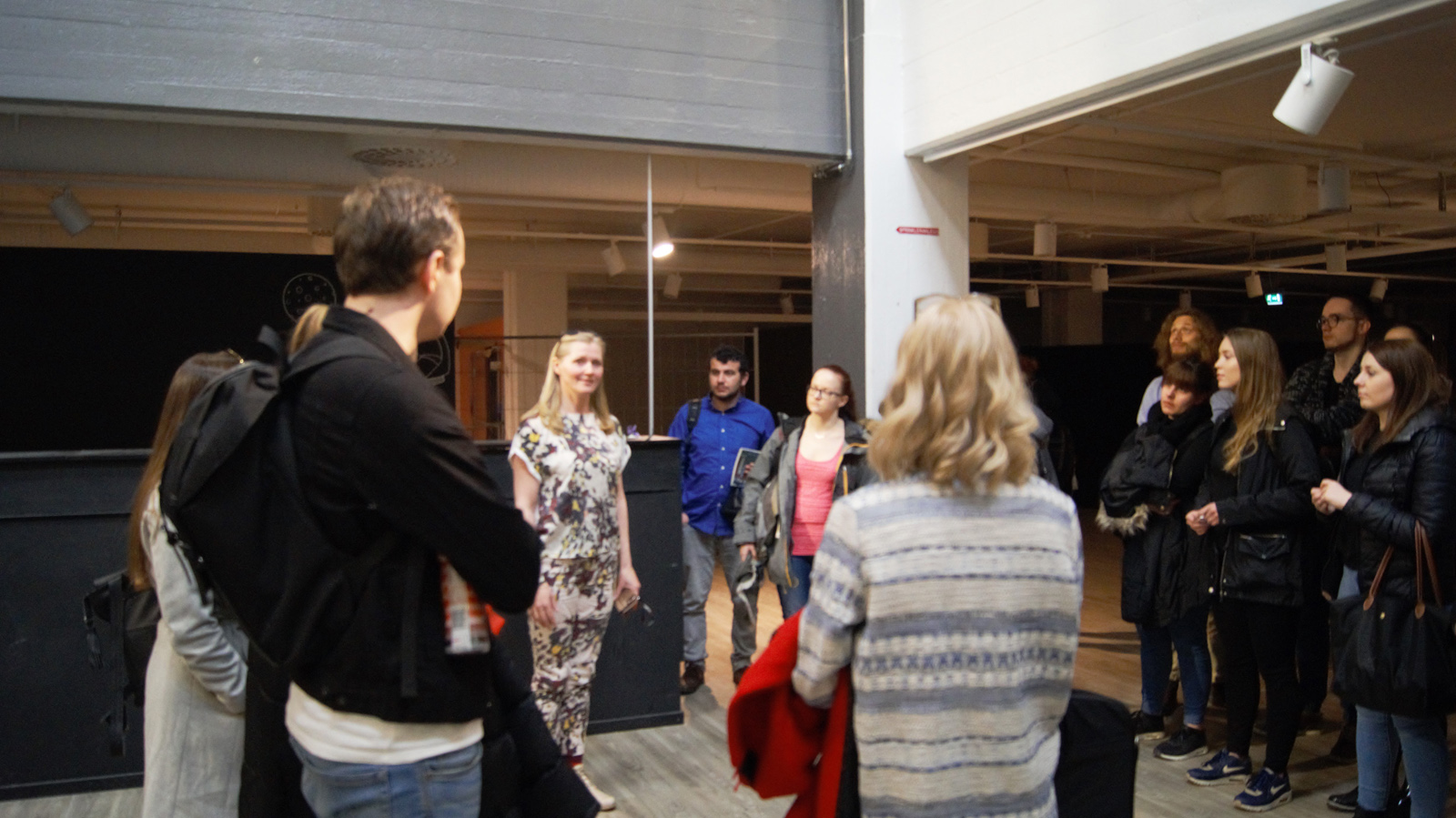 May-Tordis Simonsen presenting Veita
On Monday we were given the assignment from the representative of Veita shopping center, May-Tordis Simonsen. Student teams were given tasks to think of what Veita can do to ensure its future, and if there would be alternative ways to go for instead of being a basic shopping center. Also the aim was to think of various target audiences and give ideas for marketing.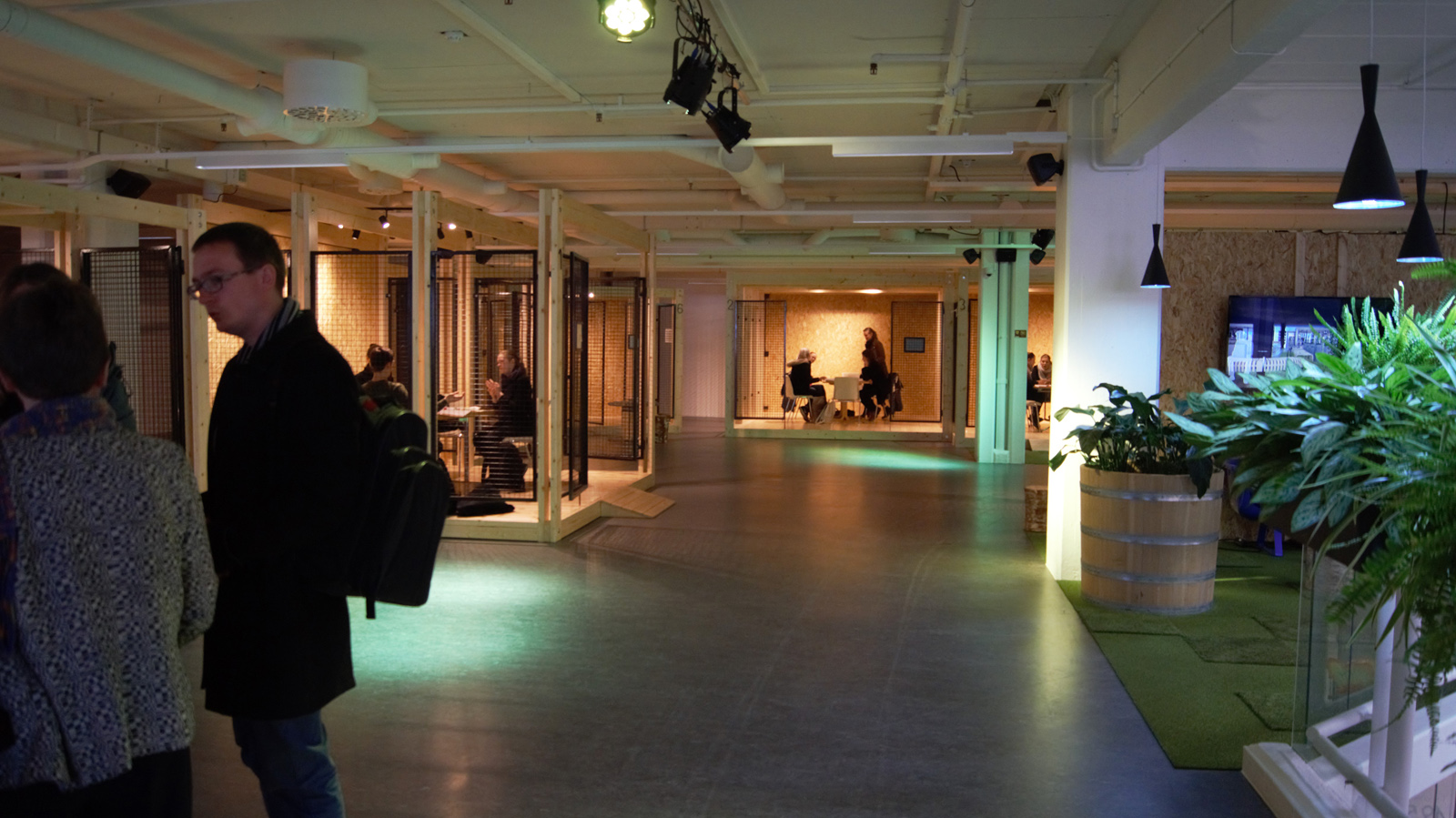 Teams working at Veita
 On Tuesday and Wednesday we worked in our multidisciplinary and multicultural teams with the assignment. We created for Veita new business concepts and ideas for marketing and marketing communications activities, including online marketing, mobile and social media. We finalized our work and also delivered our reports by the deadline.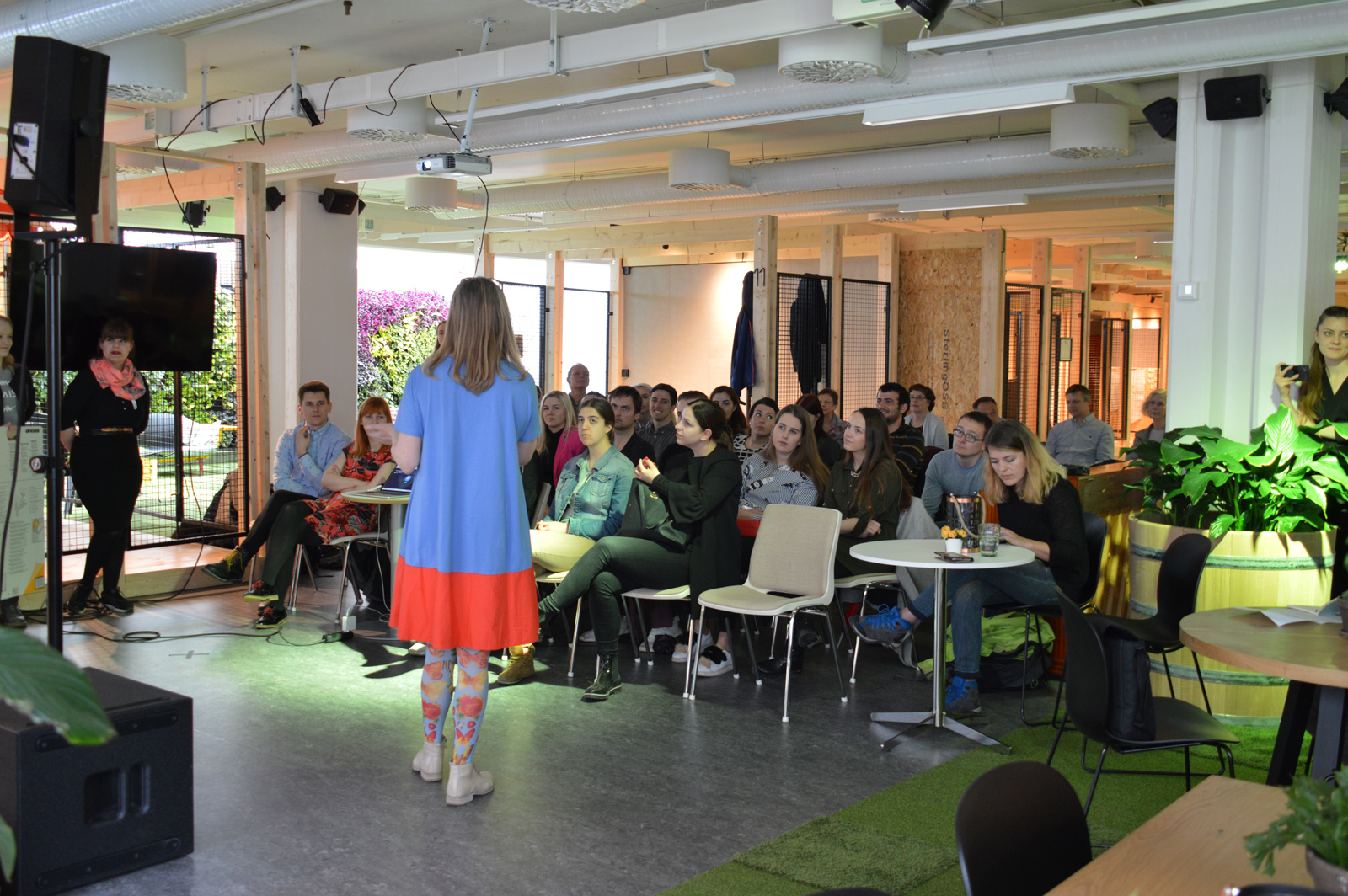 May-Tordis Simonsen moderating the presentation session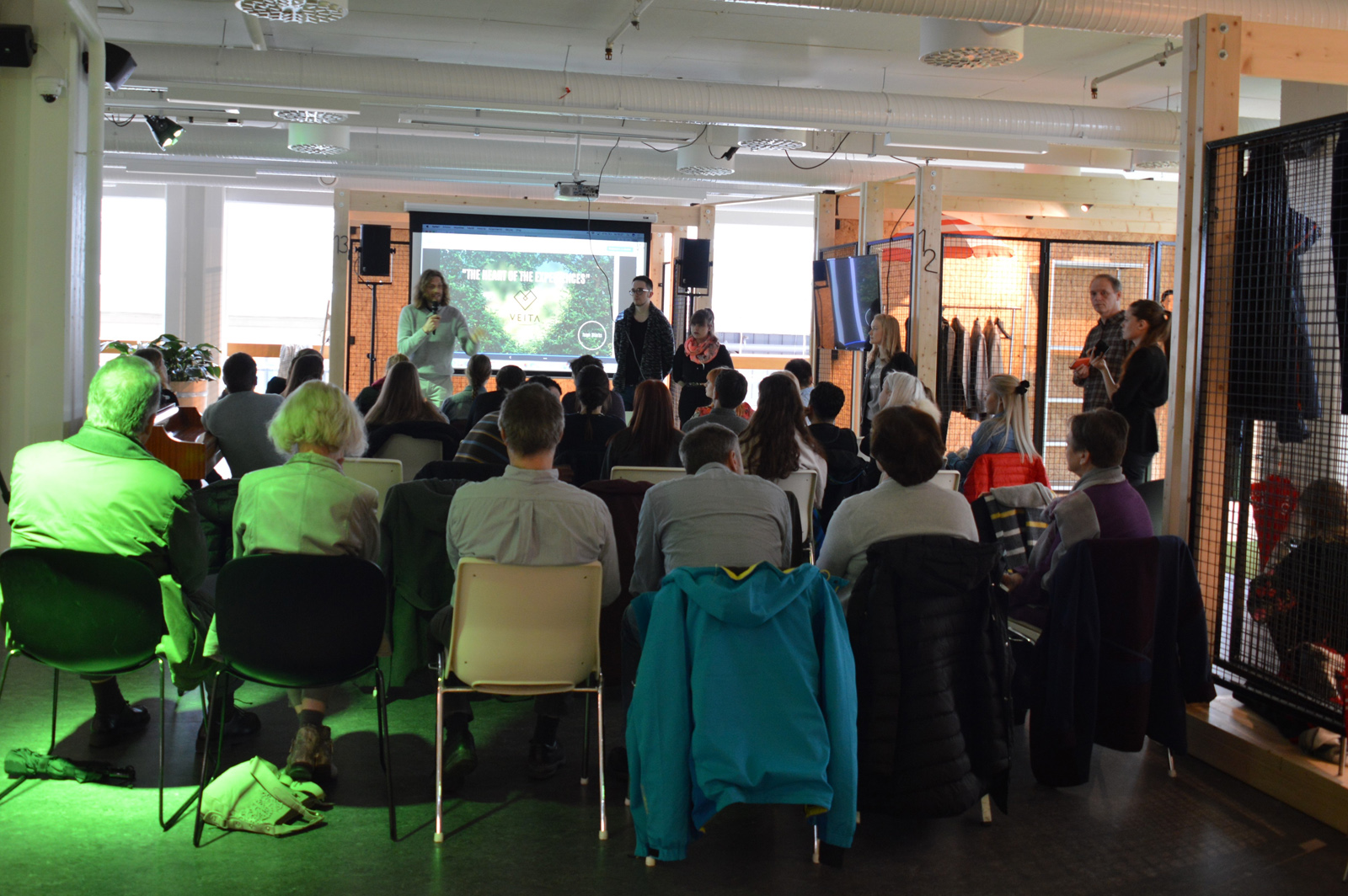 Audience following the presentation of the Norwegian Kåre and his team 
On Thursday our presentations took place. Various business concepts, and marketing and marketing communications ideas were presented, and a winner was chosen between the teams. All teams did great work and the results of the teams can be used by Veita. Some of the suggestions will be implemented immediately and some in near future. The winning team members were Inga Barauskaite, Philip Firouzian, Maria Eskola, Janica Saralevä and Omar Olivares Villarreal with their "The north pole living room" proposal. On Thursday evening we had a closing ceremony and dinner. We congratulated the winners and thanked the organisers and all participants and spent the evening together. On Friday we left Tromsø with a lot of memorable experiences.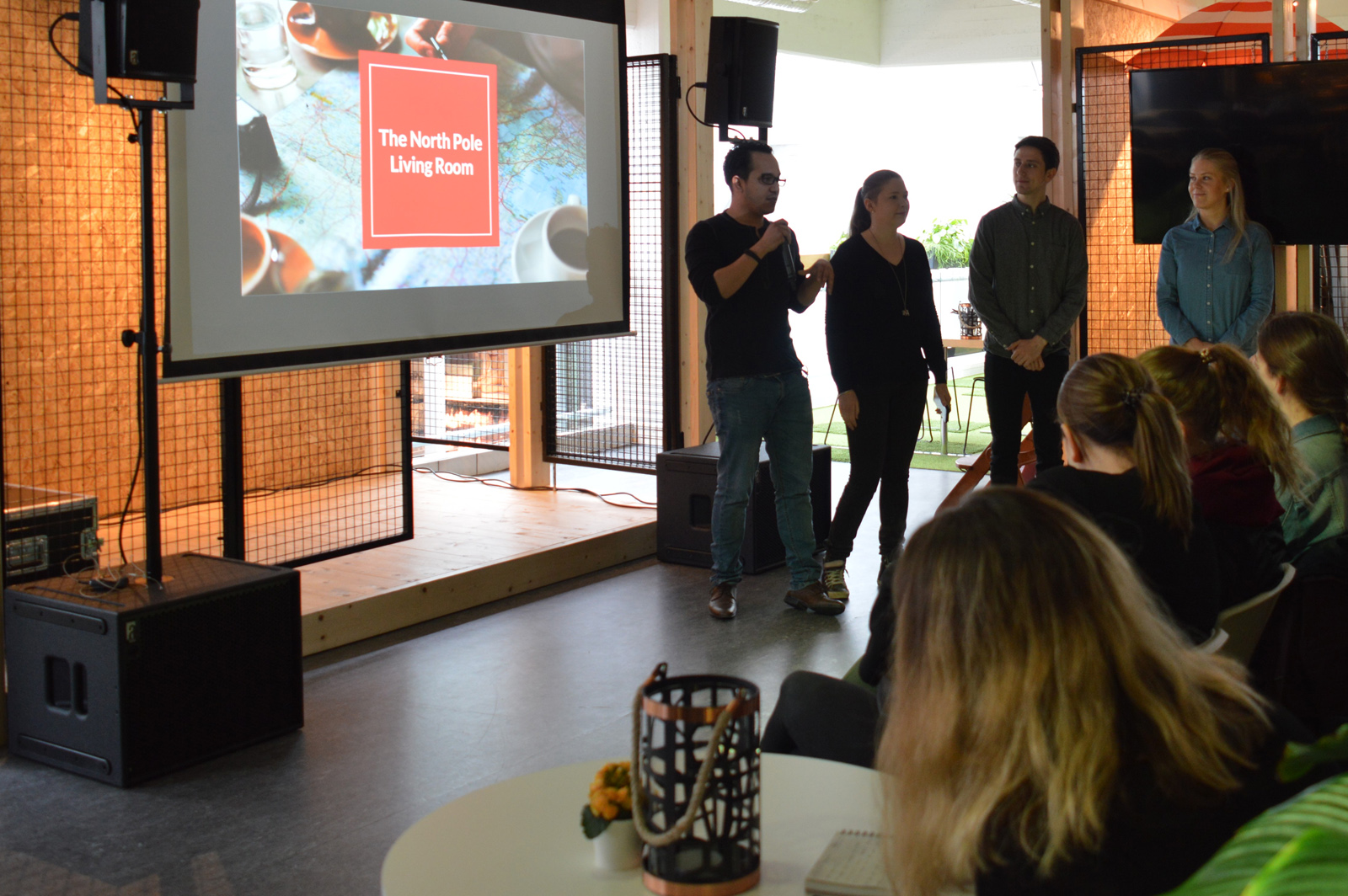 Winning team presentaion     
In the following some students share their experiences and thoughts of the intensive course and time in Tromsø.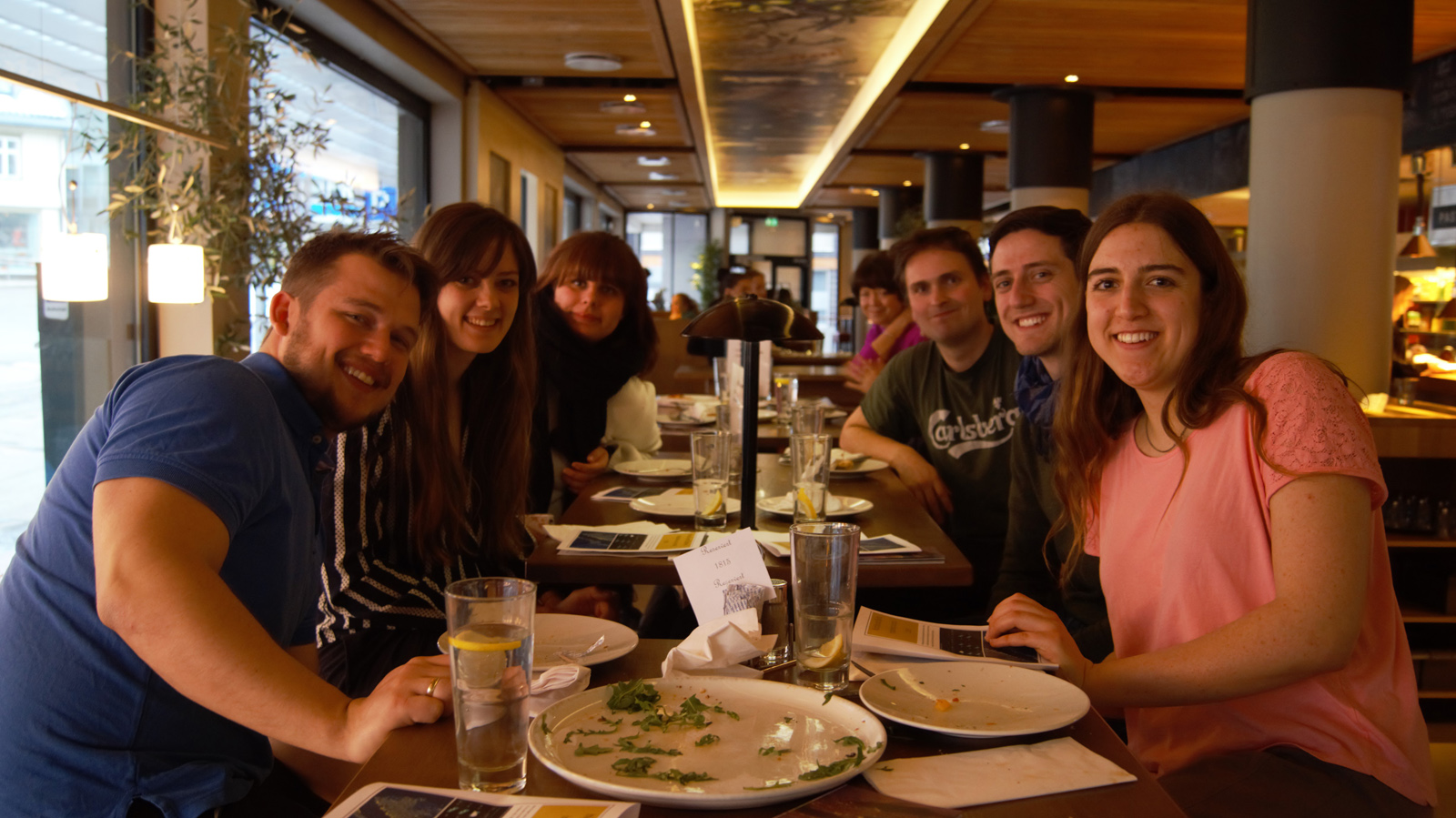 Students from Denmark
Philip Firouzian from the University of Southern Denmark, Faculty of Engineering, Product Development and Innovation, Odense, Denmark
Thank you very much for great planning and huge experiences. It was a pleasure to work across borders and to experience similarities/differences both in work and culture. The overall course was well planned and I think the case was very relevant. It was also nice to be located in the actual shopping mall to work on the case – It was amazing to meet the other participants and to explore    Tromsø. I am very happy to have taken part in this course and met the network. I hope to see our new friends later again soon 🙂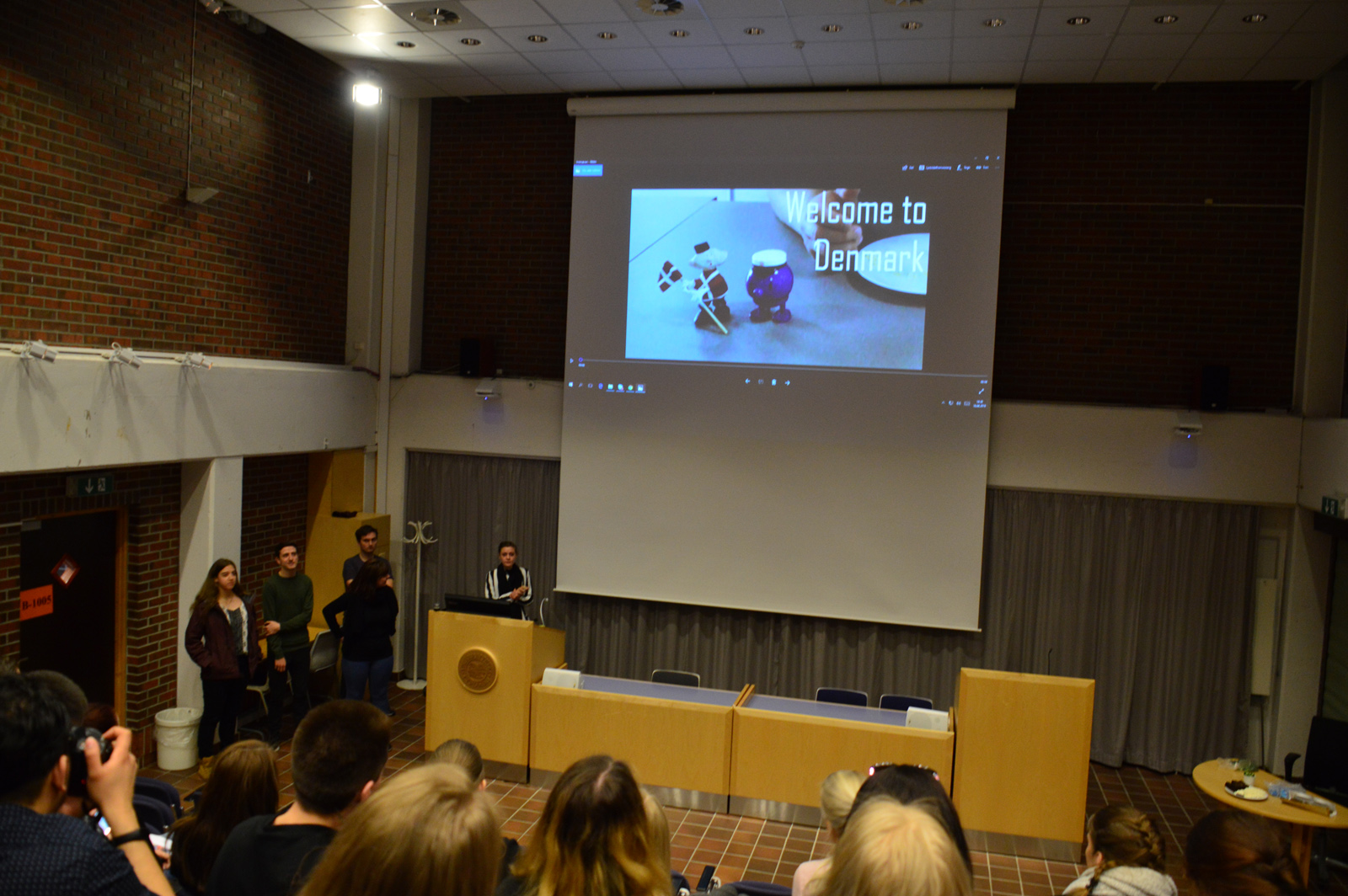 Presentation about Denmark
Students from Vytautas Magnus University, Faculty of Economics and Management, Kaunas, Lithuania
Agnė Juknaitė
I'm so grateful that I could have an opportunity to be a part of this project in Tromsø. It was really great experience! I am so happy that I could see the beauty of Tromsø. The Northern lights and fjords were stunning. Thank you for this amazing week full of new experiences and practice. I would repeat it again if I could.  Thank you, Pirkko for your concern during the whole week. Everything was so perfect.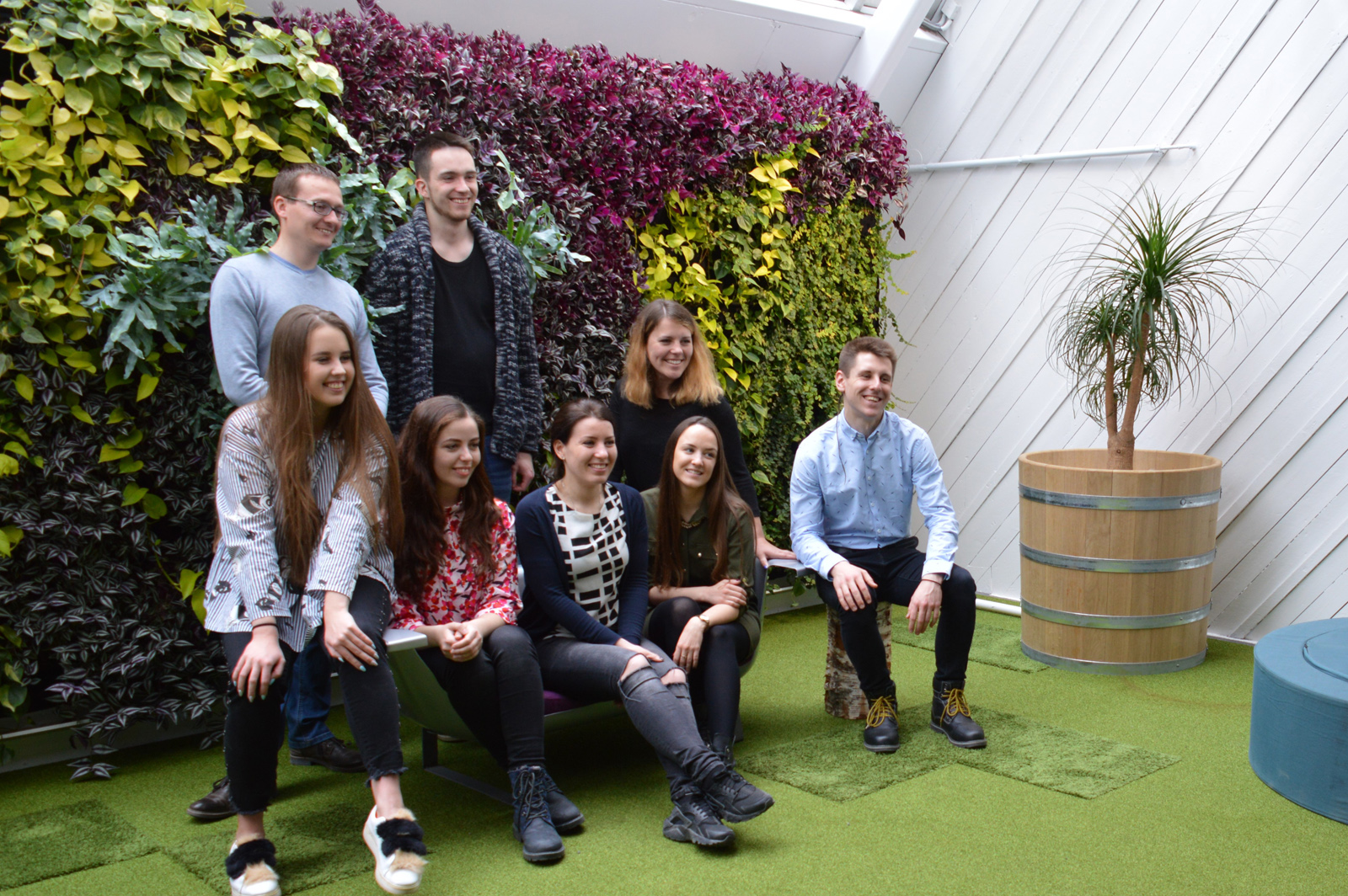 Loreta Petrauskaitė, Mantautas Račkauskas and students from Lithuania
Smiltė Sedekerskytė                               
First of all, it was a pleasure to be a part of this project. This experience was incredibly fascinating. I learned a lot about the things that are very important to me, my studies and my future.
As a matter of fact, this intensive course was a marvellous opportunity for students not only to work with a company but also to get experience while working in groups with very different individuals, get to know various cultures, peoples' lifestyles and even their educational systems. It was the first time for me practising working with this kind of a company and trying to help it to reach its goals. While being a part of a group of complete strangers, I learned that even a week can be enough for people to get along and get to know each other or even become friends.
Peaks of mountains and a fjord
To be honest, Tromsø is one of my favourite towns I have ever visited. The experience that I got there was really different from what I am used to because I prefer to travel somewhere South from Lithuania, but it was still my best decision to finally reach a place that is beyond polar circle. The things that were very new and fascinating to me were the northern lights, the amount of snow that I saw, very huge mountains and their peaks from where one can see the magnificent panorama of    Tromsø. And the friendly local people who were always smiling and trying to help you no matter what cannot be forgotten to mention.
It was a pleasure to have a chance to participate in this project. And again thank you very much for this experience. It has changed my life significantly.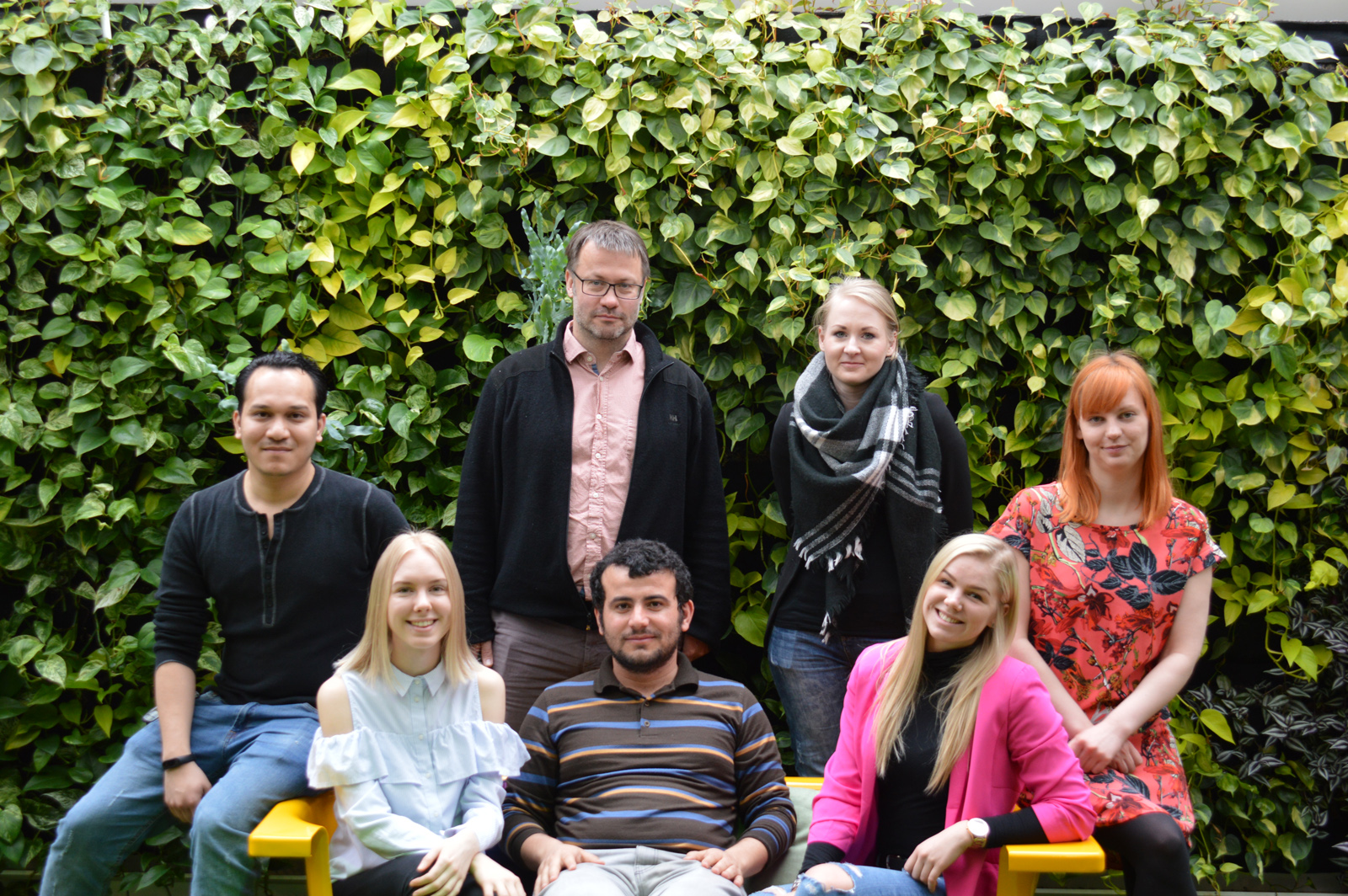 Martin, Anneliis and students from Estonia
Students from Tallinn University of Technology, School of Engineering, Estonia
Ilgar Akbarov
Education is mostly about experiences. I would like to say thank you to the Nordic Baltic Business Innovation Network for giving us the opportunity to have this great experience.
We were able to improve our knowledge and experience in many ways while seeking solutions to problems with people from different cultures and disciplines. We were able to consult tutors with different professions while developing the concept for Veita shopping mall. We handled with the decreasing attractiveness of the shopping mall in local context, but the concepts we developed during the intensive course are applicable to many others shopping malls, because the problem itself is not special to certain places.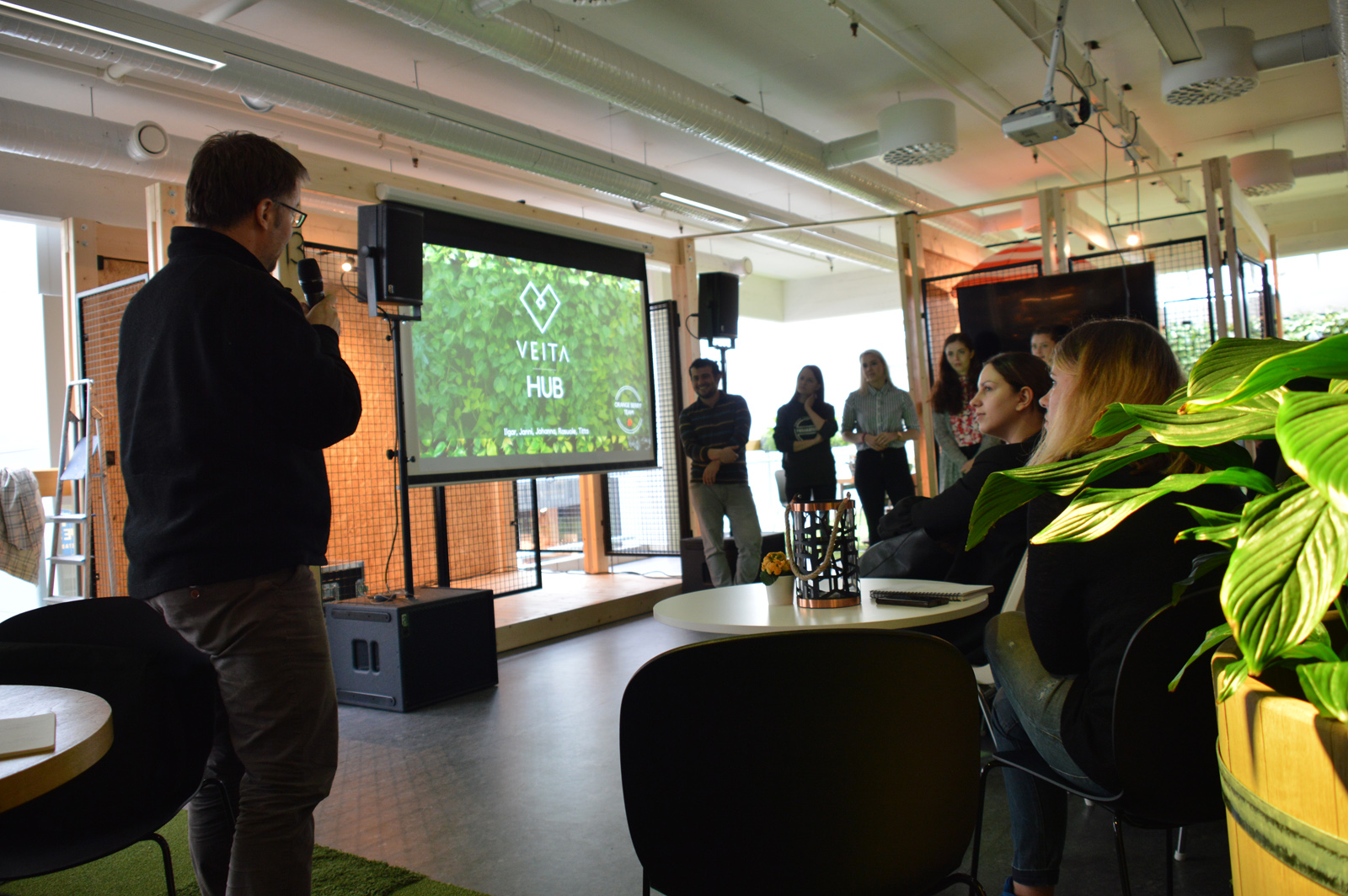 Martin Pärn and questions to Ilgar's team
We were also able to explore the amazing nature of far north city. In a short intensive course, we had the possibility to explore the city with guidance of Vidar, thank you to him :). Since I am from a southern country (Azerbaijan), to be able to see the Aurora Borealis was another great privilege for me, which maybe normal for students who are form Nordic countries. We also had chance to learn the city's culture, history and how the city plays role in polar overreaches and about scientists who conducted researches there.
All in all, the balance between working on the project and exploring the city was well considered by organisers and it was an unforgettable experience. Thank you all!
Omar Olivares Villarreal
 When they proposed me to go for this experience I was expecting to find a country and people cold like the lots of snow that I saw in the pictures before. To my surprise I couldn't be more wrong to think like that, except that there really was a lot of snow, the people were warm and really open, they even made jokes. The moment we were landing from the plane I could see the huge mountains that hug Tromsø making it look like a picture of fantasy in a big composition of blues and whites. My friends and I were welcomed with a smile in the face in a really nice hotel and after looking around the city and loving the city more and more, we went to a nice place for snacks where we met other participants of the course. After talking and making new friends we decided to go once again around the city to look how beautiful it looked in the night.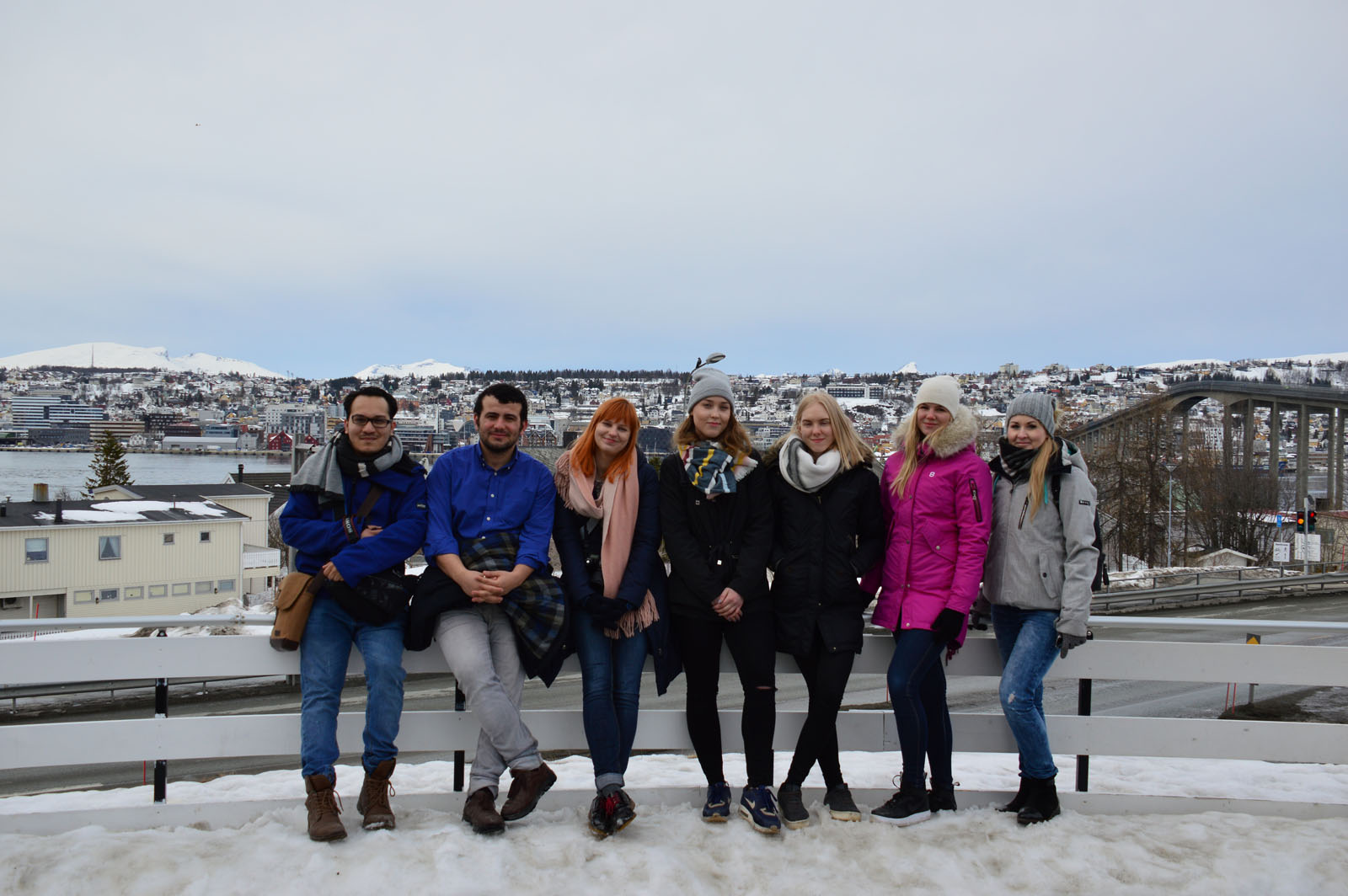 Anneliis and students from Estonia
On the next day we went in a walking tour around the city with all the companions for the course, we saw interesting places with a very local but fun explanation, like the brewery they have or the polar scientific research center. The last point we visited was the top of a mountain, after a very fast but entertaining trip on the Teleferic, we came into the view of the extension of Tromsø from the top of this beautiful mountain but the best part was to look this majestic view of nature. Mountains, fjords and even the colors in the sky mixed together to create a wonderful picture to the point that not even the city feels out of place. Trying to get a better picture of the scenery some of us decided to go further up to the mountain, must say it wasn't easy at all but was 100% worth.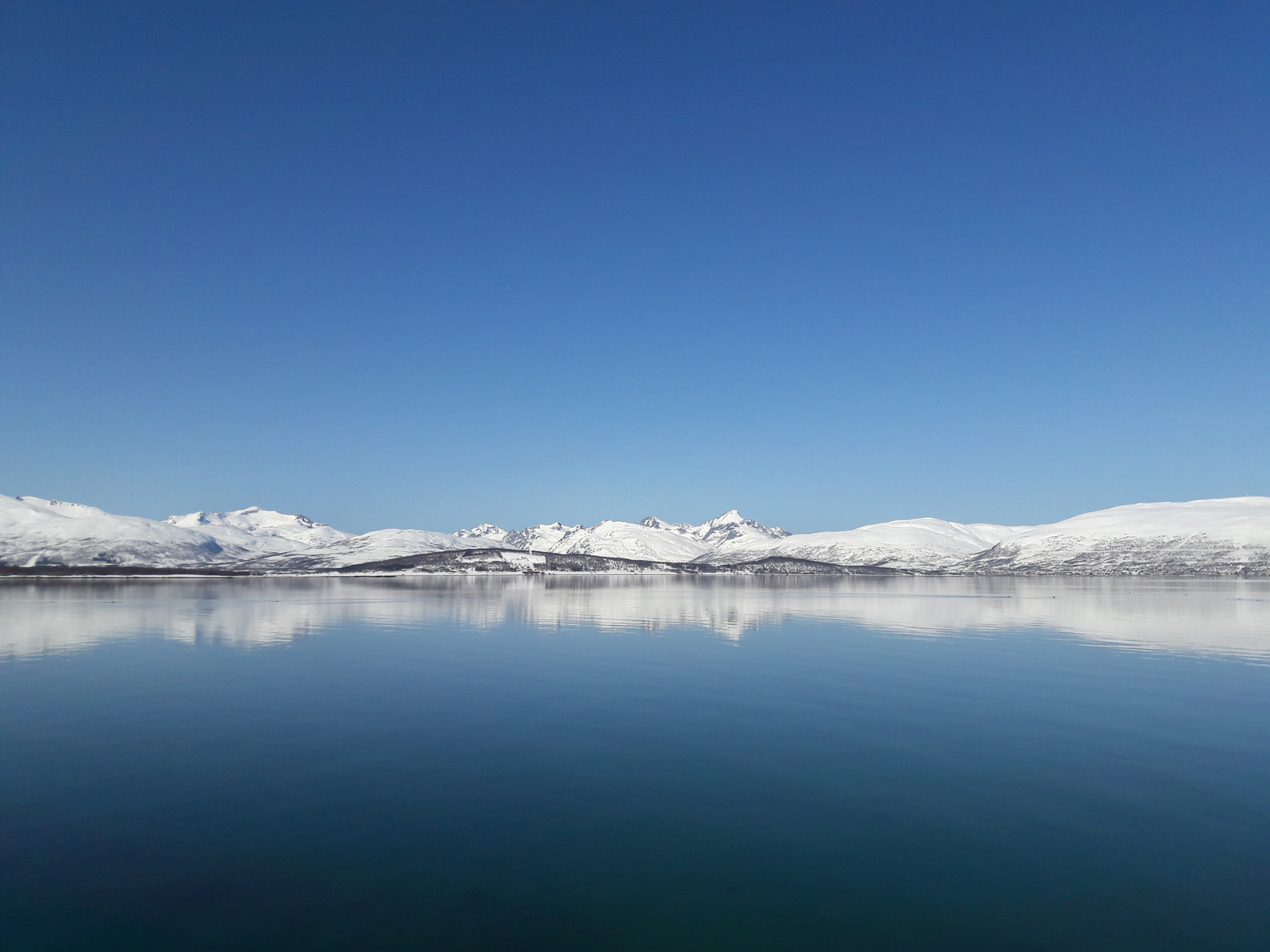 Mountains by a fjord
The next day besides introducing ourselves and listening to the presentations of other national teams, we discovered what we are going to do in the next days. So we formed teams with the people we were assigned (I think I got the best team) and began walking back to the center of Tromsø. I will not be tired to mention that you get enchanted in the view. I find that the service culture in Tromsø was really high, in the café the beautiful girl in the other side of the counter received us with a huge smile and attention, something in this quality of service was repeated in each place that I visited later.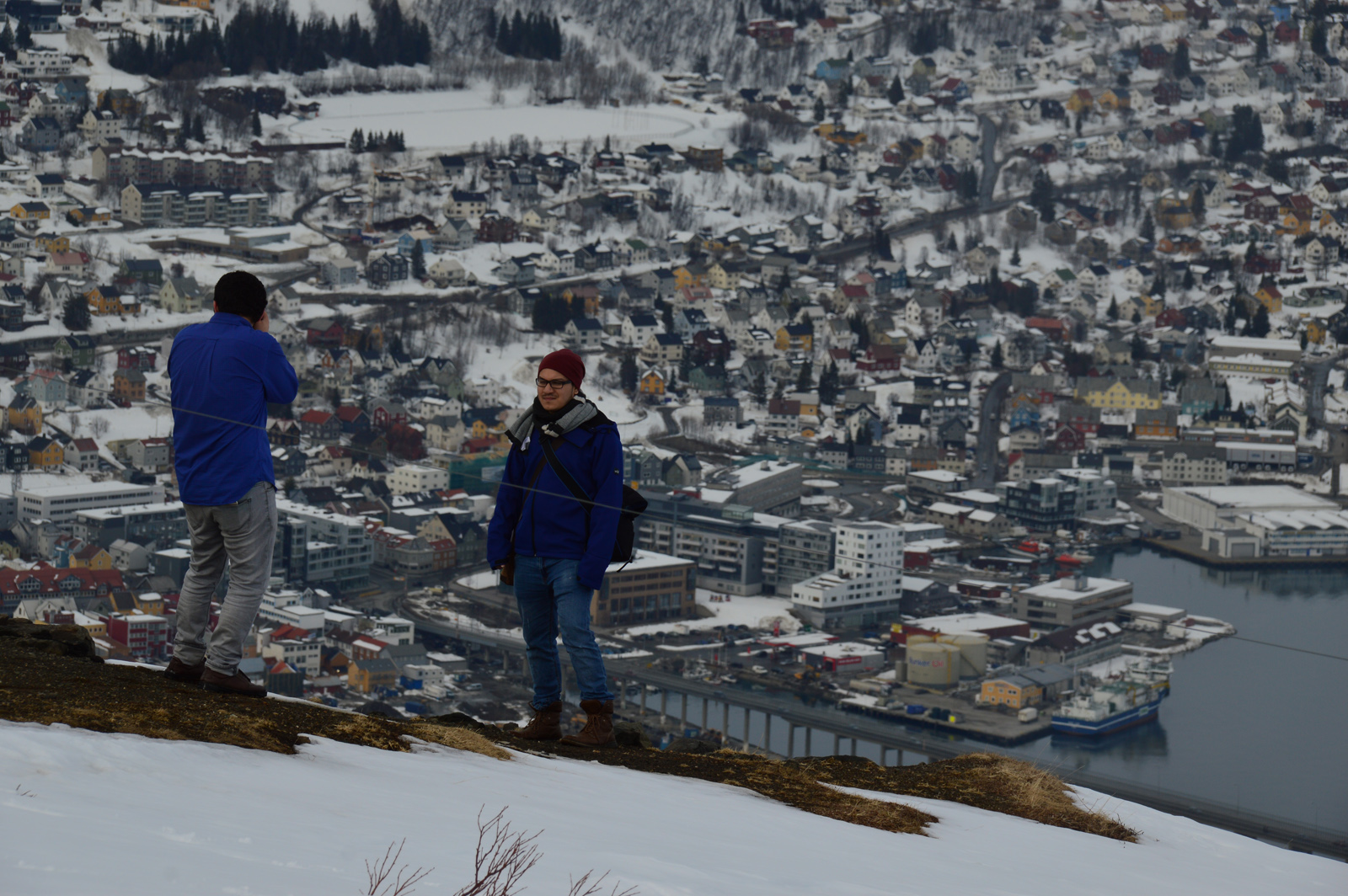 Ilgar taking a photo of Omar
In the afternoon of that day we met in the place that we were working with, the mall Veita, an incredible place hidden in the very center of Tromsø. Working here the next days with my teammates was an incredible regarding experience, I would like to say that all of us enjoyed the process of working together and we got quite interesting ideas. The place is lovely and has a nice café in it where I did go for a very nice chai latte tea and a cloudberry tea (both a must if you have the opportunity to taste). From time to time in the mall you could see mothers taking their babies to play in the park inside, also they give public yoga classes. In general little surprises pop up in there.
I would like to resume that my whole experience was enjoyable and eye opening, to see the city and work with new people. I am sure we will visit Tromsø once again and by sure I will try to participate in the event next time.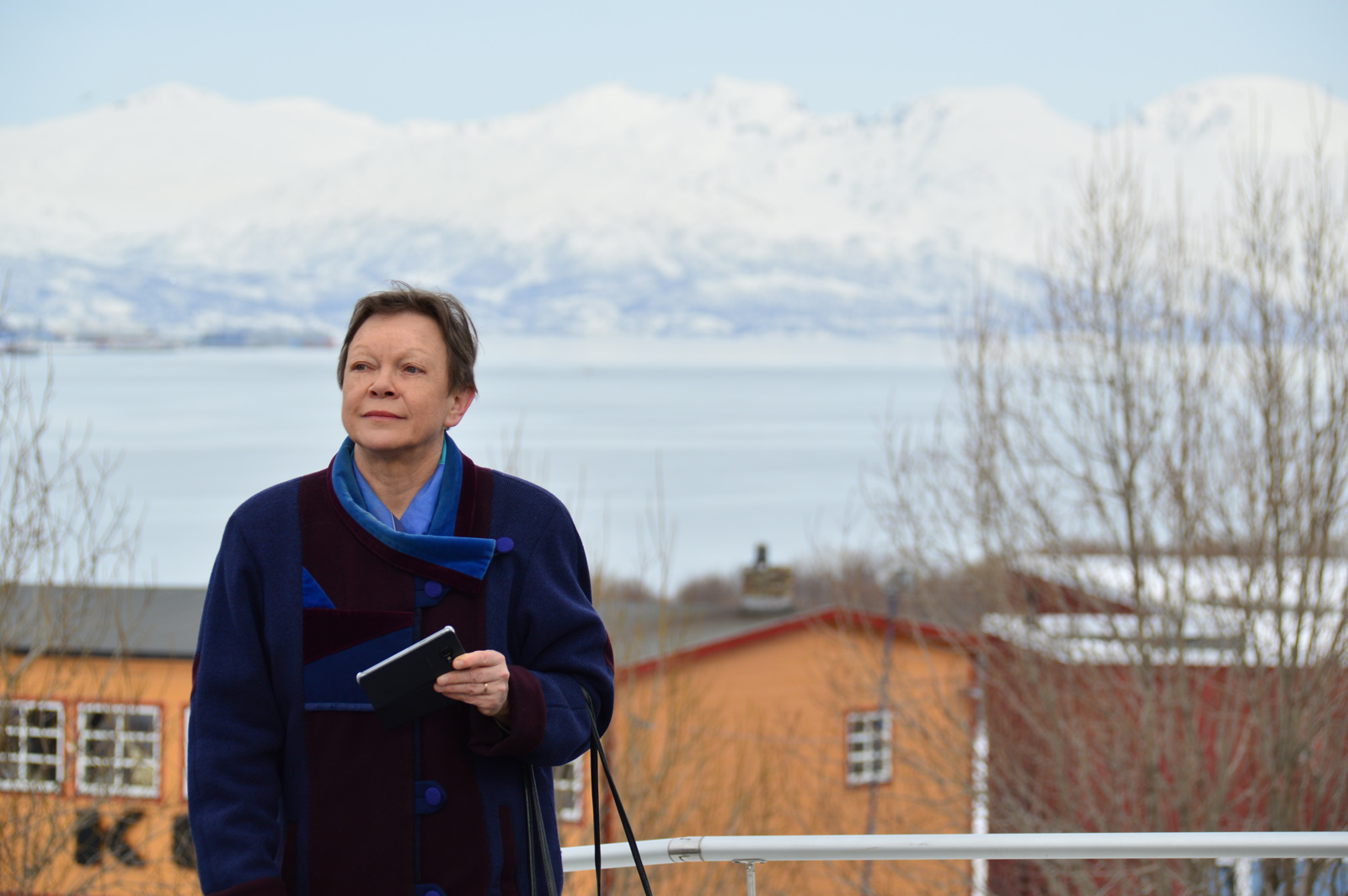 Coordinator Pirkko looking for new experiences
Text
Pirkko Varis, Tampere University of Applied Sciences, Finland 
Students from Denmark, Estonia and Lithuania
Photos
Anneliis Tomingas, Tallinn University of Technology, School of Engineering, Estonia
Omar Olivares Villarreal, Tallinn University of Technology, School of Engineering, Estonia
Pirkko Varis, Tampere University of Applied Sciences, Finland 
The following institutions are members of the Nordplus Nordic and Baltic Business Innovation Network:
Tampere University of Applied Sciences (TAMK), Business, Finland
The University of Southern Denmark, Faculty of Engineering, Odense, Denmark
Tallinn University of Technology, Schools of Engineering & Business and Governance, Estonia
UiT The Arctic University of Norway, School of Business and Economics, Tromsø, Norway
Vytautas Magnus University, Faculty of Economics and Management, Kaunas, Lithuania